This content was published: May 24, 2019. Phone numbers, email addresses, and other information may have changed.
Earth Week 2019 Recap!
Posted by joe.culhane
My oh my how time does fly! This was another great year for PCC during Earth Week. We had numerous events and projects going on across the district. Students, staff, and faculty took part in clean-ups, art-ivism, learning garden parties, upcycling challenges, and more. It's hard to pick top highlights of all the great things that happened this year but we'll do our best to showcase what we can in this recap!
We were honored to have Portland City Commissioner JoAnn Hardesty kick off Earth Week with an inspiring talk. Hardesty, is a seasoned environmental justice advocate and she spoke to the necessity of equity in all environmental programs while providing insight into her work on the Portland Clean Energy Fund and upcoming climate justice initiatives in Portland. She voiced her support for the student-led plastic ban initiative and her powerful talk was followed by a screening of A Plastic Ocean.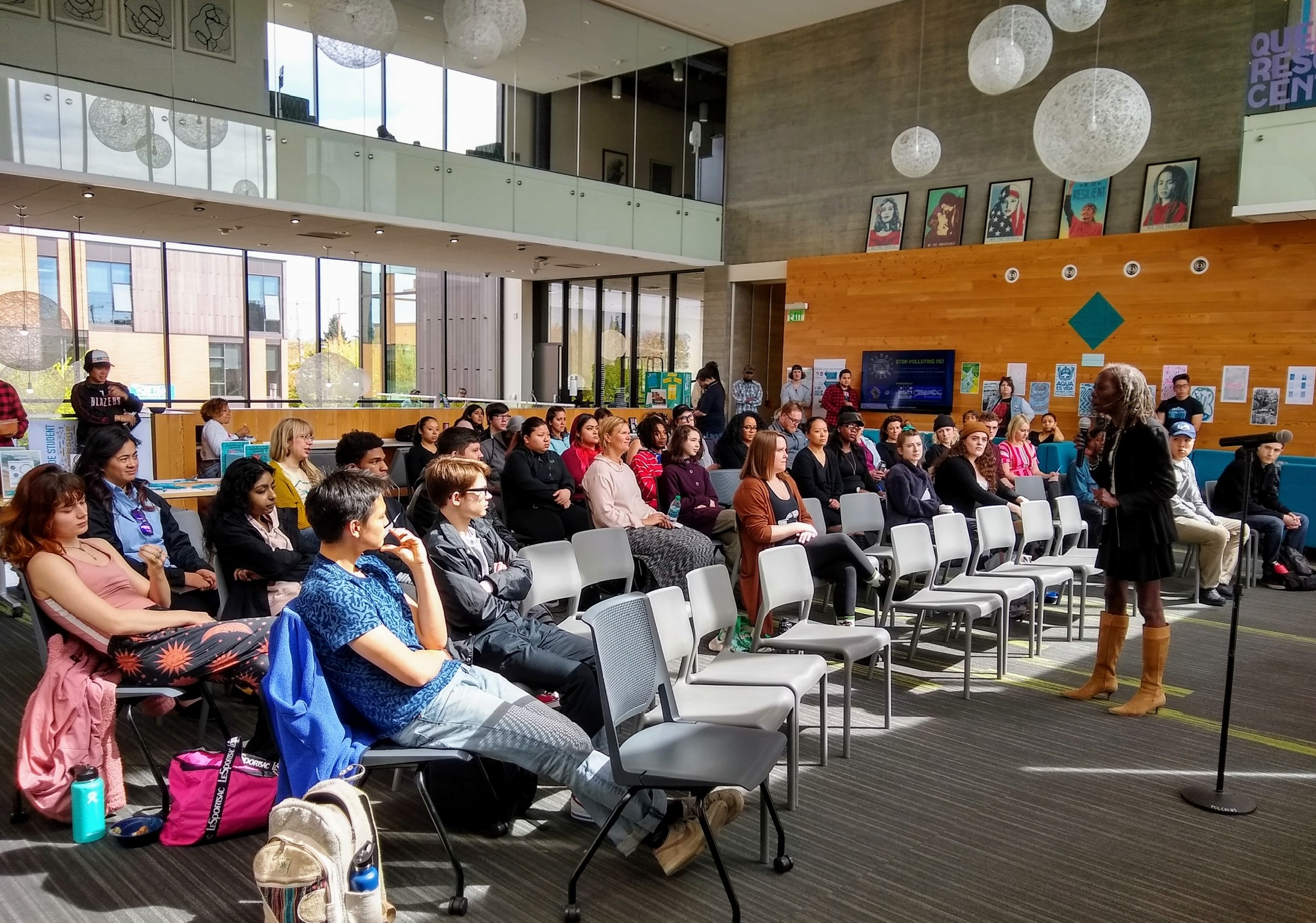 Earth Week each year lines up with PCC Rock Creek's Semana de la Raza and Maria Hernandez Segoviano, the Policy Advocate for OPAL gave an opening talk called Real and False Solutions in Environmental Justice, focusing on the resiliency of communities of color, particularly Latinx communities in the face of environmental racism.
At Southeast Campus a highly engaging event took place called "Jade District Air Quality Community Art Workshop". It was lead by local placemaking artist, Daniel Granias. This project is sponsored by Asian Pacific American Network of Oregon (APANO) and the Oregon Environmental Council (OEC). During the event those in attendance learned about the Jade District area of Portland where the Southeast Campus resides, this included learning about how Division Street is actually still legally defined as a highway and as such doesn't have the same inner city exhaust regulations which negatively impact all those that live in the area.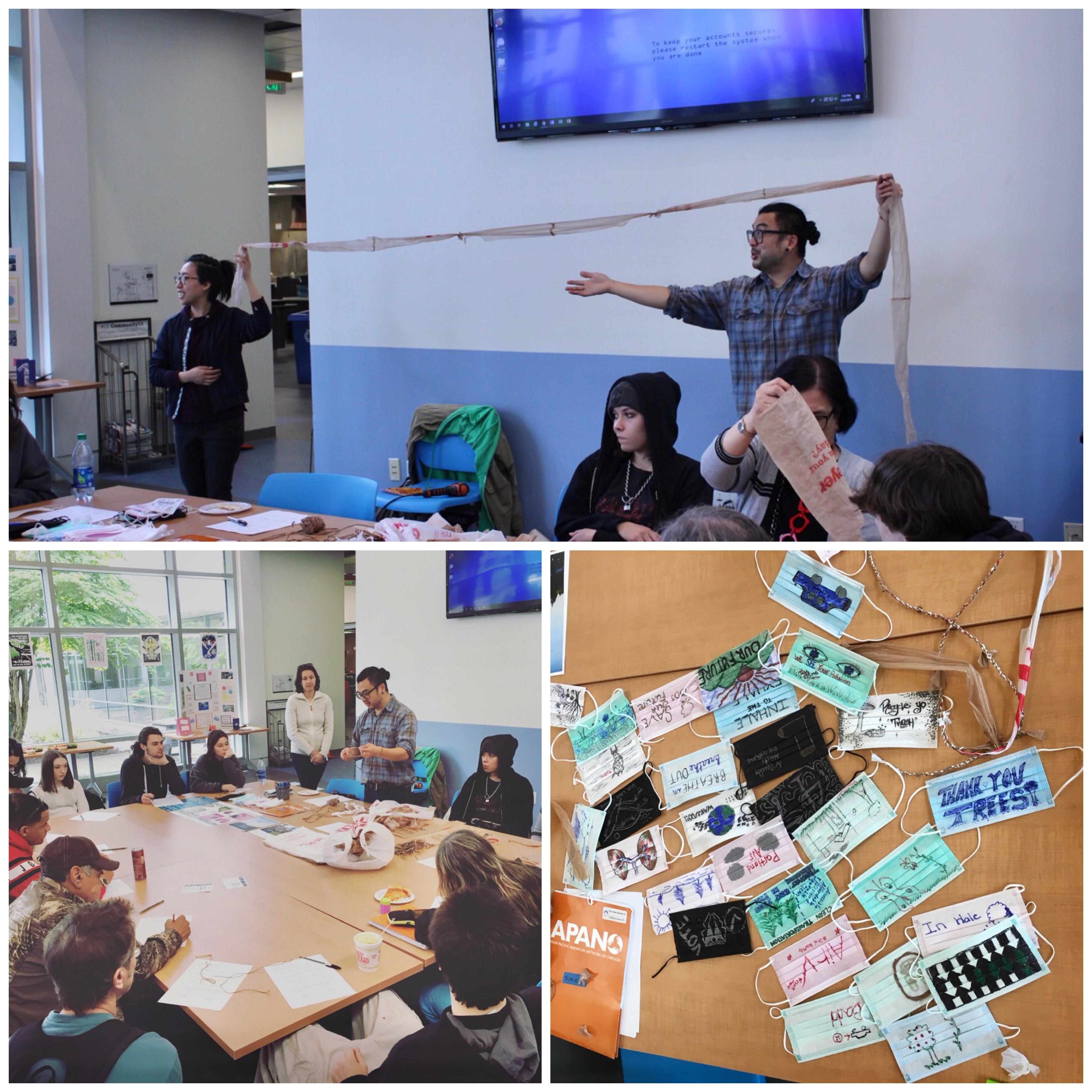 Granias also offered those interested to be a part of an art installation he is creating, it will be a net made out of surgical face masks with drawings and expressions written on them about people's feelings about nature and the environment they are a part of. The netting will be created out of plastic bag twine. Granias showed folks how to make this twine out of plastic bags which was incredible!
Another big event that took place during Earth Week this year was the official ribbon cutting at the Cascade Campus Learning Garden! This garden spent over a decade in the minds and hearts of students, staff, and faculty and has finally been brought to fruition. Student Body President of Cascade, Teri Fane and PCC's Interim Dean of Student Development, Traci Simmons cut the ribbon as other past and present student leaders who helped make this dream a reality stood proudly by.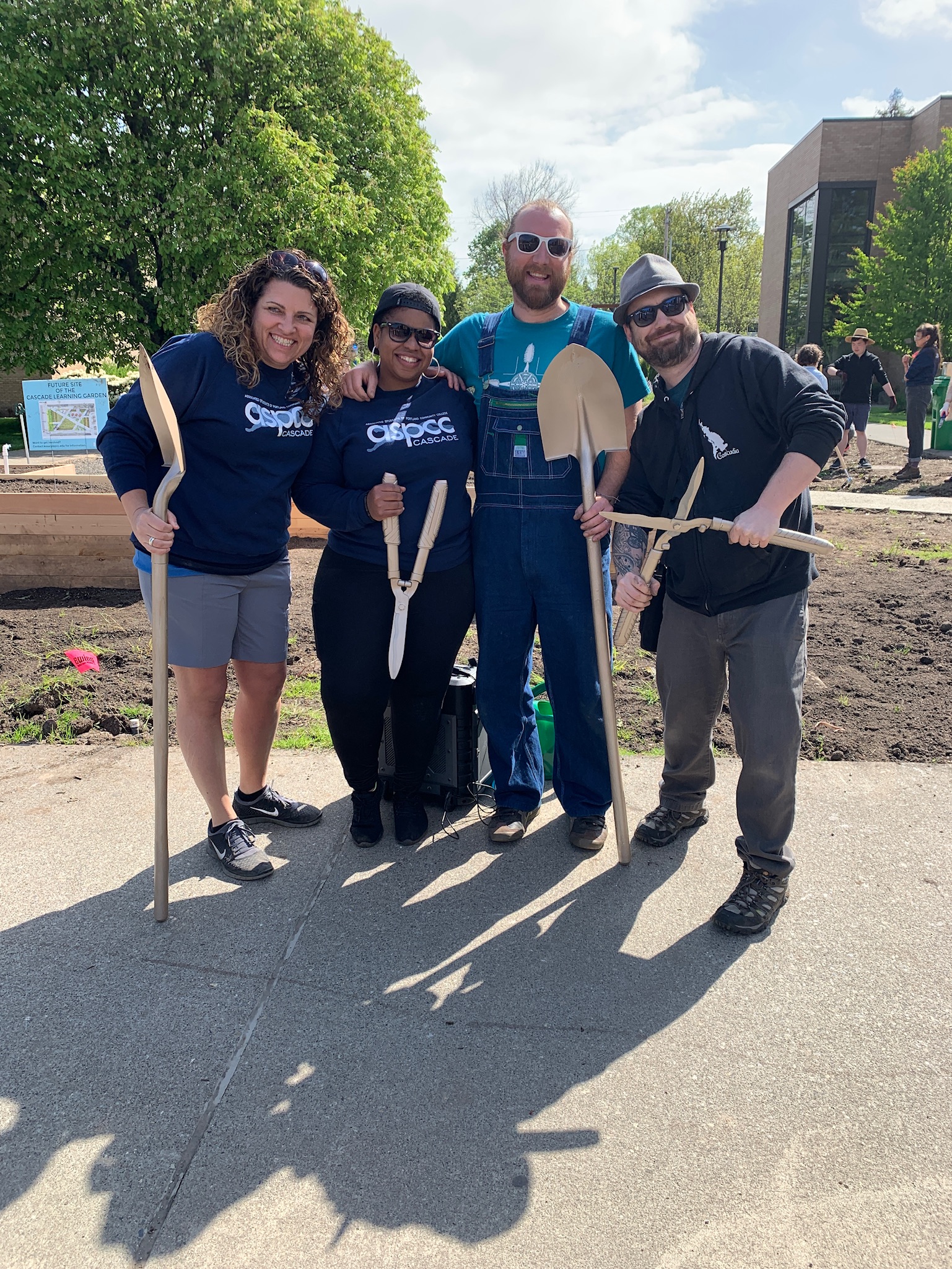 And this year marked the third annual #EcoSocialJusticeEvent which featured Our Children's Trust and the Juliana v Gov "Climate Trial of the Century" we had the pleasure of hosting Jacob Lebel, who is one of the 21 youth plaintiff's in that case along with Coreal Riday-White, who is the Community Engagement Manager for Our Children's Trust. They both gave engaging talks and answered many questions that student leaders provided them with.
The 3rd Annual #EcoSocialJusticeEvent was a great success and many students said it was the best event of the year. Another highlight from the afternoon was the panel with local artists, those being; Asa Wright, Thea Ghar, and Ines Paulina Ramirez, who shared how their work promotes community building around intersectional issues of social justice, sustainability and the climate crisis. They celebrate the power of art as a form of activism. Their talk was called: Art + Social Change: Collective, Collaborations, Cooperatives. It was awesome.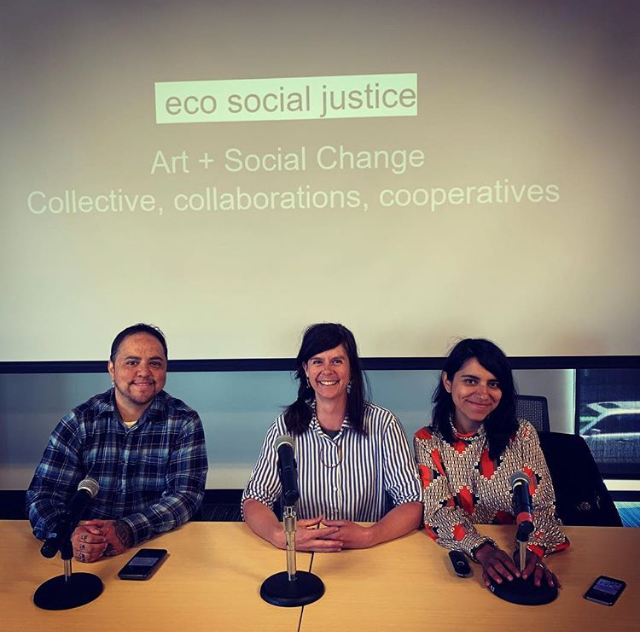 And then, after a great vegetarian lunch, these rad artists set up screen printing stations and a DJ booth and rocked the afternoon with their artivism in action. There was also a seed and start booth for folks to take veggies home and a sign making booth for the upcoming Rally with #youthvgov for the Right to a Livable Future! on June 4th which will be from 1:30-3:30 in Director Park, downtown Portland. This rally is taking place during the Juliana v US hearing in the Ninth Circuit Court of Appeals. There is already over 100 rallies to be held across the country and world wide in solidarity and support of this trial!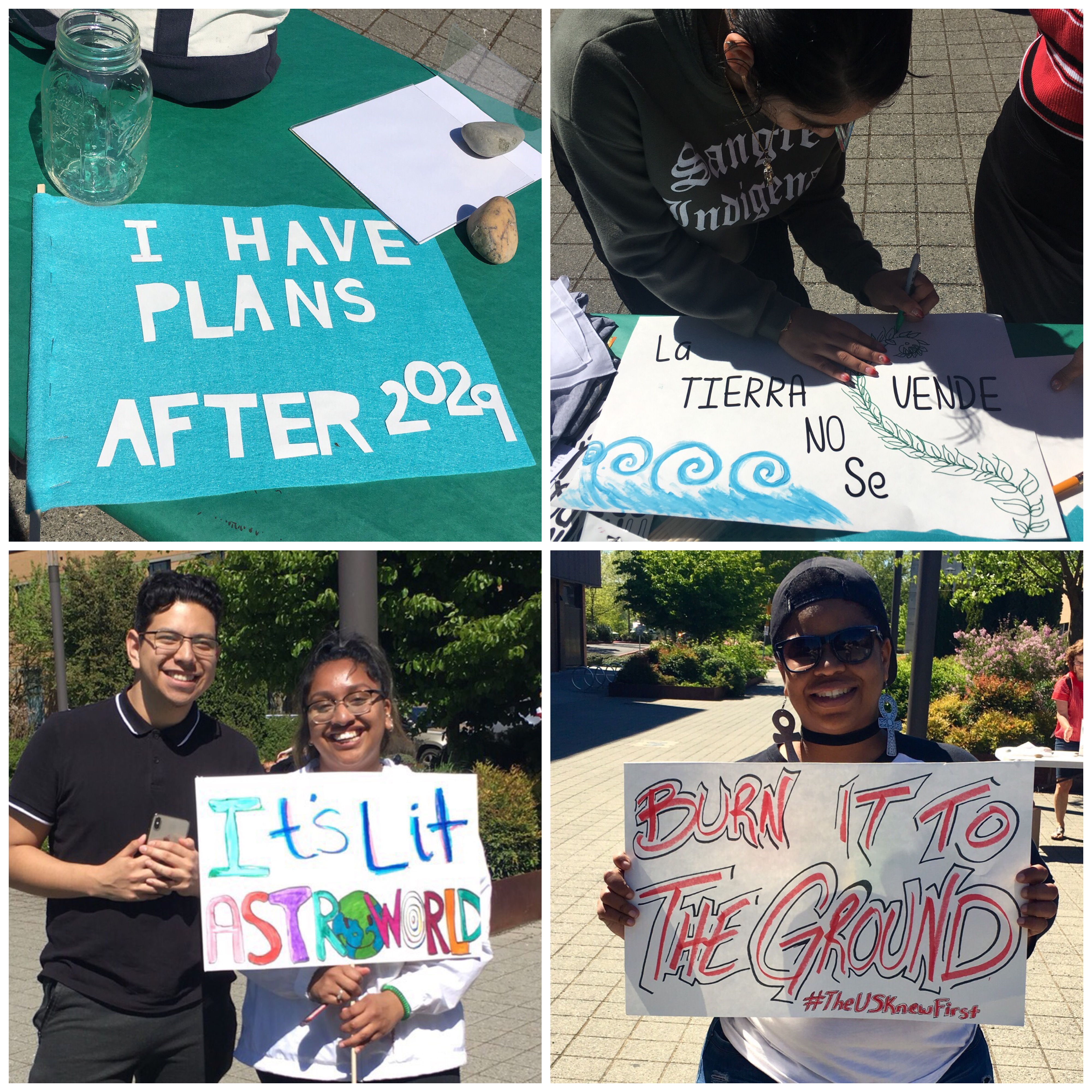 This year we also once again had two great clean ups that took place, the Kelley Point Park Clean Up was the 4th Annual and the Cannon Beach Clean Up was the second year running for this great event. Both had great attendance and were ways for students, staff, faculty and beyond to dedicate some of their energy towards directly taking care of some of the mess we've made. SOLVE was a part of both clean ups.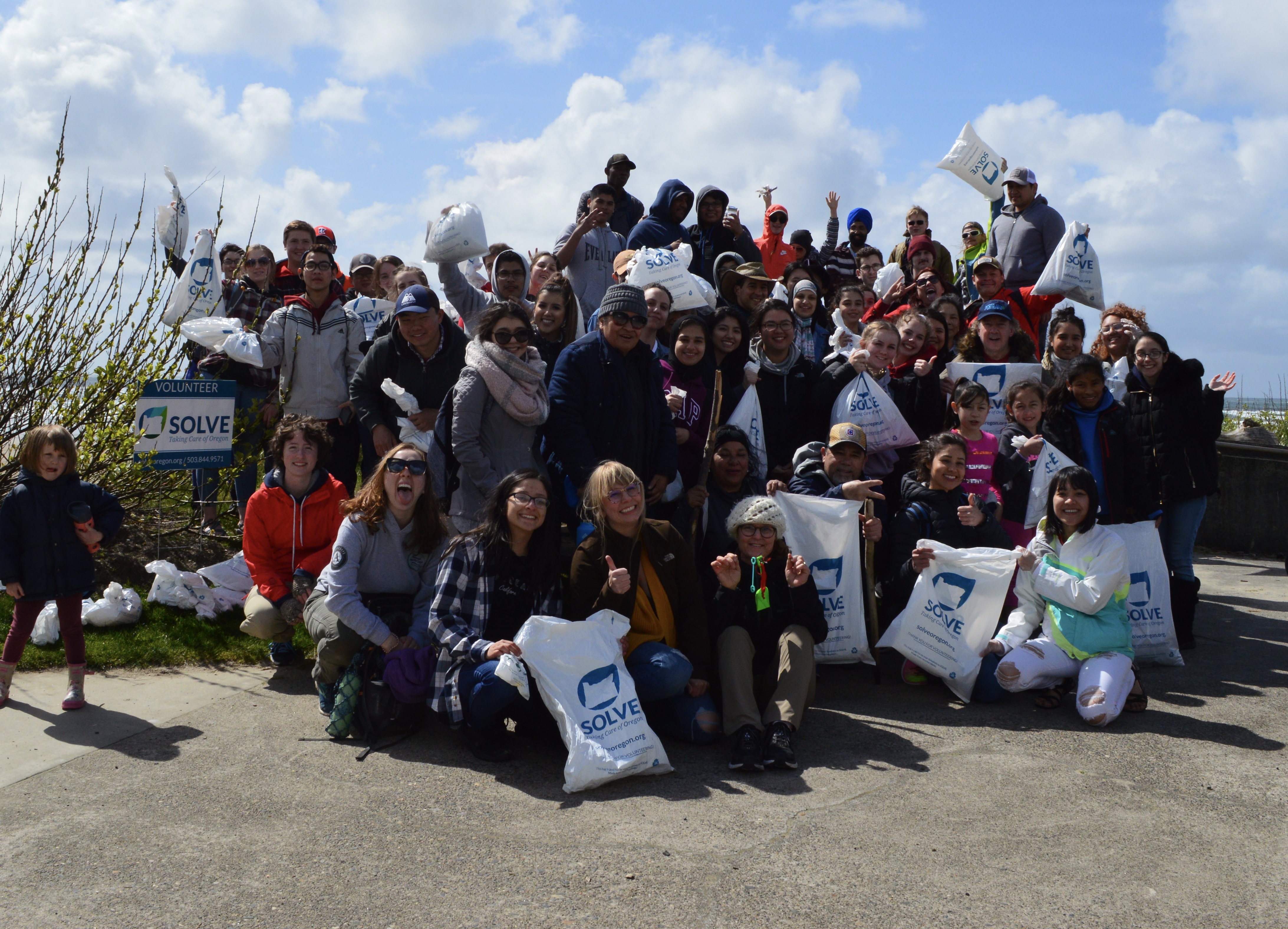 Justseeds Artist Collective, for the second year running, had four incredible portfolio displays to showcase, one for each campus.
Rock Creek Campus displayed: No al Cambio Climatico! Ante la destruction, organizate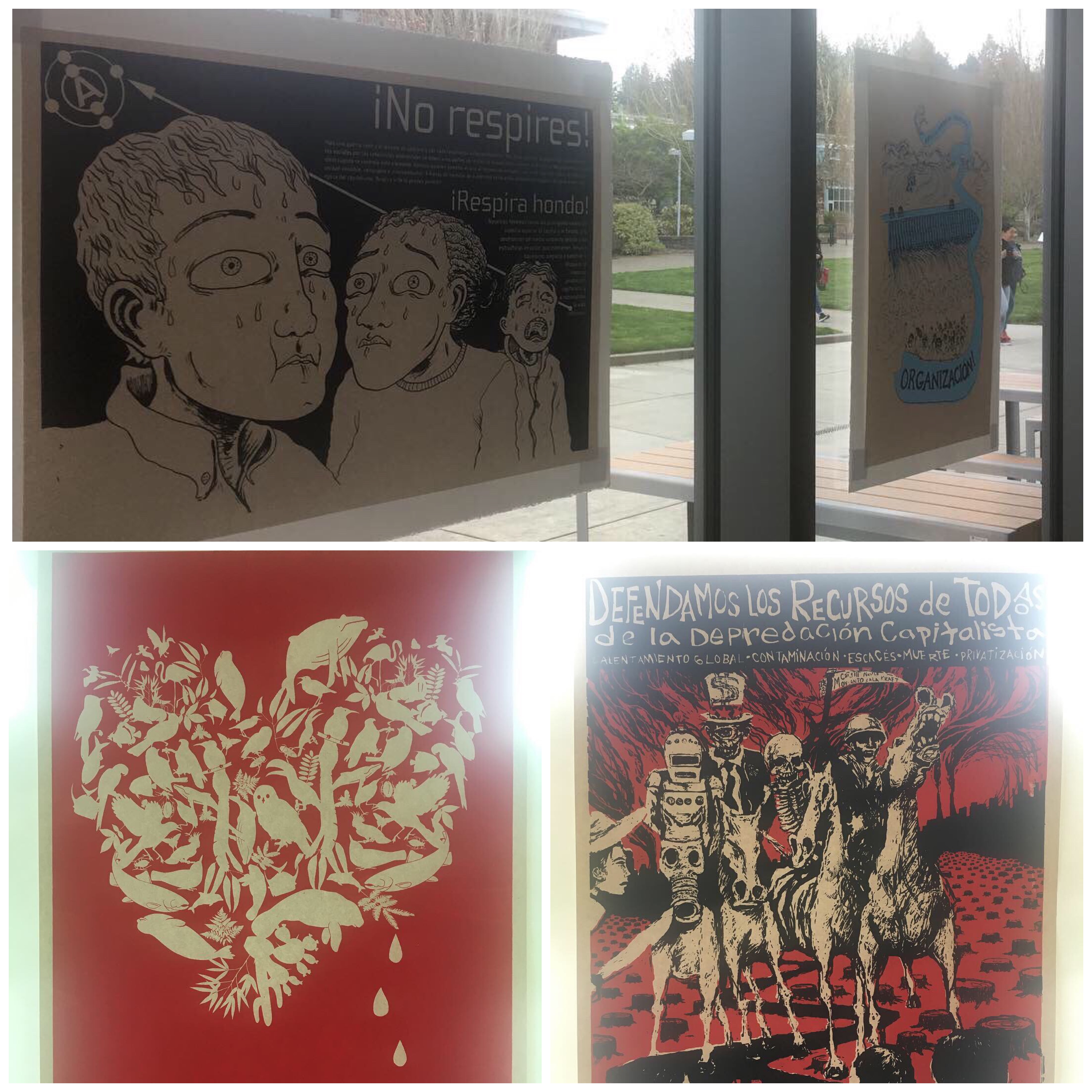 This portfolio was created by  Escuela de Cultura Popular Martires del 68 from Mexico City in resistance to climate change.
Southeast displayed: We Are the Storm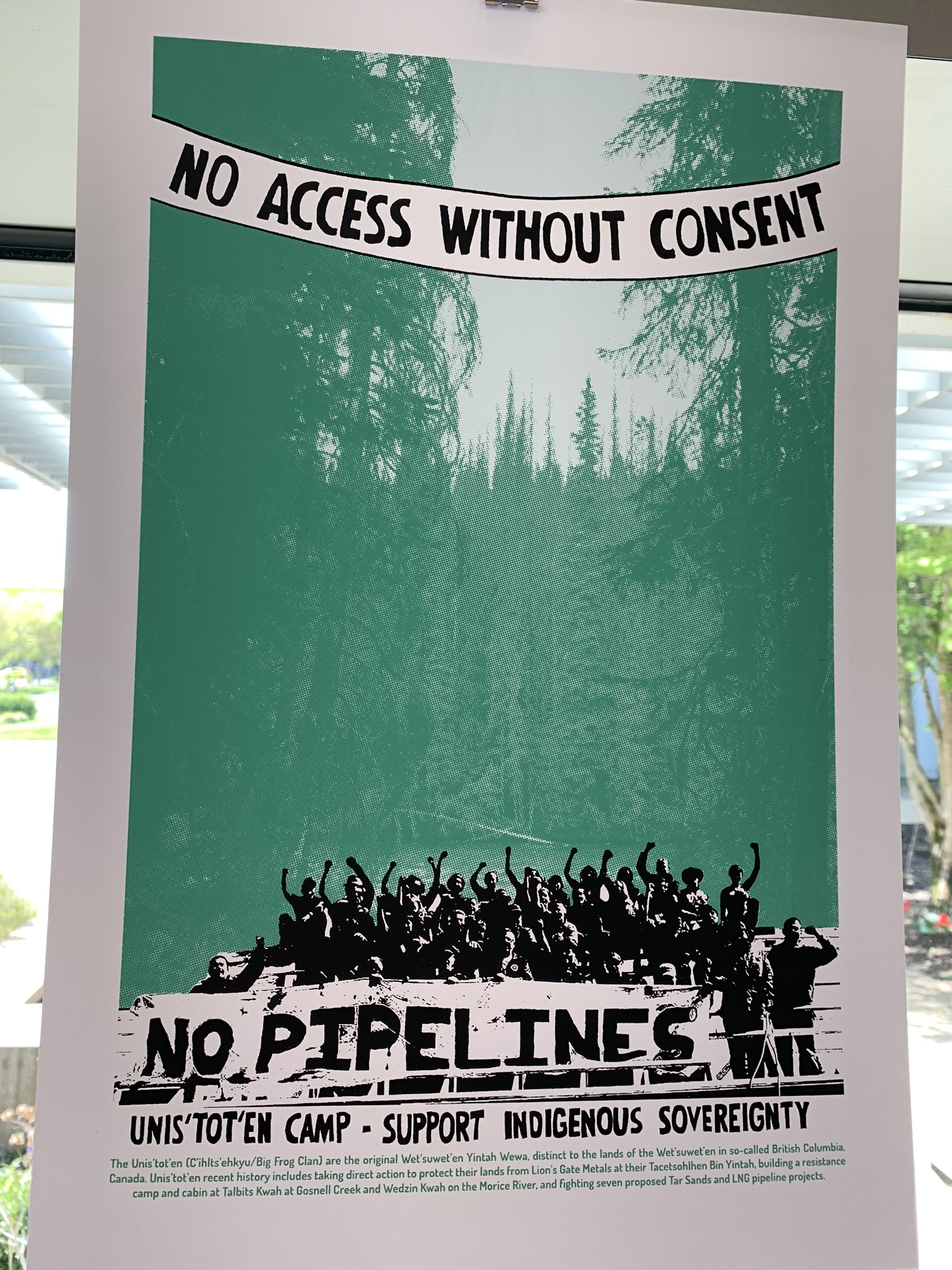 We Are the Storm is a collection of prints created in solidarity with frontline communities in resistance to climate change.
Cascade displayed: Wellspring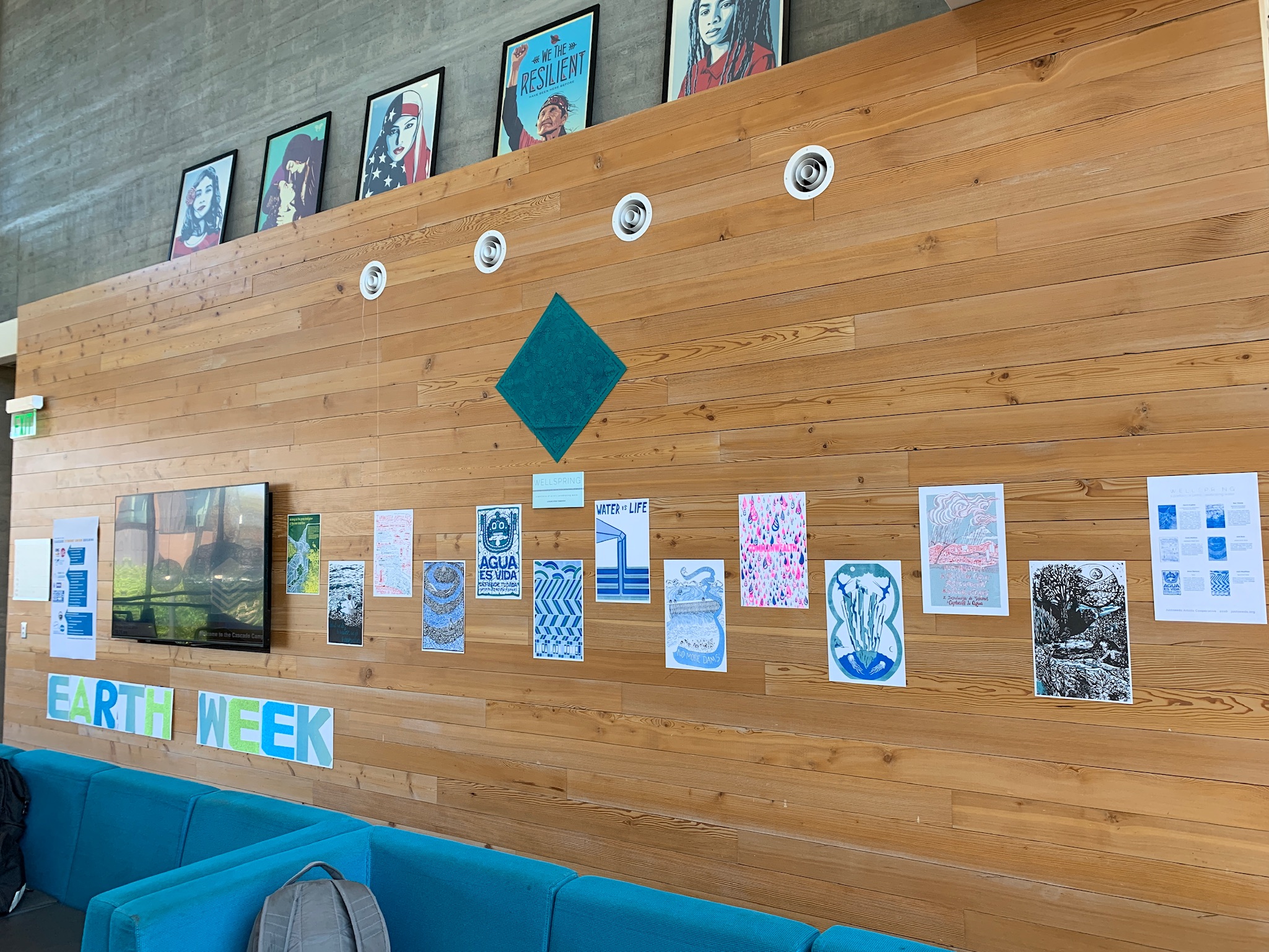 Wellspring is a portfolio of twelve original risograph prints celebrating water.
And Sylvania Campus displayed: Resourced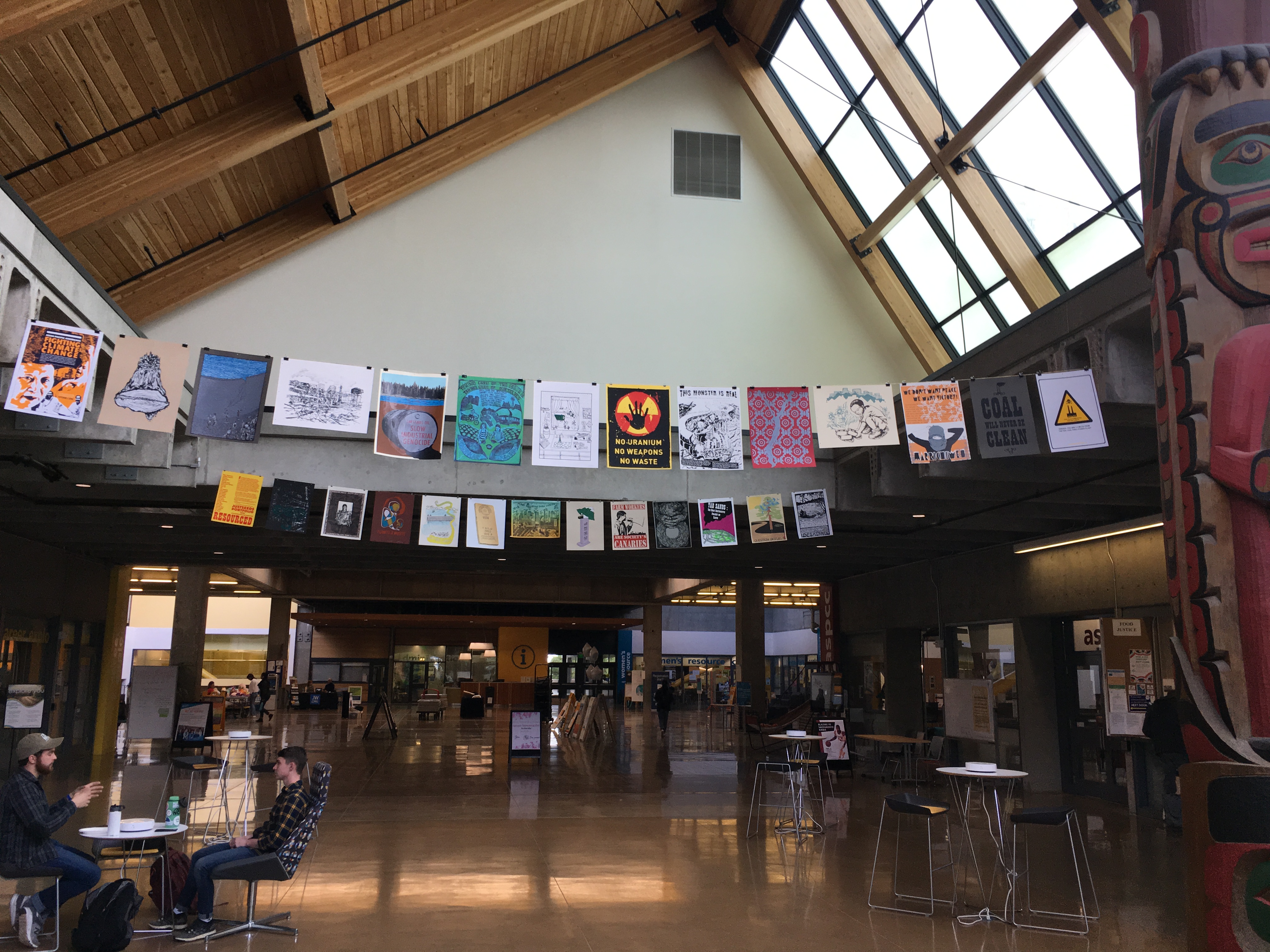 Resourced is a collaborative portfolio of prints addressing resource extraction and resulting social inequalities.
All four campuses had a Green Monday event, this event focused on fighting climate change with diet change! These events celebrated the numerous benefits of plant based diets and how to easily bring more of these meals into our lives. Other highlights from each campus: Rock Creek had their always well attended annual learning garden party and many wonderful events throughout the week.
Cascade had a Native Plant Workshop with Judy Bluehorse Skelton, Student's Forest Forum with BARK, and so much more. Sylvania had a week packed full of Earth Week action as they have been known to do. There was the Build and take home your own compost bin! event, Plant Sale and Seed Swap, Education 2030: The Future Depends on Us! hosted by PCC's Sociology instructor Kim Smith who highlighted the work of PCC, our regional Greater Portland Sustainability Education Network (GPSEN) which Smith is a co-founder of), and the United Nations, through efforts to advance the power of education to help create a sustainable future. Another special event was the Sylvania Habitat Restoration Team's 23rd Earth Day Birthday Party. They played host to Ken Ward, who is featured in the great documentary, The Reluctant Radical. And on top of this, there were a bunch of days o' fun down at the learning garden, and well, you could hardly walk around campus without running in to some kind of Earth Week goodness going on.
As you can gather, we had a lot of great action going on at PCC during our Earth Week events! It was another rewarding, challenging, and productive year building on what we've been doing over the years here. If you'd like, you can learn more and take a look at the history of Earth Week at PCC. We are always pleased to dedicate this energy and focus each year at this time though we recognize that Earth Day really should be something we give attention to EVERY DAY.  Alas, we do what we can to remember that and do our best to be a part of the solution all year long.