This content was published: September 18, 2018. Phone numbers, email addresses, and other information may have changed.
PCC, Sustain Me! Ep. #5 ~ 2018 Eco Challenge n' GPSEN Website Launch! w/ David Macek
2018 Eco Challenge n' GPSEN Website Launch! w/ David Macek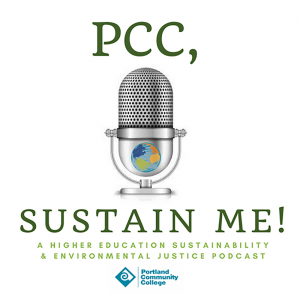 To listen to the episode, follow this link: PCC, Sustain Me! Ep. #5 ~ 2018 Eco Challenge n' GPSEN Website Launch w/ David Macek
Can you feel it? The Autumn Equinox is just around the bend. The sun is setting earlier each day, encouraging us to rest up and get a good nights sleep. There's that brisk and invigorating chill in the air, requiring that extra layer of clothes that's been tucked away all summer. All those colorful leaves crunching beneath your feet as our fellow trees and plant friends prepare to go within for the winter. And for a lot of folks, this is that time n' space to hunker down and get ready to exercise those creativity muscles as the new school year gets in motion. One great way to set some new intentions and perhaps get some beneficial habits in our lives at this time of year is to join the Eco Challenge! The Eco Challenge, brought to you by the Northwest Earth Institute (NWEI), is entering its 10th year and it has certainly improved over the years like a fine wine (especially in these past two years with the updated platform). And there's also another great improvement that has come to fruition this summer as we enter the fall, the Greater Portland Sustainability Network (GPSEN) has officially brought online it's brand-spanking-new website and I must say it is looking sharp as can be.
While both the Eco Challenge and the new GPSEN website were brought into existence through the collaborative efforts of many people, there was one person in particular who was a key player involved with both of these great things. That person is David Macek from NWEI. I was delighted to sit down with the him just the other day and talk about both of these upcoming exciting things. David Macek is the Executive Director of NWEI and also has been a board member of GPSEN for many years as well. He lead the charge on bringing the new GPSEN website to life and of course is intimately involved with the Eco Challenge through his role at NWEI. It was a pleasure to sit down with him for a spell and talk about these great developments and I am delighted to share our talk with you. So, without further ado, I encourage you to go ahead and have a listen to this episode of PCC, Sustain Me!
Thanks for tuning in, folks. It is so greatly appreciated.

And one more thing! If you're a part of PCC and you haven't yet done so, JOIN THE ECO PANTHERS TODAY!!!