This content was published: March 18, 2015. Phone numbers, email addresses, and other information may have changed.
Volunteer with Rock Creek's Learning Garden this Spring Term!
Posted by Holly Talkington | 1 comment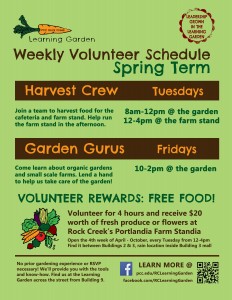 Rock Creek Learning Garden Weekly Volunteer Schedule
Spring Term
Harvest Crew: Tuesdays
Join a team to harvest food for the cafeteria and farm stand. Help run the farm stand in the afternoon.
Where and When:
8am-12pm at the garden
12pm-4pm at the farm stand
Garden Gurus: Fridays
Come learn about organic gardens and small scale farms. Lend a hand to help us take care of the garden!
Where and When:
10am-2pm at the garden
VOLUNTEER REWARDS: FREE FOOD!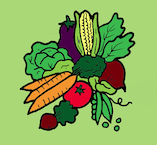 Volunteer for 4 hours and receive $20 worth of fresh produce or flowers at Rock Creek's Portlandia Farm Standia
Open the 4th week of April – October, every Tuesday from 12pm-4pm. Find it between Buildings 2 & 3, rain location inside Building 3 mall
No prior gardening experience or RSVP necessary! We'll provide you with the tools and know-how. Find us at the Learning Garden across the street from Building 9.