Solar Voltaic Manufacturing Technology, Career Pathway certificate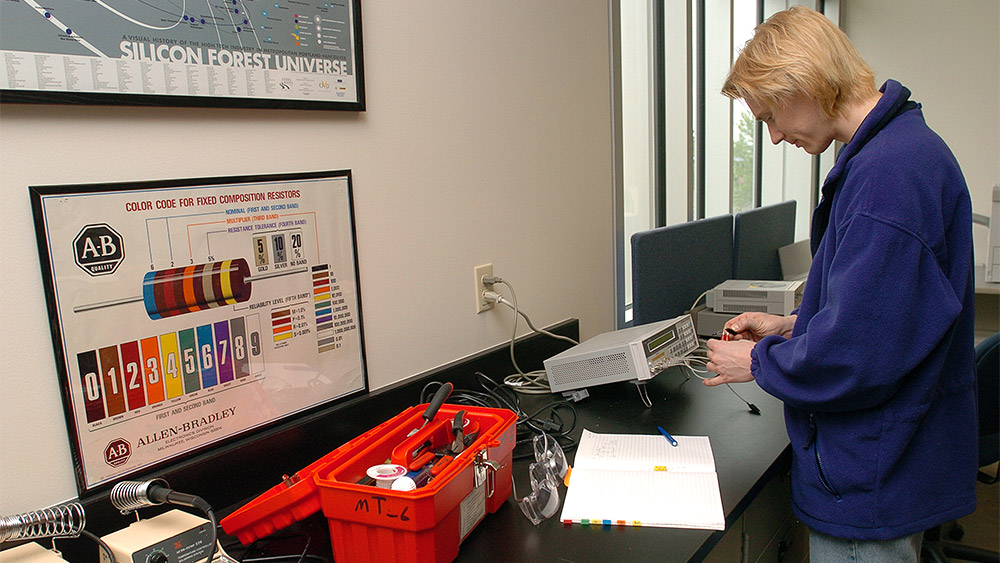 Do you want to be part of the growing renewable energy field?
Are you interested in a program that is based on the needs of industry and gives you the skills you need to succeed on the job?
Start on a career path that leads to many opportunities in Oregon's booming semiconductor and solar manufacturing fields.
The Solar Voltaic Manufacturing Career Pathway prepares you for entry-level positions in Solar Voltaic Manufacturing, and to continue your education and complete your degree.
This short certificate is designed for those interested in the solar photovoltaic manufacturing industry who otherwise have no relevant background or education. The coursework in the program will give you the basic background to understand what the industry does and how it operates. This may assist you when applying for entry-level positions in the industry. The certificate is also a pathway to the MT AAS option in solar; all courses can be applied to that two-year degree.
Individualized coaching
As a Career Pathway student, you can get one-on-one support to help you access resources, services, and employment. You may also be eligible for financial support to help you with the costs of college.
Get connected
Award information
Degrees and certificates by number of terms to complete

| Award | Length | Financial aid eligible | Currently accepting students? |
| --- | --- | --- | --- |
| Career Pathway Certificate: Solar Voltaic Manufacturing Technology | Less than 1 year | | |
Learn more about Microelectronics and all 5 awards available »
Courses
Course listing for the 2022-2023 catalog year.
Course List
Code
Title
Credits

CH 100

Everyday Chemistry with Lab (or higher)
4

MT 101

Introduction to Semiconductor Manufacturing
1

MT 102

Introduction to Semiconductor Devices
1

MT 104

Introduction to Solar Voltaic Processing
1

MT 111A

DC and AC Electronics Intro
4

MT 121A

Digital Electronics Intro
2

MT 150

Hand Tools for Assembly of Mechanical Systems
1

MT 180

High Tech Employment Strategies
1
Total Credits
15
Next steps
Applying to PCC is free and only takes a few minutes.Apply now

Not quite ready to apply?
We can help you get the information you need.