Solar Voltaic Manufacturing Technology, Career Pathway certificate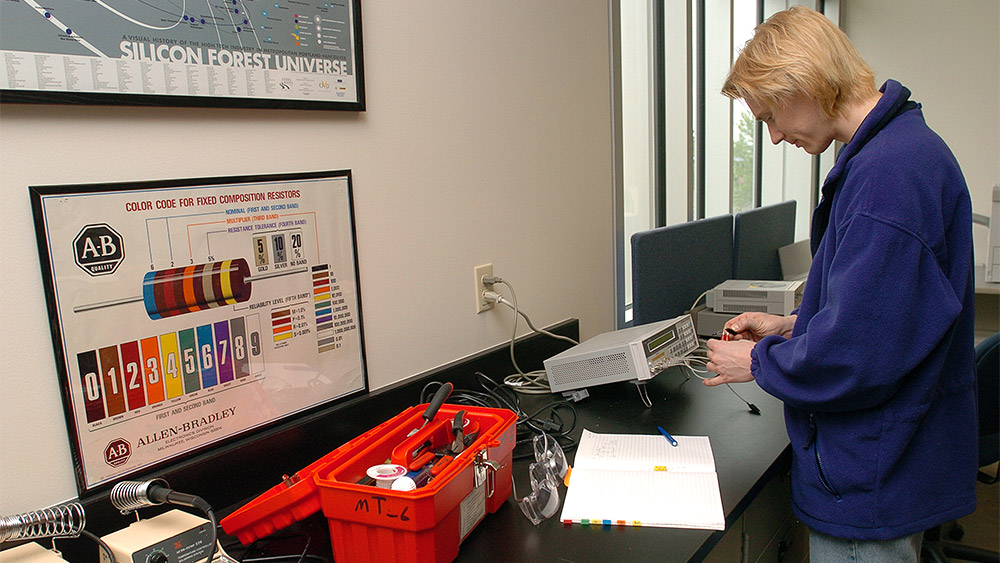 Do you want to be part of the growing renewable energy field?
Are you interested in a program that is based on the needs of industry and gives you the skills you need to succeed on the job?
Start on a career path that leads to many opportunities in Oregon's booming semiconductor and solar manufacturing fields.
The Solar Voltaic Manufacturing Career Pathway prepares you for entry-level positions in Solar Voltaic Manufacturing, and to continue your education and complete your degree.
This short certificate is designed for those interested in the solar photovoltaic manufacturing industry who otherwise have no relevant background or education. The coursework in the program will give you the basic background to understand what the industry does and how it operates. This may assist you when applying for entry-level positions in the industry. The certificate is also a pathway to the MT AAS option in solar; all courses can be applied to that two-year degree.
Award information
Degrees and certificates by number of terms to complete

| Award | Length | Financial aid eligible | Currently accepting students? |
| --- | --- | --- | --- |
| Career Pathway Certificate: Solar Voltaic Manufacturing Technology | Less than 1 year | | |
Learn more about Microelectronics and all 5 awards available »
Jobs
The average wage for solar manufacturing and operator positions in the field are $30-$40,000 per year. Entry-level wages are typically $10-$14 per hour, with great opportunities to advance with additional education.
Finish your degree
The Solar Voltaic Manufacturing Career Pathway leads to the Microelectronics degree. Continue your education to give yourself more job opportunities and career advancement.
Is it for me?
Who: GED and high school graduates; competency in Writing 115, Reading 115, and Math 65.
Where: Rock Creek Campus
When: Classes run over several terms
Program cost
Use the cost calculator to see the estimated costs. For more detailed cost sheets contact Laurie Chadwick.
View the courses in the catalog
Next steps
Applying to PCC is free and only takes a few minutes.Apply now

Not quite ready to apply?
We can help you get the information you need.