HVAC/R Installation, Career Pathway certificate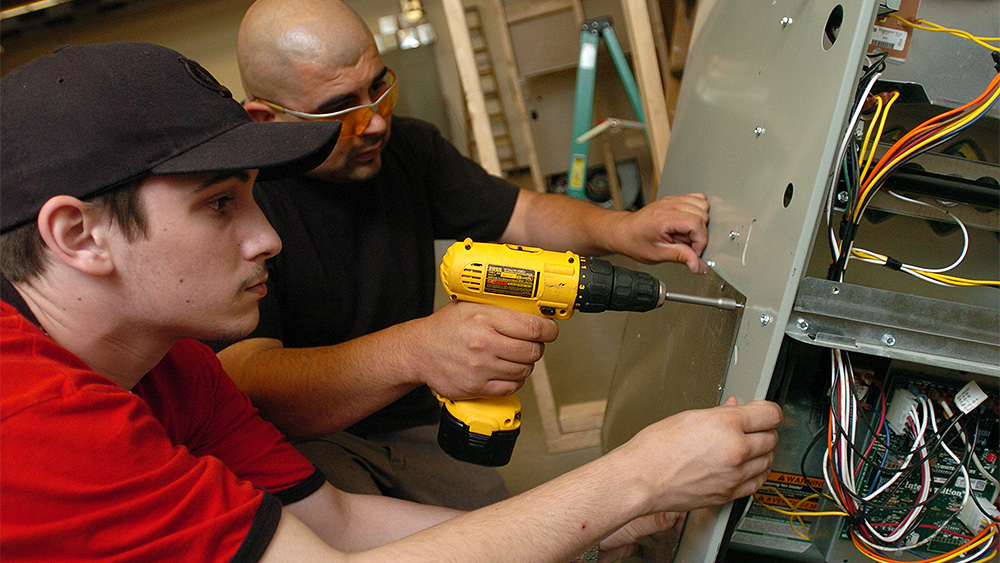 Heating, Ventilation, Air Conditioning, and Refrigeration (HVAC/R) installation is a condensed 14-credit program that prepares you for an entry-level position in the HVAC/R Industry. A PCC certificate will be granted upon completion.
See tuition and fees for the cost per credit and use the college cost calculator to approximate the cost of your tuition and fees for the term. The estimated cost of books and tools is $675. Learn more on the program overview page.
Individualized coaching
As a Career Pathway student, you can get one-on-one support to help you access resources, services, and employment. You may also be eligible for financial support to help you with the costs of college.
Get connected
Award information
Degrees and certificates by number of terms to complete

| Award | Length | Financial aid eligible | Currently accepting students? |
| --- | --- | --- | --- |
| Career Pathway Certificate: HVAC/R Installation | Less than 1 year | | |
Learn more about Facilities Maintenance - HVAC and all 3 awards available »
Format
All classes are at Swan Island Trades Center. Classes are presented Monday through Thursday for nine weeks, followed by an intensive two-week "hands-on" practicum covering installation practices. Prepare yourself for employment with this short term training program that is taught by skilled industry professionals.
Skills
In this program you will learn:
ACR tubing
Basic natural gas piping
Basic sheet metal operation
Best work practices
Clean up
Combustion air
Controls installation
Customer relations
Duct sizing
Equipment set-up
Ergonomics
HVAC/R accessories
Introduction to mechanical code
Proper refrigerant handling
Systems startup
Venting
You will learn mechanical refrigeration basics and progress through troubleshooting and print reading. These skills will open the doors to many different jobs in the HVAC/R service industry, as well as have the potential for promising careers in the HVAC/R service and maintenance fields.
Requirements
Students will be required to have a toolbox (see toolbox list).
Industry certifications
Both CFC and Brazing Certifications are needed to work in the field. The program classes will prepare you to obtain these certifications. See industry certifications for locations where you can take the exams and obtain certification after you have completed the program.
Courses
Course listing for the 2022-2023 catalog year.
Course List
Code
Title
Credits

FMT 101

Refrigeration I
2

FMT 102

Refrigeration II
2

FMT 103

Refrigeration III
2

FMT 111

Refrigeration Electrical I
2

FMT 112

Refrigeration Electrical II
2

FMT 113

Refrigeration Electrical III
2

FMT 210

Basic HVAC/R Installation & Techniques
2
Total Credits
14
Next steps
Applying to PCC is free and only takes a few minutes.Apply now

Not quite ready to apply?
We can help you get the information you need.