PCC earns Tree Campus designation from Arbor Day Foundation
Photos and Story by James Hill
With Arbor Day looming on April 22, more and more people are realizing that trees are an important part of the ecosystem. They remove harmful particulates from the air, lower energy costs by shading buildings from the sun or shielding them from cold wind, reduce stormwater runoff, filter contaminates from the soil, and increase biodiversity and wildlife habitat.
Because of this importance, Portland Community College conducted a tree survey of all of its campuses and locations in 2019. Funded by the 2008 voter-approved bond measure, the inventory documented roughly 3,800 trees on PCC campuses, which represents a retail value of more than $13 million. This tally doesn't even include the thousands of trees that are in a dense forest behind the Rock Creek Campus. The findings were uploaded to ArborScope, Bartlett Tree Expert's interactive landscape management website where the information is searchable.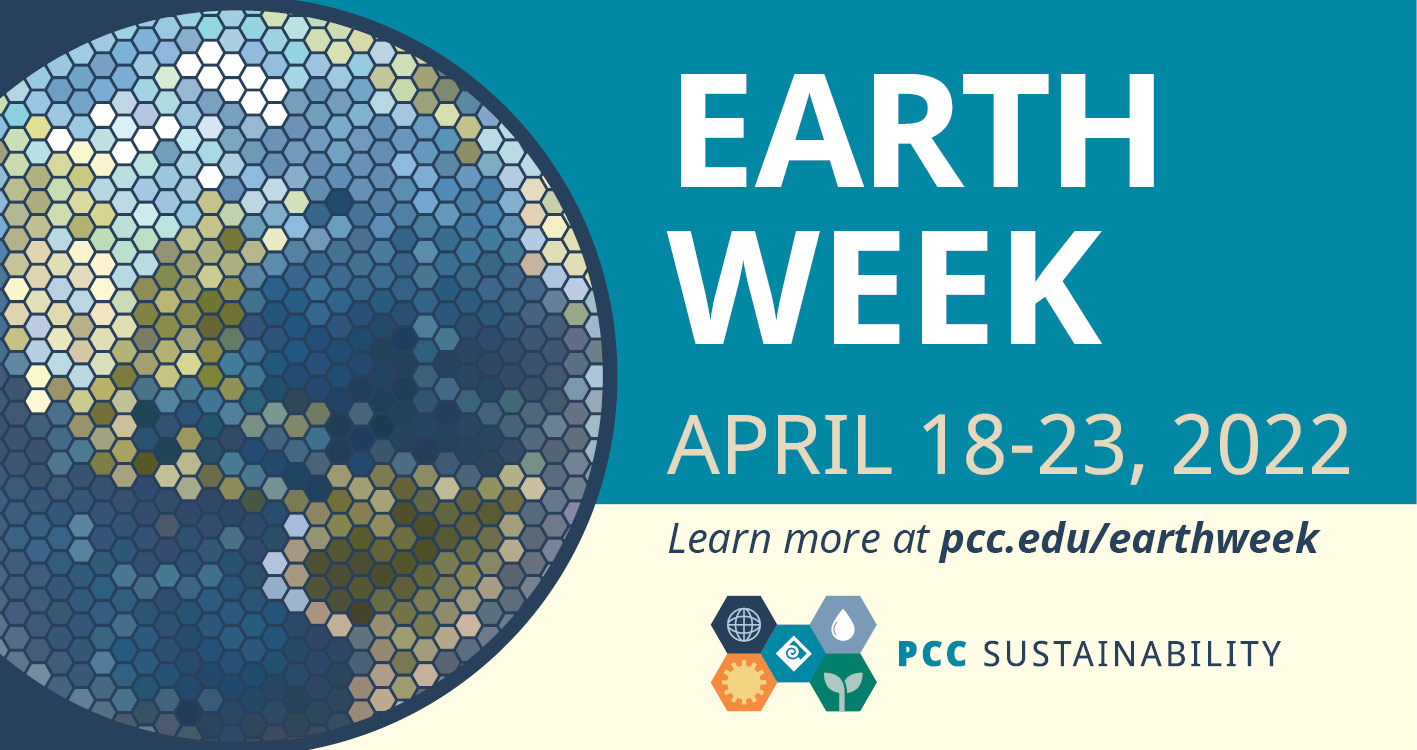 Earth Week Activities:
Please join PCC staff and students in celebrating Earth Week this year, April 18-23. PCC is excited to host virtual and in-person events as well as highlight some excellent community events, including film screenings, a Youth Climate Summit, the college's popular Earth Week challenge, learning garden events and much more!
"This tool is great for many things for the tree work we do here at the college," said PCC Grounds Manager Jack Lussier at the time. "The software is easy to use and user friendly, and everyone can access it from their computers or cell phones. We spend about 10% of our time looking after the trees in the district. It allows us to track and report to the City of Portland the trees we have removed and planted."
Lussier also said that ArborScope helps PCC maintain its certification as a Tree Campus USA member of the Arbor Day Foundation, a nonprofit organization that, among other programs, certifies tree conservation and education efforts by communities, schools, colleges and health institutions. The college's Campus Tree Advisory Committee (made up of students, faculty, administration along with the Sustainability, P&CC and Facilities departments) uses the tool to integrate the college's canopy coverage with PCC's Climate Action Plan. The college's goal is to increase its canopy from its current level of 19.7 percent to 30 percent, a level that many cities — including Portland — have set.
Because of this dedicated effort, the college earned its seventh consecutive Tree Campus Higher Education designation by the Arbor Day Foundation in 2021. Tree Campus Higher Education, an Arbor Day Foundation program, honors colleges and universities and their leaders for promoting healthy trees and engaging students and staff in the spirit of conservation. According to the foundation, PCC and six other schools in Oregon have earned the Tree Campus Higher Education status. In addition, PCC is the only community college in the state, and the largest in the U.S., to have earned the designation.
To obtain this distinction, PCC met the five core standards for sustainable campus forestry required by Tree Campus Higher Education – establishment of a tree advisory committee, campus tree care plan, funding the program, hosting an Arbor Day observance and sponsoring student service learning projects.
In 2015, PCC developed its tree care plan for all of its locations and is updated every five years. The plan establishes policy for the selection, planting, management, removal and replacement of trees across the college. It also includes a section that provides guidance for how trees are to be managed during construction.
Another criteria for achieving Tree Campus Higher Education honors is the completion of student service-learning projects. These have included students collecting acorns for the germination and planting of 200 Oregon white oaks in the wetlands at Rock Creek, and geographic information systems students adding data for the Arborscope database that documents all PCC trees and designing and planting of them.
This all ties into the college's 2020-2025 Strategic Plan, which lays out how it will prepare for the future of higher education. One area of focus is sustainability, where PCC continues to align its services and facilities to promote environmental stewardship.
"Earning the award for our seventh time, and being the only community college in Oregon to do so, gives us a lot to be proud of," said David Sandrock, faculty lead for the committee. "The award is evidence of PCC's continued commitment to plan, install, manage and preserve the PCC tree canopy, planted landscapes and natural areas across the district at all PCC locations. Working together, we can continue to ensure that PCC's vast and important tree canopy is recognized and protected while being an example of successful tree management in the built environment."