In 'Meals Matter' workshop, students learn cooking and food literacy skills
Photos and Story by Amy Bader | 2 comments
Portland Community College's Environmental Center is partnering with the Office of Student Life and Leadership and the Panther Pantries to provide a resource for students focused on accessing food and creating healthy meals. 
Led by AmeriCorps Food Systems Outreach Coordinator Catherine Horwitz, "Meals Matter" is a six-week-long virtual workshop. The goals are to build cooking and food literacy skills while creating a space of belonging for students who use food pantries and food assistance programs. 
The rotating annual position is filled by an AmeriCorps member as part of the Confluence Environmental Center AmeriCorps Program in Southeast Portland. Each member of the cohort partners with different non-profit institutions and agencies around the city to develop projects related to environmental justice.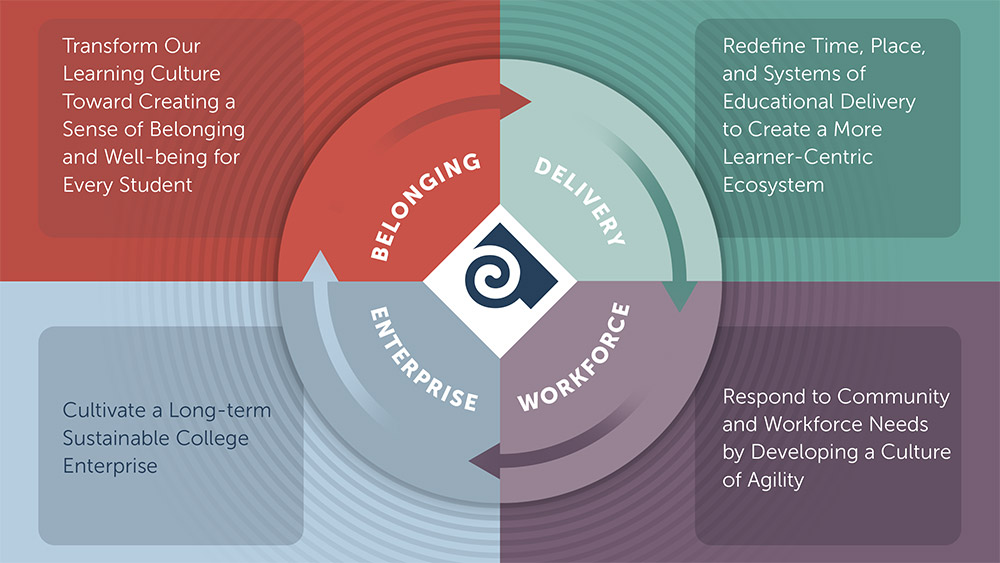 The Strategic Plan: Belonging
The 2020-2025 Strategic Plan prepares the college for the future of higher education. Part of the plan is creating a sense of belonging and well-being for every student. This means PCC works to ensure every student has the opportunity to key resources, new employees have a sense of belonging, all staff develop intercultural competencies, and the college supports a culture where employees feel acknowledged, inspired and supported.
With guidance from PCC's Environmental Center Coordinator Peter Ritson, Horwitz has focused her yearlong project on addressing food justice.  
"At the Environmental Center, we feel strongly about environmental justice, but also about food justice and food sovereignty – especially with the knowledge that an estimated two out of three of our students experience food insecurity, " said Ritson. "We strive to create projects that address these issues – with a student-centered focus." 
During the first two weeks of class, Horwitz discusses budget grocery shopping tips, meal planning strategies, how to access SNAP (Supplemental Nutrition Assistance Program) and WIC (Supplemental Nutrition Program for Women Infants and Children), and how to use tools in the kitchen to create healthy meals.  
"We've found that combining pantry resources with other available assistance, such as SNAP and WIC, can be a very sustainable way to live," Horwitz said. "With pantry products alone, it can be challenging to make a full meal, but learning how to combine resources can fill the gaps to create nutritious, delicious meals." 
After the first informational classes, students pick up groceries at the Panther Pantry, including beans, pasta, garlic and spices. Then they connect virtually each week from their own kitchens to cook together. 
Creating a sense of belonging has been central to the project's goals, and Horwitz has been intentional in creating an environment in which all students are able to participate in the class, regardless of what cooking supplies they have access to at home. She has been able to send pots, pans, cooking utensils and hot plates to students who have demonstrated the need, thanks to generous support from the Office of Student Life and Leadership.  
"The class builds community among students who may not have gotten a chance to meet otherwise and works to reduce any negative stigmas around accessing food assistance," Horwitz said. "Several ESOL students have been loving the class to practice English and to learn and share about different culinary cultures."
Students have appreciated being able to go in person to the pantries to pick up their ingredients and overcoming the hesitancy to access this resource. At least half of the students in "Meals Matter" are new to using the Panther Pantries. 
"Many students don't feel they fall into the category of using the pantry resources, but I'm hoping through this class that folks will learn that the pantries are an open and safe space for students to go to get food and other things they need," added Horwitz.
The Panther Pantries serve as an invaluable resource for students, offering a wide variety of shelf stable, frozen and refrigerated food, thanks to a generous partnership with Oregon Food Bank. The pantries carry much more than food to help PCC students make ends meet, including a variety of non-food items such as toothpaste, soap, laundry detergent and personal hygiene toiletries. 
During the 2019-2020 academic year there were more than 20,000 pantry visitors across the college. Due to COVID-19, the pantries pivoted to continue to support needs in creative ways remotely, such as mailing food gift cards and food boxes. In the spring, pantries are in a limited reopening — 10 a.m. to 3 p.m., Mondays-Thursdays.
Registration is open for the final workshop series, which will take place during spring term at 4 p.m. on Tuesdays and at noon on Wednesdays (students can choose the session that works best with their schedule). Interested students can learn more and register here through April 22. 
"We are excited to support 'Meals Matter' to leverage our resources towards improving food access and raising awareness about the pantries," said Student Life Program Specialist Christian Gaines. "As we transition back to expanded in-person classes, we look forward to more students learning about and accessing this valuable resource."