This content was published: March 18, 2021. Phone numbers, email addresses, and other information may have changed.
Plans for college's first affordable housing project progresses
Submitted Article. Designs by Hacker Architects.
Portland Community College and Home Forward formed a partnership to deliver an affordable housing project as part of the Portland Metropolitan Workforce Training Center (PMWTC) redevelopment. Home Forward's Director of Development and Community Revitalization Jonathan Trutt provided an update to his earlier Q&A concerning the unfolding details about the design and plans for this project.
Can you tell us the details of this project?
Jonathan Trutt: This project will bring 85 new affordable apartments to the eastern side of the PMWTC site. The ground floor of the building will contain approximately 4,500 square feet of commercial space for community-based organizations and two separate outdoor courtyards for residents. Residents will have on-site parking via a share agreement with PCC as well as some street parking options.
What are the sizes of these units?
Trutt: We are providing housing options for a wide range of household sizes and types. The breakdown of apartments is: 18 studios, six one-bedrooms, 46 two-bedrooms, and 15 three-bedrooms.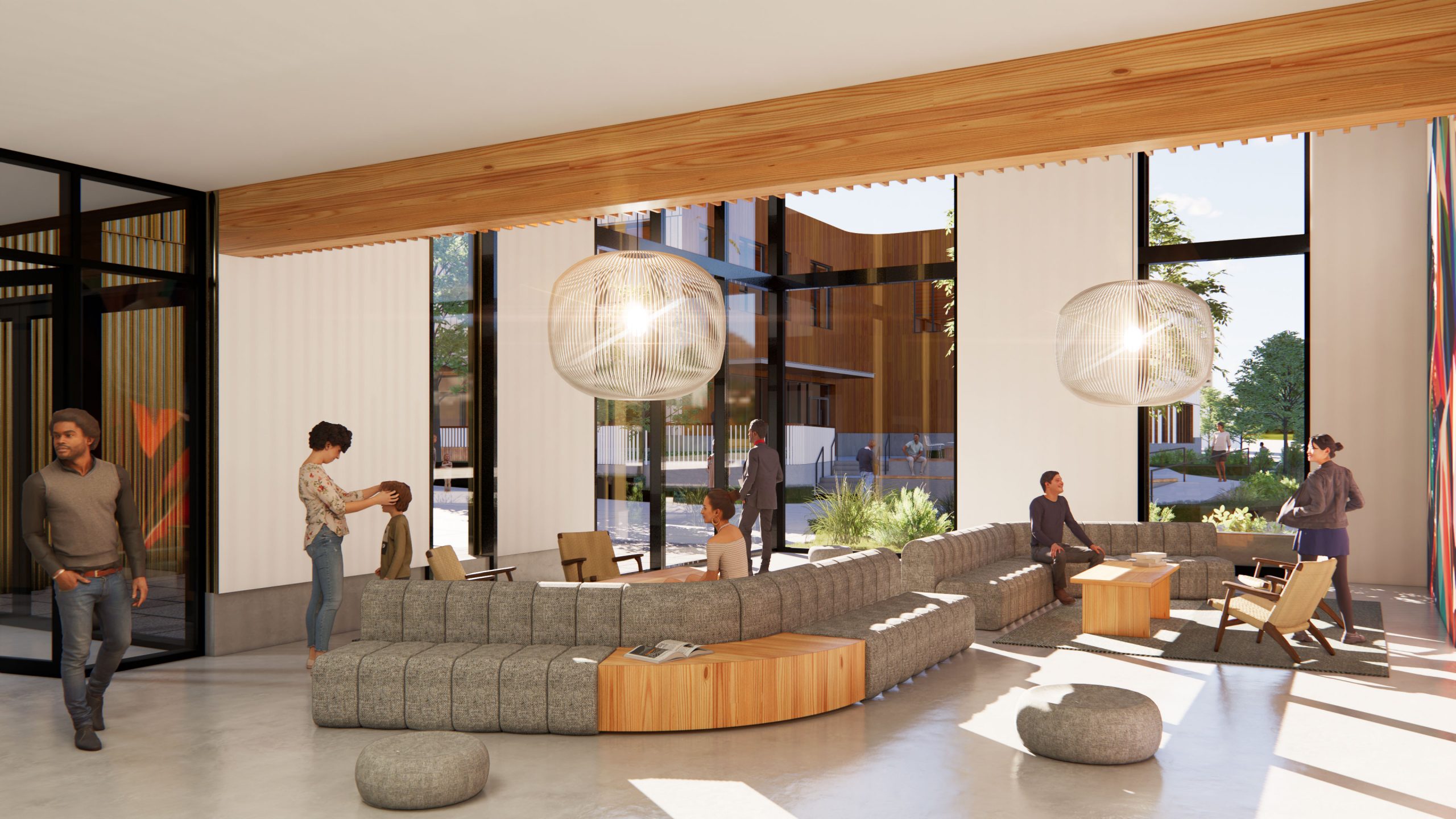 Project At-A-Glance
85 new affordable apartments with 18 studios, and six one-bedroom, 46 two-bedroom and 15 three-bedroom units.
4,500 square feet of commercial space for community-based organizations.
Two outdoor courtyards.
Construction begins in early 2023 and target completion date is summer 2024.
Tell us more about the project's design.
Trutt: We are especially proud of the mixed-use aspect of the project's design. The storefront spaces along Northeast Killingsworth Street and the plaza between the two buildings will help create a lively public environment that responds to community needs and will be a neighborhood amenity for generations.
Are there any notable differences or similarities between this Home Forward project and others it oversees?
Trutt: Our mission supports racial and social justice. Like our other development projects, this project enables Home Forward to focus our attention and efforts on pressing questions relevant to historically disadvantaged groups such as those who aren't accessing affordable housing or getting contracting and job opportunities.
What's different about this project are the opportunities presented by partnering with PCC and the Cully neighborhood. This is Home Forward's first time co-developing a site with PCC and we are excited to build this relationship with a fellow, major mission-based organization. This is also our first new construction effort in Cully in nearly 50 years and the project's design and programming has already benefited from the extensive community organizing efforts within the neighborhood.
How is community involvement shaping the project's design?
Trutt: Feedback garnered through discussion with Living Cully staff and partners and attendance at multiple, community-based focus groups and public meetings has influenced the project's design. Examples of such influences include our emphasis on two- and three-bedroom apartments, the inclusion of commercial space for community-based organizations and the goal of creating an environment that is welcoming to all community members regardless of any relationship they have with PCC or Home Forward.
Does the design include any accessibility features?
Trutt: The building will contain an elevator and multiple apartments built to Americans with Disability (ADA) standards for persons with mobility, hearing, and visual impairments. Home Forward has not yet determined the exact number of ADA units.
However, we expect to continue our common practice of exceeding state and federal requirements and build approximately 10 percent of all apartments to ADA standards at this project. The common areas and community spaces will also be fully accessible and include automatically opening doors at all laundry and trash room locations.
What services will be offered for residents?
Trutt: Home Forward will provide a suite of resident services, including efforts to eliminate food insecurity, maintain health, build wealth, foster educational success, and create community within the project.
Will the Native American Youth and Family Center (NAYA) be a partner?
Trutt: All of the project's commercial space will be available to NAYA for a nominal rent of a dollar a year. Current discussions are focusing on how NAYA might choose to utilize this space and ensuring that the building's emerging design maintains maximum flexibility for a variety of potential uses.
How can interested people apply to live at this housing project?
Trutt: For this property, we will start collecting a list of interested parties when construction begins in 2023. More generally, people can route questions to info@homeforward.org. Staff checks this email address daily and routes questions and information internally to ensure interested parties get a response.
Thank you, Jonathan!