This content was published: July 13, 2020. Phone numbers, email addresses, and other information may have changed.
BCT student Erin Beaty making a big transition to tiny home construction
Photos and Story by James Hill
Erin Beaty, fresh off of earning a bachelor's degree in Bioengineering from Oregon State University, was working in the global manufacturing unit of a respected company.
But the Southeast Portland native and a Franklin High School graduate yearned to switch careers. She wanted to use her hands and math and geometry skills, as well as work outside. After a decade in her job, she made the decision to enroll in Portland Community College's Building Construction Technology Program to reach her dreams.
"I got really excited about certain BCT classes, like 'Floor Framing' and 'Finished Stair Construction,'" she remembered. "I took the prerequisite 'Hand and Power Tool Safety' class and I was hooked. I feel I'm going to have a really cool career."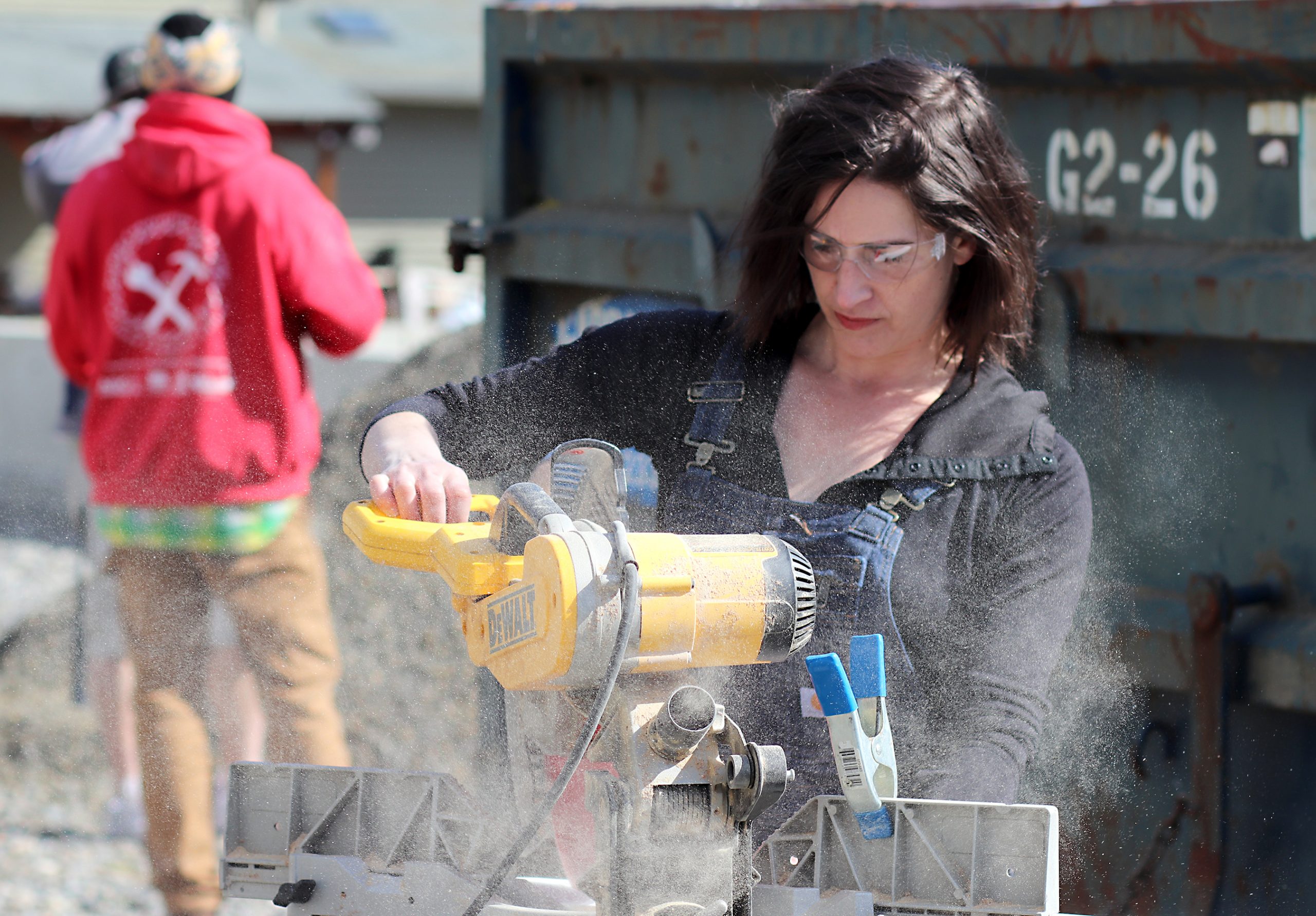 Construction at PCC
The college has numerous trades and construction-related programs to satisfy any training needs and provide pathways to employment.
Beaty, who is in her third year at PCC, is now aiming to make the transition from engineer to design company owner. She said she dreams of designing tiny homes in the winter and getting outside to construct them in the summers. A dream that started when she converted her garage into a tiny home in 2017, which has become her house.
"It's like putting together a puzzle," Beaty said of the tiny home construction process. "You figure out sizes and dimensions beforehand on a computer, and then go into the field and piece it together. In Southeast Portland, there are a lot of detached small garages that I would love to turn into tiny homes. There's like a million-and-a-half unfinished garages that everyone just parks in front of, but not in them."
The BCT Program turned out to be a perfect choice for her. It consists of three certificate or degree options that provide specialized training in building construction, construction management and design/build remodeling. Students from different backgrounds can participate in cooperative education by receiving credit for on-the-job experience. BCT has a functioning garage and a 10,000-square-foot shop at the Rock Creek Campus where instructors simulate job sites.
"Once students go through the whole program, they've really more or less built a tiny house from top to bottom," said BCT instructor Kris Cowan.
Despite providing remote instruction due to the pandemic, the program will offer a limited number of hands-on classes for fall term, including Beaty's favorite entry course "Hand and Power Tool Safety." During the move to remote learning, she stayed busy by enrolling in online classes that have been valuable to her major, including "Overview of Construction," "Construction Estimating' and "Construction Project Management." As a result, Beaty is on target to graduate next spring.
In a male-dominated field, she isn't concerned about how coworkers or fellow students view her gender. Beaty said she's seeing more and more women in her classes and on job sites. If you can learn the material and do the job, building construction doesn't care who you are, she added.
"The material didn't ask if I was a woman or not," she explained. "I feel like we're just folks out there trying to get the job done."
BCT's welcoming environment combined with its robust industry advisory board, students get the support and the latest training required by companies. Cowan said they've added new classes in the last 18 months because of the board's recommendations – classes that will enable graduates to seamlessly enter an industry that is a major driver of the U.S. economy.
"Construction trades is one of the highest-demand fields right now and we're keeping up with what the industry needs," Cowan explained. "We have alumni who have started their own businesses. So, it's a pretty fulfilling career choice."
Beaty agrees as she ventures into the world of tiny home construction. But this career change is not just about skill development.
"My lifestyle has changed quite a bit from leaving that job and living in a smaller space," Beaty said. "I find it to be a pretty positive change because of the impacts small spaces can have on housing and society. We have housing and climate crises, and I feel like I could be busy for years to come."