Construction program offers students opportunity to build skills and careers
Photos and Story by Misty Bouse
More than ever great jobs at good companies are there for the taking in the construction field. Careers such as carpenters, kitchen and bath remodelers, or construction project managers abound for graduates. With the special training available through Portland Community College's Building Construction Technology (BCT) Program, construction professionals can compete for a higher wage and a lifelong career.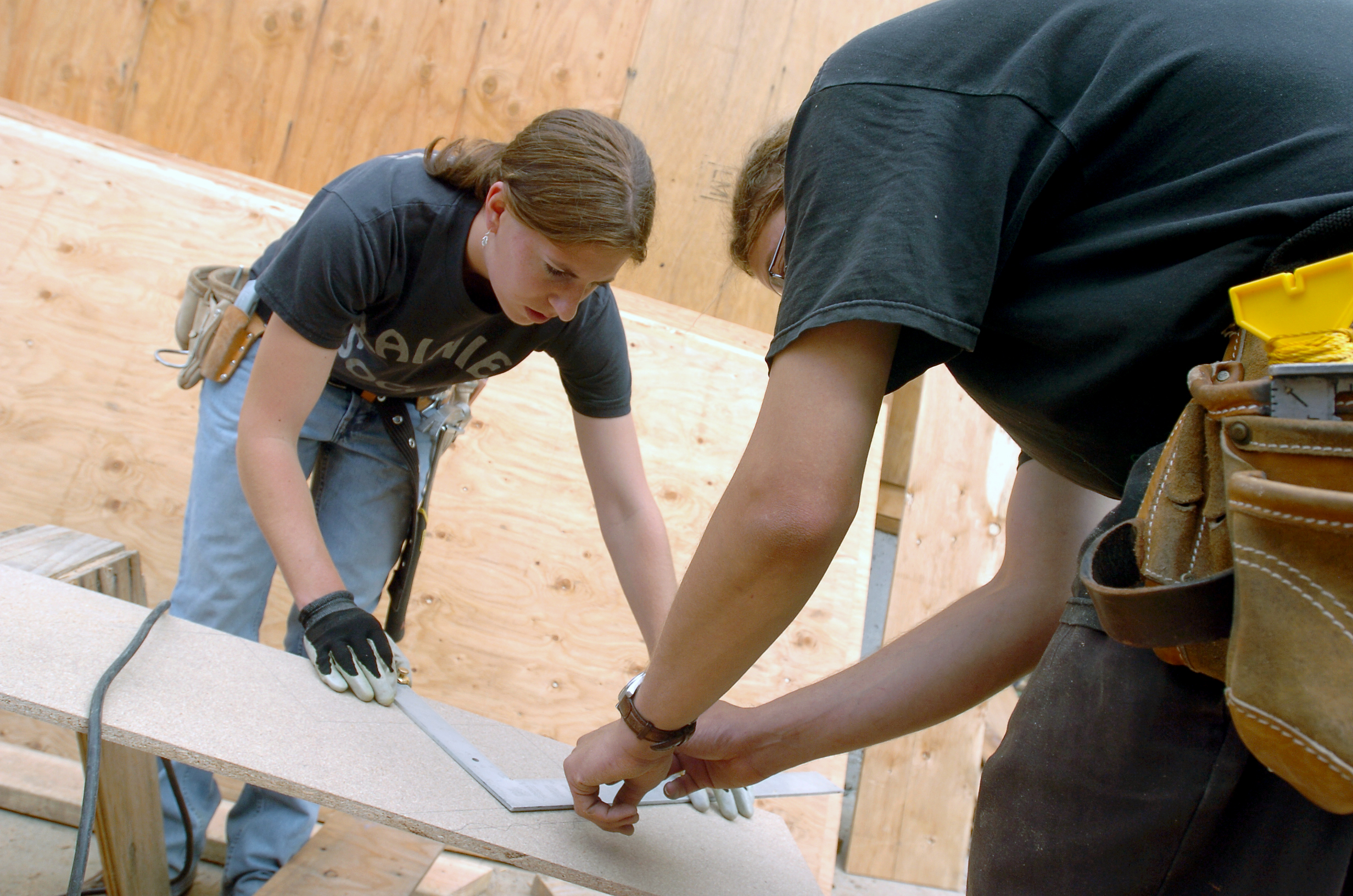 The Strategic Plan: Workforce
The 2020-2025 Strategic Plan prepares the college for the future of higher education. Part of the plan is responding to community and workforce needs by developing a culture of agility. The Building Construction Technology Program is the only program of its kind in the Portland area offered by an accredited institution offering degrees in Hands-On Building Construction Technology, Construction Management and Design/Build Remodeling.
"It is a very diverse program," said PCC's Building and Environmental Technology and Trades Dean Tara Nelson. "We often hear from our industry partners that they need more BCT graduates. So, we recently asked a few of those grads about their earning potential and some of them with just a few years of experience are making $80,000 to $90,000."
PCC has the only program of its kind in the Portland area that offers these three areas – building construction, design/build remodeling and construction management. Students can earn an associate's degree, or take key classes to help fill knowledge or skills gaps. Additionally, BCT offers a one-year certificate, which focuses on teaching students the foundations of carpentry. The certificate embeds nicely into the program's hands-on degree in the event a student wants to continue with their education to develop more fine carpentry skills.
"Most of our hands-on students are new to construction, but some participated in local high school construction programs," said instructor Shannon Baird, who previously worked in architecture and construction management. "Some students start with a single class to increase their skill set, but most want to earn a degree. A few earn all three."
Baird said the program is a great fit for degree and non-degree seeking students. Many students completing the two-year associate degree options attend part time, and take a bit longer to complete. There are others who have no degree goal in mind, but instead wish to fill identified industry knowledge and skill gaps. It also can accommodate students who work or may have families. In addition, students can start any term, after attending one of the program's regularly scheduled BCT info sessions.
Based at PCC's Rock Creek Campus, BCT faculty teaches students everything they need to know to build a house. The Design/Build Remodeling Program is great for those who want to renovate or flip, learn basic repairs, and those who want a CCB license. The construction management degree is offered in the evenings to further students' careers in project management, on both commercial and residential projects.
Dionne Kelly, recipient of the PCC Foundation's "Golf Challenge Building Construction" Scholarship is one such go-getter. Kelly is interested in improving communities through the remodeling of homes and believes her greatest strength is creativity – and being able to make her ideas come to life. She just was approved as a volunteer with nonprofit Catalyst Partnerships Northwest to provide home repairs and remodeling services for elderly, disabled, and under-resourced home owners. 
"After more than 20 years in the corporate world, my main career goal is to have a successful design and remodel company," said Kelly, who recently became a licensed residential contractor and is completing a design/build remodeling degree. "Producing excellent, high-quality work is what I want to be known for. I believe these two-and-a-half years in PCC's BCT program have really helped me on this journey."
For more information, visit pcc.edu/programs/bldg-construction/