This content was published: May 4, 2020. Phone numbers, email addresses, and other information may have changed.
'STEAM-ing Friday' events tackle gender inequities in STEM fields
Photos and Story by James Hill
According to United Nations data, less than 30 percent of scientific researchers worldwide are women. In addition, it reports that only 14 percent of women comprise the engineering field, and 26 percent can be found in computing.
"We need to do better," warned physicist Dr. Nermine Ramadan, who teaches at PCC and is a former senior test and integration engineer for Intel. "Despite all the talk about gender equality, women are not being treated equally yet, and the number of science-engaged women is not increasing. The research shows that fewer women choose science, technology, engineering or mathematics as careers, and they get paid less and eventually leave. This is not equality at all."
Ramadan's stark presentation was part of "STEAM-ing Friday" at the Rock Creek Campus last term before the college moved business operations, support services and classes online. It was in honor of International Women's Day and was hosted through PCC's Science, Technology, Engineering, Arts and Mathematics (STEAM) Lab.
Dorina Cornea-Hasegan, a longtime PCC microelectronics faculty who coordinates the lab, initiated the "STEAM-ing Friday" series three years ago. The series aims to solidify awareness of inequities in STEM and boost recruitment efforts of underrepresented people. In 2017, Cornea-Hasegan secured a National Science Foundation S-STEM grant to help the college grow the educational opportunities for low-income women and minority students in the Microelectronic Technology Program. 
"We're concentrating on strategies that have been proven successful across the country, and we'll add to the knowledge base of what works here at PCC," she said.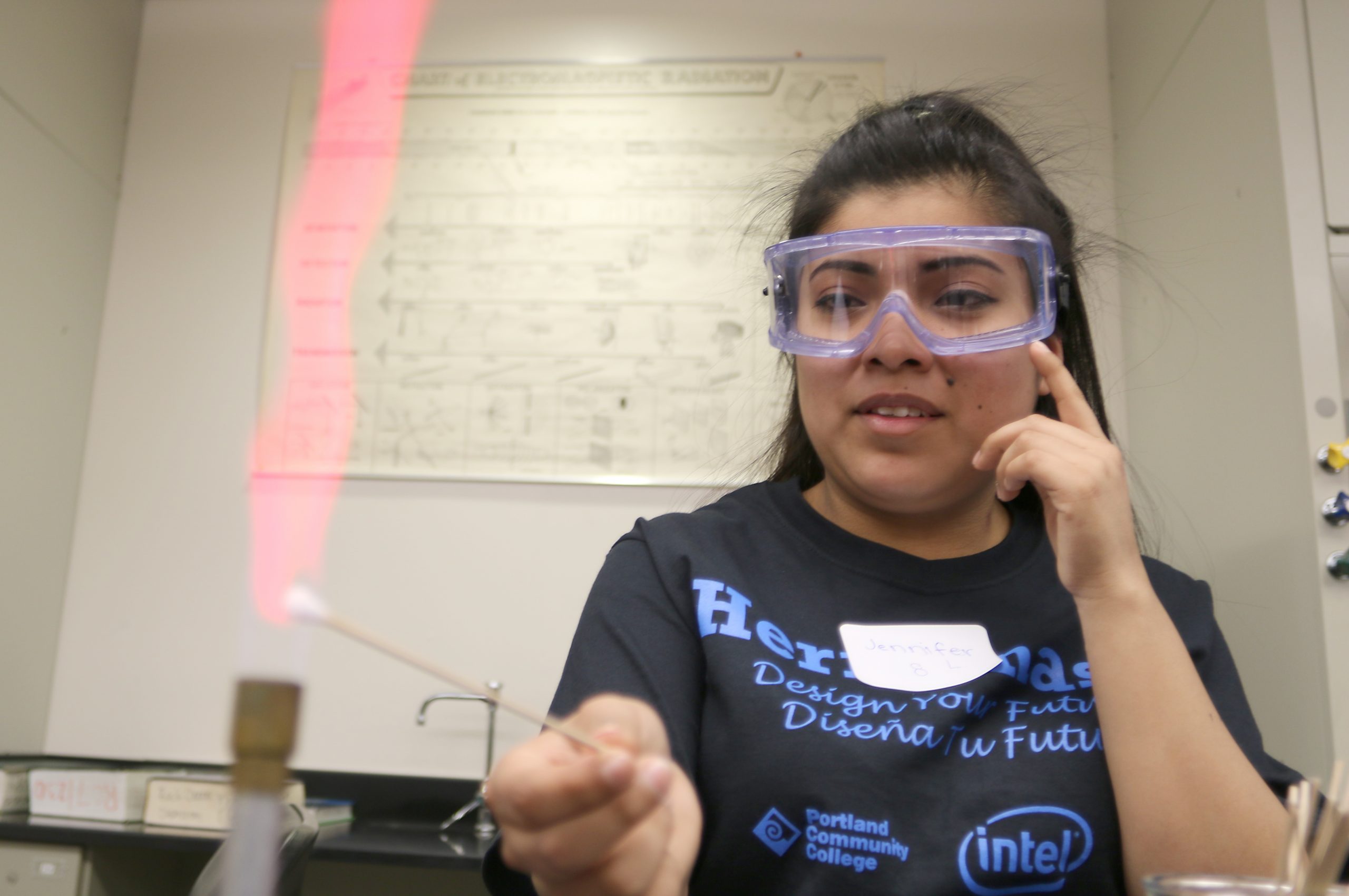 STEAM Lab
PCC's

Science, Technology, Engineering, Arts and Mathematics

Lab at the Rock Creek Campus is using a partnership with Intel to bridge the gender divide in the STEM fields. Events like "STEAM-ing Fridays" help build awareness and help create action to provide resources and pathways for girls in higher education.
Her goal is to increase the percentage of females enrolled in microelectronics to more than 25 percent during the next five years and other underrepresented groups to 35 percent.
Although the STEAM Lab's door is now closed due to the pandemic, the center's activity and spirit continues. Cornea-Hasegan has coordinated online STEM tutoring and is planning a virtual "STEAM-ing Friday." She is also coordinating with Intel employees to start a mini-production effort of personal protection equipment (PPE), such as face shields once manufacturing machines are moved from the campus.
She said that partnerships with industry, like with Intel, have been critical in all of her lab's efforts. Intel has sponsored PCC's Hermanas Conference where local high school Latinas come to the college to experience science and be inspired by female Intel engineers of color. In addition, the global company has partnered with the Microelectronics Technology Program and the PCC Foundation to develop learning and training opportunities for students in Washington County and beyond, creating pathways to the sciences and robotics camps.
"Intel's partnerships with Portland Community College spans more than two decades," added Matt Chase, who is the senior officer of corporate and foundation relations for the PCC Foundation. "Intel's leadership and dedication to this important partnership have helped create a strategic model for STEM outreach and community engagement throughout Washington County and beyond."
The "STEAM-ing Friday" events dovetail nicely with this partnership. The event's latest speaker, Ramadan, is proof women can succeed in STEM. As a young girl she dreamed of becoming a space scientist and developed a passion for nuclear physics. After she earned her doctorate in Nuclear Engineering and Engineering Physics from the University of Wisconsin, she started a rewarding career with Intel that lasted for a decade.
Ramadan said families and the support structures around young girls need to be positive toward STEM, and schools need to create engaging lessons and activities, as well as introduce girls to female role models in the sciences. She pointed to the statistic where only 14 percent of teenage girls want to become scientists because they view STEM as a masculine pursuit.
"The environment shapes girls' interest and motivation," Ramadan stated. "Maybe some communities think women are better off doing something else like becoming a doctor, or a lawyer, but not in engineering or science. So this kind of mindset has a big impact. They think that, 'if I don't get this motivation or this encouragement as a young girl, I will not pursue this career.' That needs to change."