STEAM Lab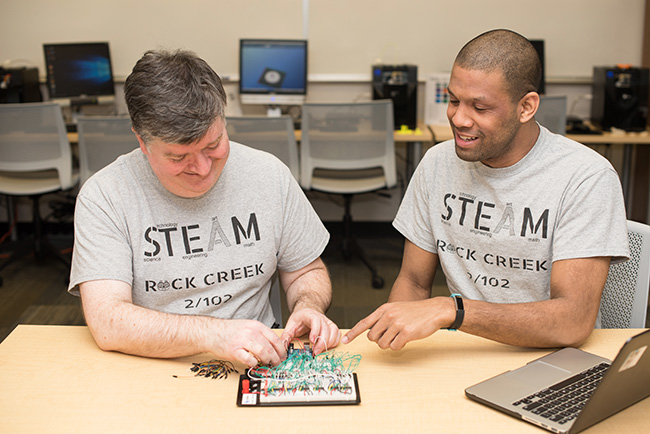 Schedule
COVID-19 update
College services offered remotely for all of spring and summer terms. Campuses and the STEAM Lab are closed.
Schedule with days, times, and equipment available
Day
Time
Assistant and equipment
Monday


"Mentoring"

10am-1pm
Dick Lovejoy
1-3pm
Kenneth Carpenter
3-5pm
Jon Briggs
Mentoring/Biology/3Dprinting
Tuesday


"Tutoring"

9-11am
Dick Lovejoy
1-2pm
Kenneth Carpenter
(by appointment only)
3-5pm
Jon Briggs
Wednesday


"Workshop"

9am-12 noon
Tony Yorba
10am-1pm
Dick Lovejoy
11:30am-2pm
Sagar Monger and Tek Paudel
Thursday


"Technology"

9am-12 noon
Tony Yorba
1-3pm
Thu and Stephanie
Friday


"Fun lab"

9am-12 noon
Michael McGovern
1-3pm
Camila Colorado, Dao Tran, Tran Le, and Jose
Saturday


"Special events"

Contact dcorneah@pcc.edu
Dorina Cornea
Our mission is to inspire the creators of today and tomorrow through the exploration of science, technology, engineering, arts and mathematics in a collaborative setting.
Equipment available at the STEAM Lab:
Michelangelo the laser engraver
Van Gogh the vinyl cutter
Milly the CNC milling machine
3D printers
Zippy the drone
Events calendar
pcc.edu_0cqf6fg6crpo98cs6flhvt614g@group.calendar.google.com
In the news