This content was published: April 8, 2019. Phone numbers, email addresses, and other information may have changed.
Black headlines talented faculty crew at PCC's Fire Protection Technology Program
Photos and Story by James Hill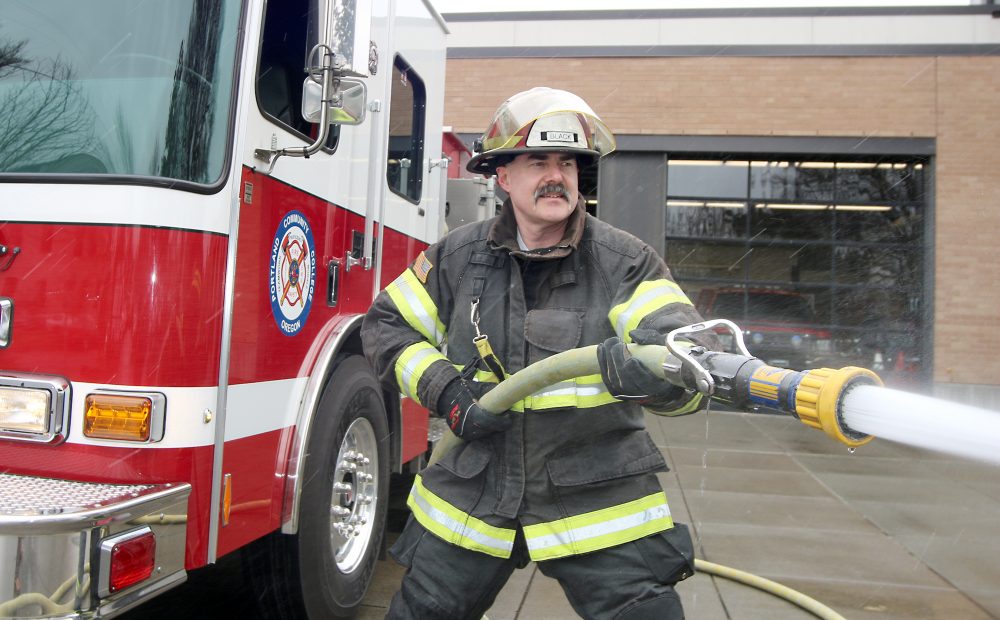 Portland Community College Fire Protection Technology instructor Steven Black is practicing what he preaches.
Black doesn't just teach fire protection, he practices it in the real world, too. Now in his ninth year as a PCC instructor, he juggled working as the B-shift captain and training officer for the Cornelius Fire Department in Washington County since 2002. That means he's on fire calls and assisting with emergencies in his community, if not busy teaching best practices of fire suppression and safety.
And, he is a graduate of his own program. Black has an associate degree in Fire Protection Technology from PCC, as well as a bachelor's degree in Fire Service Administration from Eastern Oregon University. He is currently working on his master's degree in Adult Education and Technical Training from Colorado State University. He is also a National Fire Prevention Association-rated officer, instructor and investigator.
Fire Protection Technology
This program prepares you for a rewarding career working in fire protection by gaining the knowledge you need, training on the latest equipment and learning from expert instructors.
Associate degree and short-term certificate are available.
Offers you the ability to launch a career of public service in a short amount of time, while meeting state, national and international standards for certification.
Black also gives back to the community. He volunteers for Habitat for Humanity, Down's Syndrome organizations, Hockey Fights Cancer, ASPCA, the Leukemia and Lymphoma Society, American Heart Association, Muscular Dystrophy organizations and the Oregon Burn Center.
"I believe getting involved in your community is very important," he said.
Tell us about what you do in your various capacities?
Black: "I work a few different jobs. In my job for Cornelius Fire, I respond and mitigate fire and Emergency Medical Services (EMS) emergencies, along with planning and instrumenting of training. For PCC, I've worked as an instructor for 'Major Emergency Tactics and Strategy,' 'Fire Program Skills Academy,' and 'Pumper Operator Academy' classes, among others. I also work for the National Fire Academy as a contract instructor, which allows me to travel to various locations across the country to teach health and safety, and incident safety officer classes."
What do you enjoy about your job?
Black: "There are many things. I get the privilege of working with many high-character men and women from various backgrounds and fire departments in an environment where we can discuss how we want to shape the future of our occupation. The other thing that stands out to me is that I get a short moment in time where I can be a small piece in helping someone pursue their dream. Every term we're greeted with a fresh new group of people who are eager to get started on this path. It is something that is empowering and exciting."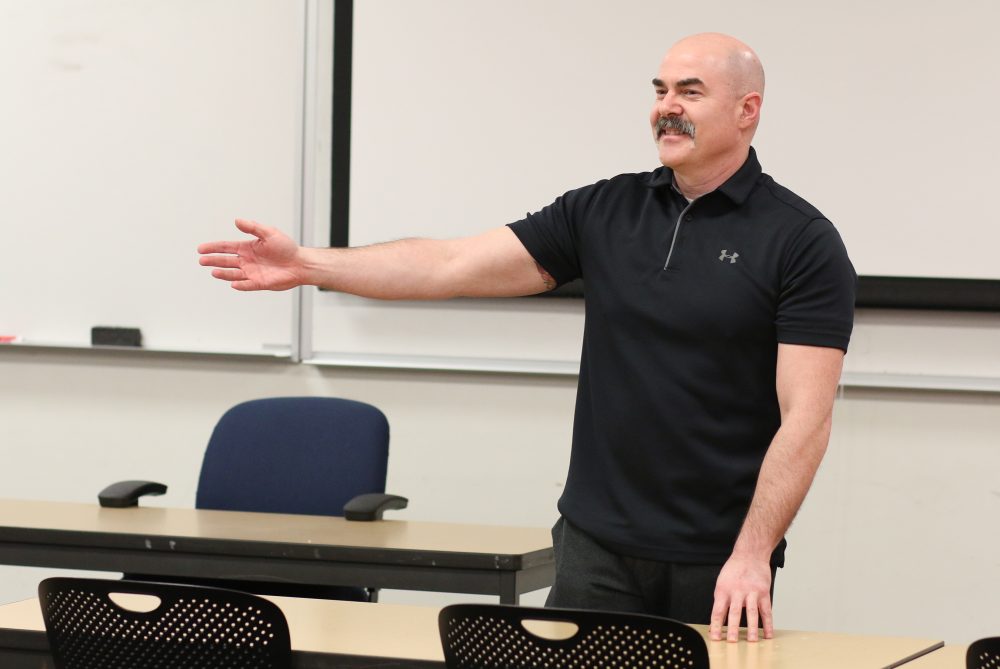 Can you tell us about your favorite part of your program?
Black: "It is watching the transformation that takes place when the students at first are tentative and shy with equipment and tasks, to when they become emboldened and want more responsibility. I love watching the students start to teach each other. This becomes most apparent on a live fire day. Most students have some apprehension about this day but are excited nonetheless. After they've accomplished their first burn, you can almost see their expression change to 'I can do this.'"
What makes your program so special for students?
Black: "Our program is made up of instructors from departments across Oregon and Washington. We have instructors that come from both large metropolitan departments, as well as small, uniquely staffed departments. Each of these instructors brings a wide range of experience and knowledge. One instructor might be an expert in high-rise emergencies, while another is an expert in wildland fires. I believe that our students get real-life, hands-on skills while working with industry experts. The program has had so many successful students that my department routinely hires interns and volunteers from these ranks. With some experience, a lot of these former PCC students go on to careers in the fire service."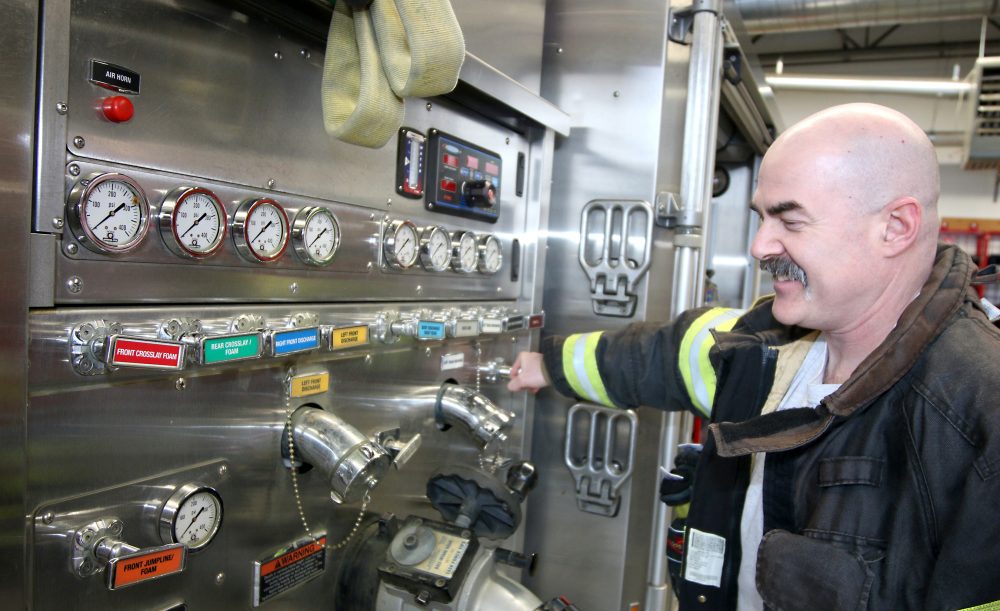 What do they work on while learning or training in your class?
Black: "Students will experience a range of teaching styles, including lecture, group learning, behavioral skills conditioning, real-world experiences, and case study review, to name a few. Students get to review calls with EMS and fire in a safe environment of the classroom. And then they move to the bay to practice donning personal protective equipment and self-contained breathing apparatus. From this point a student might learn about fire behavior and building construction or move to learning about search and rescue. A student could expect to find themselves cutting a car one day for a crash-victim scenario or entering a burning building to learn about fire attack. They will also learn about philosophies and what it means to pursue the respected job of a firefighter. Firefighting is a team sport and a student will make many friends that they will keep for life."
What kind of jobs and pay can students expect after graduation?
Black: "Students can move onto a career with a department at the conclusion of the academy. The program offers testing to allow a student to attain the minimum qualifications and certifications to apply to many jobs. Depending upon where a person gets hired, a probationary firefighter can make somewhere between $55,000 to $75,000 per year. This isn't the only path though. Students can be hired as a student intern or volunteer to earn valuable experience while applying to jobs. Successful graduates can also pursue jobs in Emergency Management, EMS, Fire Investigation, Fire Inspections, Fire Prevention and private safety companies."
Thank you, Steven.