PCC instructor Chris Rose wins prestigious Oregon Literary Fellowship
Photos and Story by Abe Proctor | 1 comment
Chris Rose, a composition and literature instructor at Portland Community College's Cascade Campus, was named the recipient of the Oregon Literary Fellowship for Poetry by Literary Arts, a non-profit that supports the written word in Oregon.
Rose, who teaches African American literature, science fiction, and poetry in addition to composition and literature, was honored with the Writer of Color Fellowship for 2019. He joins past honorees Josha Nathan, Elissa Rust, and Alison Apotheker as PCC faculty who have received fellowships from the organization.
"Writing is the one space where I get to be fully myself," Rose said. "The world makes us restrain ourselves. When I write from my own experience, I can be honest with myself and explore who that self really is."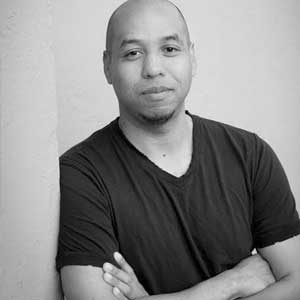 That sense of honesty has led Rose to explore his own heritage (African and Filipino in his writing and how it affects his life in the  the 21st Century.
"We tend to default to the traditional American Black/White binary when we discuss race in this country," he explained. "That hasn't changed much in the last 100 years. We tend to repeat the same conversations. Nuanced narratives of race are so scarce; I try to explore this with a complexity we don't often find."
As an instructor, Rose encourages his students to aspire to a similar standard of honesty and nuance in their writing, but they can't always get there, he said.
"Writing from one's own experience takes a lot of self-worth and honesty," he said. "Some students aren't quite ready for themselves."
A lifelong fan of science fiction, Rose also seeks out more nuanced, atypical narratives to share with his students. He counts authors Joan D. Vinge, Octavia Butler and Neil Gaiman among his most prominent influences. He encourages his students to explore the growing number of women writers and writers of color who are making significant contributions to the genre.
"Sci-fi writers are always writing from an experiential or knowledge base," he said. "If we want to have different stories, we need different perspectives."
Science fiction also appeals to him because it can depict a hopeful future for humanity where people have managed to solve many of the problems that perennially plague us, as well as bridge the gaps that divide so many from one another in contemporary society. He said he much prefers this vein of science fiction from the many visions of a dystopian future that have populated the genre in recent years.
"Writing a dystopia is easy," he said. "If you look around, some people will tell you that we're living in a dystopia already. If we explore that, how do we say something we haven't already said? Sci-fi can be hopeful. I'd much rather read about that."
Rose said he plans to use his Oregon Literary Fellowship to attend two upcoming residencies, one in Central Oregon this spring; the other in New York in the summer. In the meantime, he's working to complete his current poetry collection by the time the summer rolls around — hopefully.
"I don't know if I'll finish it by then," he said with a grin. "Writers aren't very optimistic about their goals."