This content was published: April 29, 2019. Phone numbers, email addresses, and other information may have changed.
Instructor Ben Buswell is challenging how you look at art, and that's a good thing
Photos and Story by James Hill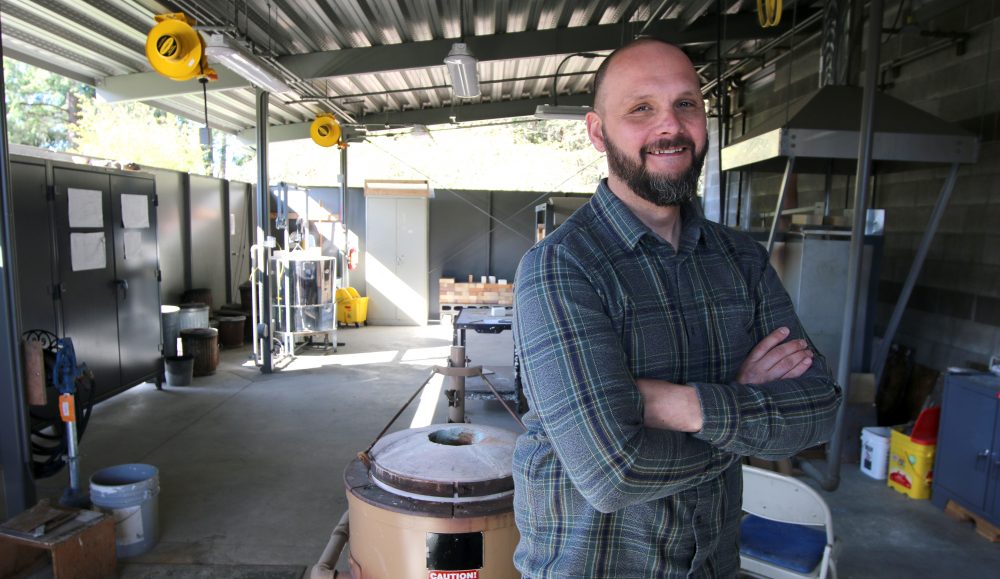 Ben Buswell is changing the way people see their environments and how they look at his art.
"People come back the following term after taking my class and have said, 'Oh, I can't look at people's faces on the bus the same way anymore,'" he said. "I think that is awesome."
For the past 13 years, Buswell has taught foundational art courses like "Sculpture" and "Drawing" at the Rock Creek Campus. He challenges students to rethink how they view their surroundings and create a piece of art.
Art at PCC
Art courses are offered at all of PCC's four comprehensive campuses: Cascade, Rock Creek, Southeast and Sylvania.
Provides technical, aesthetic, communication and problem-solving skills applicable to many career opportunities.
Alumni have pursued careers related to the visual arts; exhibiting their work and receiving awards.
"It's not about perfection," said Buswell, who tells students he understands who they are by how they create art. "I feel that a lot of people come to school with a specific goal of having to pass their classes to graduate and make money. I can get in the way of that a little bit by letting them go and explore and create without those pressures, but still gain skills like problem solving. Having a little bit of that in your life is okay and healthy."
How Buswell makes his art tells us a lot about him, too — that he's pretty talented. His art pieces, which are photographic 3-D installations, are in high demand by corporate and public groups. His art is currently installed at Western Oregon University in Monmouth, DW Fritz Automation in Wilsonville, and Oregon Health & Science's Collaborative Life Sciences Building on the Willamette River.
In addition to public commissions, his works can be found in galleries and collections along the West Coast, including in Seattle, Los Angeles, at PCC, The Portland Art Museum, The University of Oregon, and in the home of Hollywood filmmaker Jan de Bont.
As the viewer looks at one of Buswell's photo installations, the light changes and creates movement physically across the photos. For example, the Western Oregon piece is made up of 49 photos, taken over the course of six months to reflect the changing seasons, from around the campus. The photographs are curved and contain hidden mirrors that create a sense of flowing images, down the lobby wall.
"My work is based on looking at the line between images and objects, and how the differences between them communicate with us," Buswell explained. "I try to undermine the symbolic value of images, to give them back their tactility and presence with the viewer. I texture, embellish, deface and scratch the photographs. It's about creating a space for the viewer to be present and engaged in their own ways of understanding."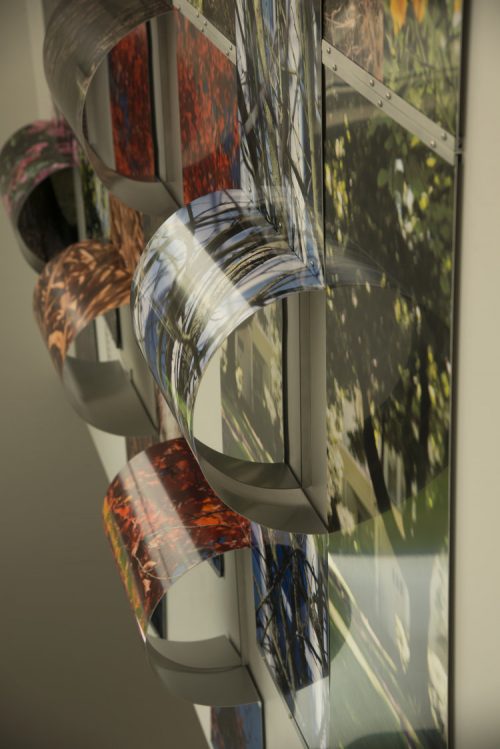 The Dallas, Oregon native's sculptural work spans diverse media, encompassing ceramics, metals, resins, incised photographs, and more. He runs the metal casting classes found inside the new foundry at the Rock Creek Campus.
Buswell received his Master's degree in Fine Arts from the University of Wisconsin at Madison and his bachelor's from Oregon State. In his time as an artist, he has been selected a Hallie Ford Fellow in the Visual Arts in 2015 and is a two-time recipient of the Career Opportunity Grant from the Oregon Arts Commission and Ford Family Foundation (2014 and 2011). In 2018, Buswell received an Individual Artist Fellowship from the Oregon Arts Commission.
His reputation is such that he was sought out by producers for Oregon Public Broadcasting's "Oregon Art Beat" show and was recently spotlighted on an episode that showcased his process.
As great as all that is for Buswell, his passion remains in the classroom.
"The thing I enjoy about teaching the most is seeing the light turn on in students," Buswell said. "Most of the students in our classes aren't necessarily art students. To show them a technique or a way of thinking that all of sudden opens up the world to them is the best part of teaching for me."