This content was published: December 17, 2018. Phone numbers, email addresses, and other information may have changed.
America the Great: Rodriguez lauds college support with a smile
Photos and Story by James Hill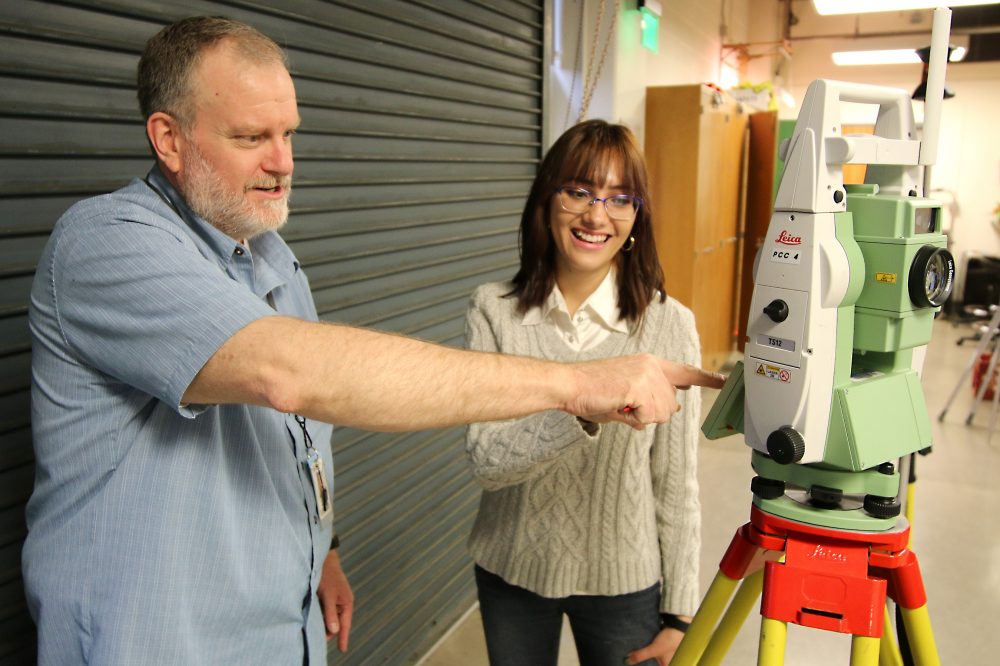 America Rodriguez didn't need much encouragement to be inspired by Science, Technology, Engineering, and Mathematics (STEM). However, the support and inspiration she received from a Portland Community College partnership made all the difference in the world in helping her transition to college and be successful.
The Beaverton resident and native of Mexico is working on her associate degree in PCC's Civil Engineering Program. Her classes are pretty cool. One of them involves an introduction to "Plane Surveying" where she uses state-of-the-art equipment to learn subjects like "Topography of Land," "Strength of Materials" and "Geographic Information Systems (GIS)."
Hermanas Conference Makes a Difference
With a thirst for learning, Rodriguez, 20, feels comfortable and right at home with science. In 2016, she was a senior at Westview High School and excelling in all of the high school's engineering classes. Her counselors encouraged her to attend the annual Hermanas Conference, to capitalize on that interest in STEM and engineering.
The Hermanas Conference, co-sponsored by PCC and Intel Corp., did just that and sparked the idea with Rodriguez that someone like herself could go to college. The conference attracts more than 200 Latina high schoolers annually from throughout the metro area to the Rock Creek Campus where they become immersed in STEM-related education and career opportunities. It's a way to illustrate to this underrepresented group that science and math can be a great fit for them.
"The conference motivated me to say, 'Yes I want to go into the engineering program,'" Rodriguez recalled. "They had three female electrical engineers from Mexico, and they told us that regardless of your background, successful companies will hire people with different perspectives and experiences, especially people with ambition and passion towards their work.
"In Mexico, most engineering companies want males of certain ages, and they don't want women engineers," she added. "The Hermanas Conference showed me that there are companies here that are willing to pay to have a female or Latina engineer, which is rare. Smart companies would want to hire a diverse of leaders because it will lead to more and better innovation."
Hermanas is one of PCC's cornerstone events to not only recruit underrepresented Latinas to college, but to encourage them to pursue studies and careers in technology and the sciences, which have historically attracted white males.
"We're grateful for our local businesses, such as Intel, that support education and equitable student success through their sponsorship of important events like the Hermanas Conference," said Rock Creek Campus President Chris Villa. "It is exciting to be able to give so many young Latinas the opportunity to experience something that may transform their lives."
Rodriguez is an example that the conference is working and achieving the goals it sets for itself.
"It makes girls feel safe, comfortable, and encouraged by role models to dive into STEM," she explained.
College a Big Decision
Rodriguez has set her sights on engineering for a long time. When checking out the new surveying equipment, her eyes light up and she begins to set up the GNSS Receiver and the Robotic/Mechanical Total Station. It's very clear that she isn't interested in jobs where she sits all day and types code.
Rodriguez admits she is just like her dad, who works outside as a maintenance technician on construction projects, building floors and sheds, and solves engineering problems for clients.
"I got that side of him," she laughed. "I like to fix things and find solutions."
But deciding which college to go to wasn't easy. Rodriguez was weighing a return to Mexico to attend university, or the start of college at the Rock Creek Campus. As a foreign student, she faces an uphill battle to simply pay for her studies and use resources that many of her fellow students take for granted. Without a social security number, she can't apply for federal financial aid, most scholarships and loans, or even take paid internships.
PCC and the state's 16 other community colleges are lobbying the state legislature to fully fund its Community College Support Fund for the 2019-21 budget biennium at $787 million. Within that ask, community colleges would receive $70 million to expand student wrap-around support services, like increased counseling, and broaden support programs like Future Connect.
PCC Support a Key
In Oregon, thanks to initiatives to spur engagement to first-generational, underrepresented students like herself, Rodriguez felt she could have more success staying at PCC. She was awarded an Oregon Promise scholarship when she first enrolled and was then accepted into the Future Connect Scholarship Program, which provides financial and academic coaching to targeted students.
"Future Connect coaches helped me to find resources, and learn how to get involved and enroll in college classes," she said. "Because my parents didn't go to college, they didn't know how it worked. The program has been great and has given me a lot of support."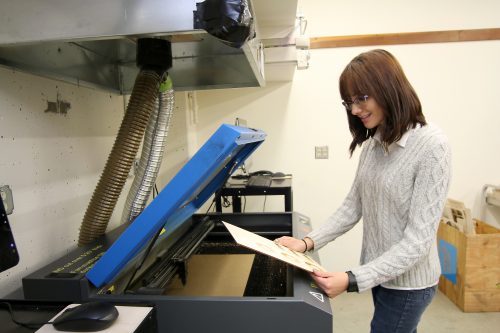 Plus, Rodriguez earned the DREAMers scholarship through the PCC Foundation. She is a regular at the DREAM Center, which was the first of its kind at an Oregon community college when it first opened in January 2018. It is the epicenter at PCC for helping DACA students and their families find resources and assistance.
"Having the DREAM Center on campus, I can talk to students with the same backgrounds, the same struggles, and use them as a support group," Rodriguez said. "If I ever need help, I can go there and chat."
Rodriguez also is a member of the Louis Stokes Alliance for Minority Participation (LSAMP) Program. LSAMP is a collaboration between PCC, the National Science Foundation and Portland State University. It targets Black, Hispanic, Native American, Alaska Native and Pacific Islander students interested in STEM degrees and careers. Participants attend social events, campus STEM tours, networking sessions, seminars, and conferences, and then transition to PSU.
Returning the Help
Rodriguez gives back, too. In addition to being an inspirational panelist at this year's Hermanas Conference, she is a mentor for the College Assistance Migrant and Men of Color programs, as well as with the Multicultural Center at Rock Creek. She tutors at the career centers and visits local high schools to inspire students to consider enrolling in college. Additionally, she volunteers with the Washington County Transportation Department, helping with public events and making valuable community connections.
Her aim is to connect students to resources and inspire youth to give PCC a try.
"As a mentor I tell these students not to be afraid because there's no obstacle that we can't overcome in our lives, we just have to work a little harder and it'll make us stronger," she said. "Just keep moving forward with a smile along the way."