This content was published: October 15, 2018. Phone numbers, email addresses, and other information may have changed.
Alum Mare Cox credits Jiu Jitsu and PCC with making her a better student
Photos and Story by James Hill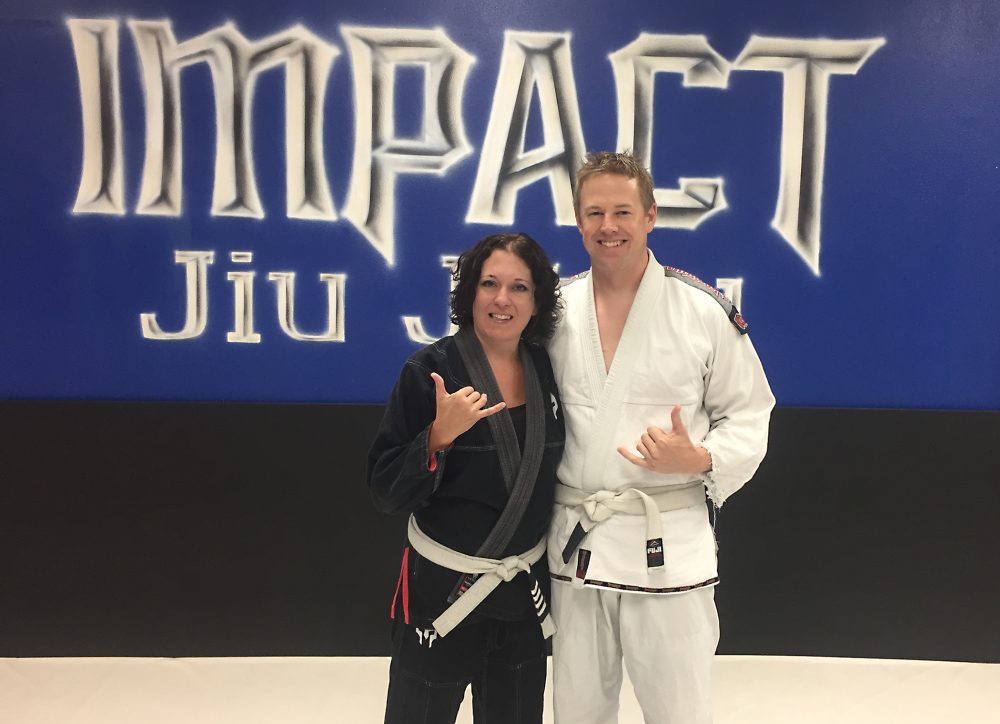 Nurses are known for their strong sense of compassion and caring. But you wouldn't want to mess with aspiring nurse Mare Cox.
The Portland Community College transfer student started this academic year as a first-year nursing student at Oregon Health & Science University and is known for dishing out kicks and punches in addition to excellent health care. Cox worked her way through lower division credits at PCC while honing her martial arts skills to prepare for her application to the OHSU's School of Nursing. From anatomy and physiology to chemistry to, yes, martial arts, the college got her ready for her next stage of her academic journey.
"Ever since I was little girl I enjoyed science and connecting with people on a human level," Cox said. "Nursing is the perfect career for me."
Getting Her Kicks
But you might think, "Why martial arts?" It doesn't exactly go with biology, chemistry or any of your normal science classes. Cox actually credits the Brazilian Jiu Jitsu course she took as part of her physical education option as the class that best prepared her for the high-pressure nursing career. Jiu Jitsu is a martial arts and combat sport system that focuses on grappling and especially ground fighting. The sport is based on the concept that a smaller, weaker person can successfully defend themselves against a bigger, stronger, heavier assailant by using proper technique and leverage.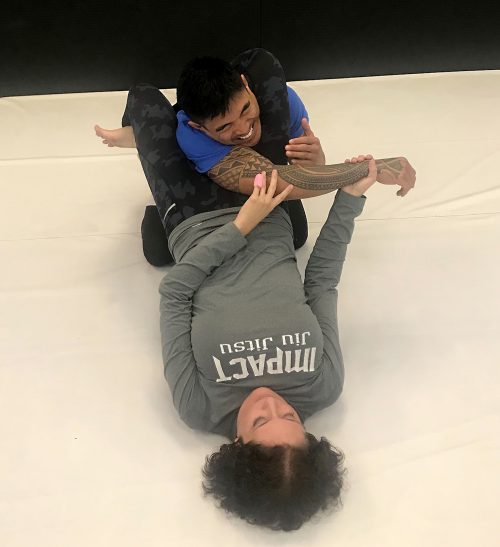 "That class was the most life changing thing for me," Cox beamed. "It taught me to fight through challenges so I could reach my goals. It was amazing. Jiu Jitsu teaches you to be tenacious and comfortable in an uncomfortable situation and be calm, and work through a challenge until you are successful."
Cox joined the team at Impact Jiu Jitsu in Hillsboro and took up Muay Thai and boxing, and is working her way up through the ranks. It all connects, she said, to her studies and career plans as nurses need to be strong and able to defend themselves in highly emotional emergency situations.
"I wanted a class that gave me a good foundation for self defense and the PCC Jiu Jitsu class has definitely done that," Cox said. "The experience has made me stronger, taught me to be resilient and that has been applied to all the classes I'm taking."
Finding PCC
Mare Cox is proof that going to a community college can take you anywhere. After moving to Portland from Colorado in 2010 to be closer to family and restart her academic career, she started looking for schools to enroll in to earn her required lower division transfer credits. Cox immediately got multiple tips that led in one direction — PCC. When she visited the campus she was immediately impressed with the college's vibe and support.
"I really liked it," she remembered.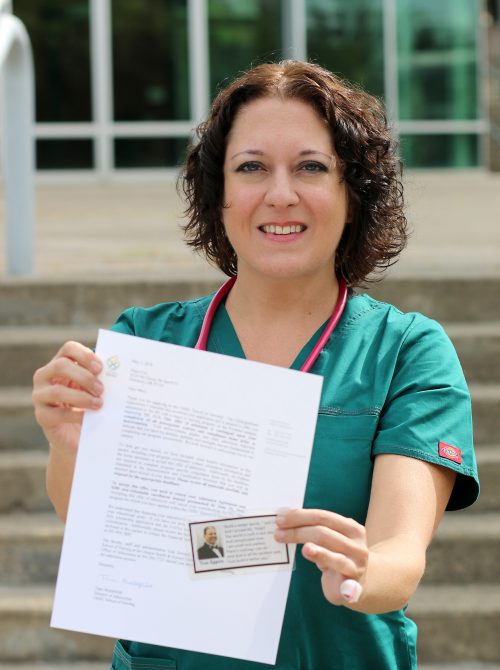 The inspiration, and hard work, took hold. Her last two years at PCC included regular appearances on the President and Vice President's academic lists. Cox, who is Cherokee Indian, even earned three PCC Foundation scholarships — one focused on minority students — to boost her success. In addition to her lower division requirements, she also earned an phlebotomy certification through the CLIMB Center, which allowed her to work part-time at Providence Health & Services.
"I'm not a naturally an 'A' student," she said. "But through hard work and determination I was able to become one."
After completing her lower division coursework this past spring at PCC with a sparkling 3.8 grade-point average, Cox applied for OHSU's vaunted School of Nursing. The bachelor's of science program is hard to get into with high entrance standards and expectations of its students. But soon after graduating from PCC, Cox got the acceptance letter in the mail that she was accepted into the 2021 nursing cohort and was able to start classes there this fall.
"Getting accepted to OHSU is one of the coolest things I've ever experienced," said Cox, who wants to become a nurse practitioner. "I had to re-read it to make sure I was reading it correctly. I just felt overwhelmed with excitement, joy and gratitude in that moment."
Instructors Played Huge Roles
Cox didn't just share the acceptance letter with friends and family, but with those who really shaped her academic journey — her instructors. She personally thanked as many as she could for enabling her the opportunity to make her dream of becoming a nurse practitioner a soon-to-be reality.
"I was overwhelmed with emotion when I read the acceptance letter because I felt my instructors were are standing right behind me the whole way," Cox said. "I think the two biggest factors in reaching the place I'm at today are my determination and the effort that my instructors put in to me. Thank you so much for building me up and investing in me."
Diane Edwards, who is the co-chair of the Mathematics Department at the Rock Creek Campus, was Cox's Math 20 instructor back when she first started at PCC. Edwards said it was clear from the beginning that her young pupil was serious about learning and succeeding in the class.
"Aside from her infectious positive attitude, she did what we tell all students to do," Edwards recalled. "She sat in the front of the room, asked questions, took advantage of office hours and spent many hours in the learning center. It was clear then that her diligence and commitment would result in her success as a returning student. Continuing to see her learn and grow as a student at PCC has been a true pleasure."