This content was published: October 13, 2017. Phone numbers, email addresses, and other information may have changed.
Rock Creek instructor's outdoor sculpture enriches campus art collection
Photos and Story by Katherine Miller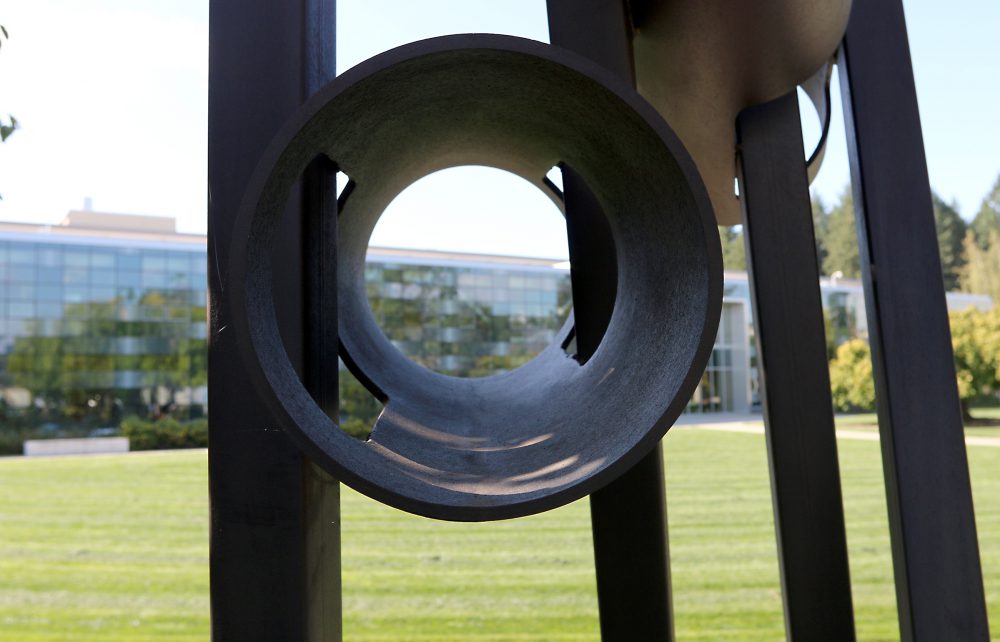 For anyone who appreciates original art, they have yet another reason to linger on the Rock Creek Campus. This summer Rock Creek's extensive art collection gained a modern steel sculpture that has Joined other major outdoor pieces in the heart of the campus.
At 12 feet tall and 850 pounds, "Trajector #2" makes a striking addition to the existing installations near the quad. It was originally made in 2010 at Clackamas Community College's invitational sculpture build-off by Mylan Rakich, a part-time art instructor at Rock Creek and PCC's Hillsboro Center.
The purchase was made possible by PCC's commitment to devote 1 percent of capital construction funds to art purchases, a program that closely resembles the statewide mandate known as "Oregon Percent for Art."  The Rakich sculpture is thus the direct result of the extensive improvements made to Building 5 under the 2008 voter-approved bond measure.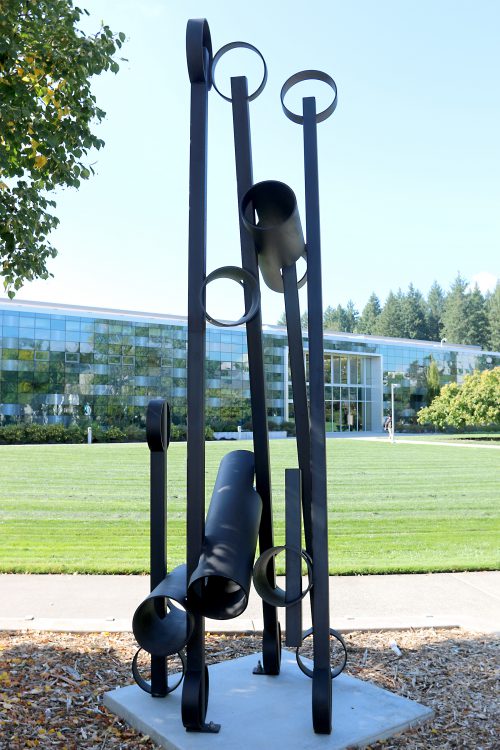 Rakich said he was pleased that the campus art committee installed his work in a naturalistic setting Just north of Building 9. It now forms a sculpture court with large outdoor pieces by Lee Kelly and Francisco Salgado.
"I've been teaching for 17 years, and I've seen a lot of changes at Rock Creek – especially with all the recent bond work," said Rakich. "The art collection there is very exciting, so I really wanted the sculpture to be outdoors participating with the other work."
"Trajector #2" has a similar style to another Rakich piece, titled "Shine," which was purchased by, and installed at, Cascade Campus. Rakich, who also teaches at University of Portland, said that for Rock Creek's sculpture he wanted to explore a simple composition of formal elements: "line, shape, positive and negative space."
"I wanted to work on a larger scale with this piece, so the elements and the lines are a little bit larger," he said. "For me personally, it has a really nice sense of mechanical motion and movement to it."
Rakich has allowed the steel to weather naturally, applying only tung oil to help deepen and enrich the patina of the metal. "When it comes to mild steel, it will inherently rust," he said, "so it's always quite challenging to protect it – especially in the Northwest."