This content was published: July 24, 2017. Phone numbers, email addresses, and other information may have changed.
Beaverton middle school students learn the global impact of engineering, health studies
Photos and Story by James Hill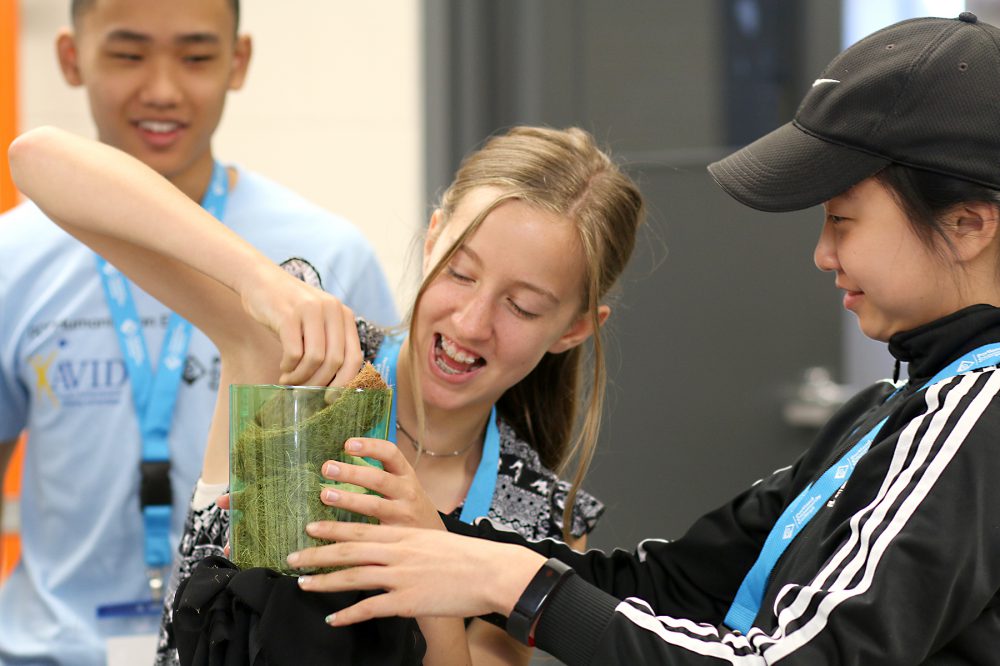 Thanks to a timely statewide grant, Portland Community College faculty were able to host a STEM camp this month focused on an important cause.
The Humanitarian Engineering Camp brought more than 20 Beaverton middle school students to the Sylvania Campus to expose them to the engineering and global health discipline of "Humanitarian Engineering." The camp's activities tied into college programs Civil & Mechanical Engineering Technology and Engineering, as well as health studies courses, and the Sylvania Environmental Center.
"This camp was a tremendous success," said Peter Ritson, the Environmental Center's coordinator and the camp co-coordinator. "Engineering as a career field is struggling to reflect the diversity of our society and based on how diverse our students were, how engaged and excited they were, we have opened the door to start changing that."
Students are AVID
The students came from underrepresented backgrounds through the Beaverton School District's AVID (Advancement via Individual Determination) Program and the International School of Beaverton. Joining them were a team of high school volunteers interested in teaching, engineering and global health issues.
"The camp exposes younger children to the different branches of engineering," said high school volunteer Hayato Murai. "It touches on a deeper issue that the world isn't equal and the next generation has to make a change to make the world better."
The middle-schoolers were introduced to issues related to global health, international development, global and local wastewater treatment, food and drinking water security, community engagement, and future challenges to human civilization. The camp also showed how students can find careers using humanitarian engineering skills.
The three-day event had activities coming at the kids, fast and furious. Sasha Grenier, a Health Studies instructor, led a series of global health and international development modules; Ritson presented on food insecurity and the production of food; and Greg Gerstner, a Civil and Mechanical Engineering Technology faculty member, discussed drinking water and wastewater. Students also built vegetable beds and water filtering devices, which allowed them to explore how both local and global issues related to poverty, inequality and sustainability can be solved with engineering.

Understanding the World
Also, the students toured the Clean Water Services Durham Facility Wastewater Treatment Plant, and later learned how to construct vertical gardens out of empty two-liter bottles as demonstrated by Civil & Mechanical Engineering students. The camp wrapped up with the kids getting to speak via Skype with professional nursing practitioner and activist Priscilla Ngunju in Nairobi, Kenya to learn about her life and how the students can contribute to humanitarian solutions.

"We learned that many people around the world, generally women, have to carry water long distances every day," Ritson added. "This is a tremendous burden and we wanted our students to feel the challenge of carrying water so they might start thinking of ways (engineering) to make this easier."
Besides the middle-schoolers learning how STEM can improve lives and help solve inequalities, PCC will use the camp to create a "STEM Explorer" humanitarian engineering course. This class will build on the camp's foundation, and students will earn up to three college credits as they engage in local issues in need of STEM solutions.
"It's so important that students engage with some of the world's most pressing global health challenges, such as poverty and inequality, environmental health and sustainability, forced migration and civil war, preventable diseases, and food insecurity, so that they can see themselves as a part of the solutions," Grenier said. "You can see how deeply students care about these humanitarian issues, and how passionately they want to work towards fixing them."
She added that the organizers have gotten so much positive feedback that they plan to offer the camp again.
Oregon's Priority: STEM Education
Getting young students excited about science careers is an Oregon priority under the Chief Education Office's STEM Education Plan. In 2013, Oregon companies added more than 220,000 jobs, the majority of them STEM-related. That number is expected to increase in the foreseeable future. In 2015 the state boosted job growth above three percent, making it the nation's eighth fastest growing economy.
But STEM education and careers could be more inclusive. PCC is doing its part to facilitate excitement for underrepresented students, like young girls and women, for STEM programs to help build the workforce and bridge the inequality gap in the region. In 2015 the Oregon Higher Education Coordinating Council (HECC) implemented a new funding model, which incentivizes successful student completion of degrees with special emphasis on historically underserved students and degrees in high-priority fields. The funding for PCC's Humanitarian Engineering Camp came from the HECC-STEM Instructional Support Grant.  
"Expanding STEM education opportunities, along with Career and Technical Education (CTE), will give more Oregon students the chance to participate in applied and engaging learning," said Oregon Governor Kate Brown in the STEM Education Plan. "My goal is that each Oregon student graduates with a plan for his or her future. STEM and CTE opportunities are important gateways to the world of work beyond high school, proven to keep students on track to graduate."