This content was published: June 30, 2017. Phone numbers, email addresses, and other information may have changed.
Toby Dittrich and crew gearing up for big solar eclipse experiment in field (with alpacas!)
Photos and Story by James Hill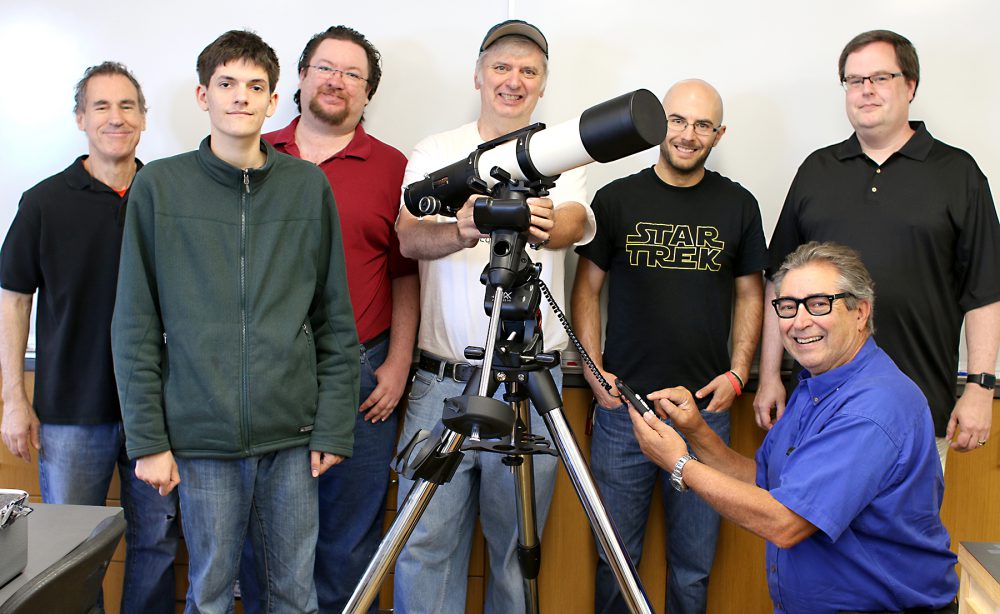 Like most Oregonians, physics faculty Toby Dittrich (pictured in blue shirt) is in the final stages of prepping for the Aug. 21 solar eclipse.
But Dittrich isn't setting up lounge chairs and securing his special glasses to enjoy when the eclipse, which will first hit the continental U.S. in Oregon. The 70-year-old is planning to pull off a large-scale experiment as the big event happens. His team of (left to right in photo) Bob Ewing, Jacob Sharkansky, Steve Pinkston, Bob McGown, Andrew Jozwiak and Rod Lee will repeat British astronomer Arthur Eddington's 1919 solar eclipse observations on the deflections of starlight.
"He was the first to verify Einstein's Theory of Relativity and the prediction that mass, and in particular the Sun, would deflect starlight that passed near it, proving that stars warp space," Dittrich said of Eddington. "We hope to recreate that famous experiment at a level of accuracy that has never before been achieved at multiple sites with undergraduate students. This aligns with all of NASA's educational goals, and I work daily to pull this off."
This week, the crew were putting together one of their telescopes that will be mounted in a field in Lyons, Oregon for the solar eclipse. Dittrich has enlisted students from PCC to recreate the Eddington Experiment as he said, "literally from the ground up." The team is finishing the observatory to house the equipment starting with shovels and cement blocks creating a functionality that will serve Dittrich's goals.
"The building or shed with the telescope rolls along a track," he said. "This is in the middle of a farm field with alpacas roaming. Our goal is to do the experiment more accurately than has ever been done before. This is going to be a great story and perhaps a model of student STEM engagement."