This content was published: May 29, 2017. Phone numbers, email addresses, and other information may have changed.
Mark Mitsui takes center stage at recent City Club conversation on education
Photos and Story by James Hill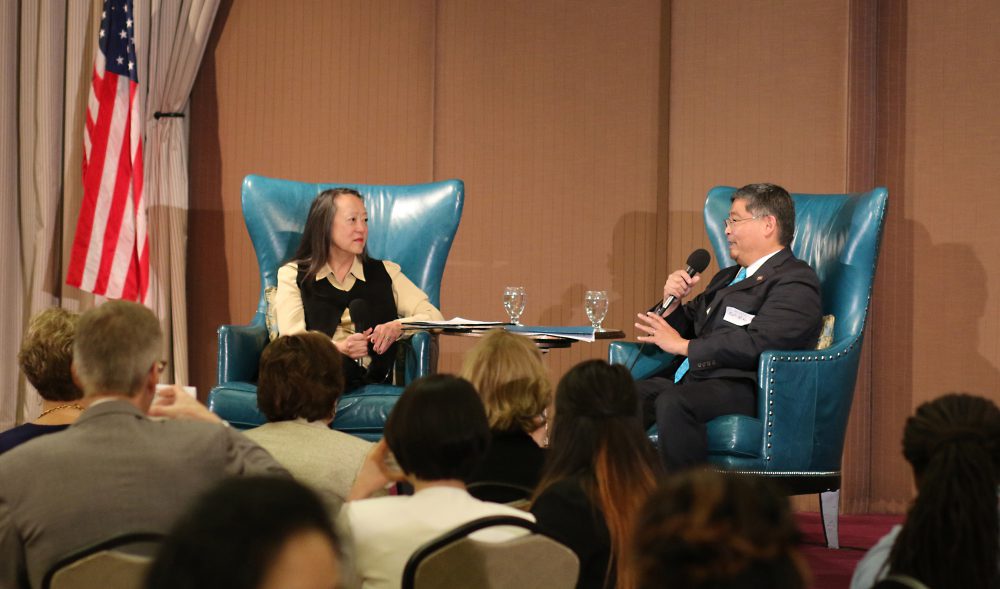 Portland Community College President Mark Mitsui was the star of the show at a high profile event hosted by Portland's most important and prestigious civic organization.
Mitsui spoke and answered questions at the City Club of Portland's Friday Forum on May 19 in the grand ballroom of The Sentinel Hotel on Southwest 11th Avenue. Nearly 160 guests and club members, along with OPB Radio listeners and cable TV viewers, caught PCC's new leader present on the transformative power of education and its benefit to both individuals and the community at large. Following his talk, Mitsui was joined by Cheryl Myers, director of Diversity and Inclusion at Oregon's Higher Education Coordinating Commission, for a half-hour question-and-answer session that covered workforce development, community college funding, PCC's response to future shifts in technology, and the importance of distance education.
It was an important moment for Mitsui. The speaking opportunity was one of his first major presentations since joining the college last fall as PCC's seventh president. The audience included most of PCC's Board Directors — Chair Kali Thorne-Ladd, Vice Chair Jim Harper, Mohamed Alyajouri, Denise Frisbee, Deanna Palm and Michael Sonnleitner — in addition to former director Jaime Lim, publisher of the Asian Reporter newspaper. Also attending were several high profile electeds including Portland Mayor Ted Wheeler, Beaverton Mayor Denny Doyle, Hillsboro Mayor Steve Callaway, State Sen. Mark Hass, HECC Executive Director Ben Cannon, and Metro Council President Tom Hughes, among others.
But the star was Mitsui, who started proceedings with a personal story as part of his keynote address. His family endured being interned during World War II and survived bias after the war, in every place they lived. Mitsui's father had voluntarily served with the U.S. Army and through the G.I. Bill was able to attend university, where he met his wife, an aspiring kindergarten teacher. Their experiences at the University of Washington changed the trajectories of their lives and, ultimately, those of their children.
"I wouldn't be standing here today if they hadn't done what they did," he told City Club attendees of his family's perseverance. "And that will forever underscore for me the transformative power of education."
The president spoke to how the community's demographics and economics have changed, with varying impacts. For example, despite Oregon's strong economic recovery and healthy wage growth, disparities in affordability and access to education are leaving low-income and many communities of color behind. As Mitsui sees it, education has the potential to mitigate, and reverse, such statistics — to unlock the door to a better life, to prosperity, for students and their families. Community colleges, specifically, are the pathway to opportunity, to the middle class. The question becomes one of how best to widen that arc of opportunity.
"Our students are one sick kid and one flat tire away from dropping out of school," Mitsui said. "We're looking at what kind of support we can offer — for example, from integration of federal benefits, to public-private partners and philanthropy. We want to help our students not only get here, but to succeed once they've arrived. We have rededicated ourselves to creating opportunity and equitable student success to change the trajectory of our students' lives."
And Mitsui spoke to PCC's importance, both locally and nationally. Community College Week, a national trade publication for two-year colleges, ranked PCC No. 16 in the nation in awarding associate degrees among all colleges and universities, and No. 9 among two-year schools. The college has consistently been in the top-20 in completion since 2012. Meanwhile, the president also shared how PCC has one of the best ratio of wages earned to tuition paid for students that complete their degrees, according to data recently published by the Portland Business Journal.
"This is great for the state because we are able to add, through our graduates, $180 million dollars each year to the tax base," he said. "We are a great investment."