This content was published: March 2, 2015. Phone numbers, email addresses, and other information may have changed.
Hairspray: the Broadway musical comes to Sylvania Campus
Photos and Story by Karen Kane
It's the early 1960s and "times they are a changin'.'" Yet in Baltimore it's still a time when dancing on a popular local television dance program is the height of success for local teenagers. It's also the backdrop for the musical, "Hairspray," which will open at Portland Community College's Sylvania Campus Friday, March 6 for a six-day run. The musical is produced by the Sylvania Theatre Arts Program.
More than 100 cast and crew, including PCC students, staff, local media personalities and actors, and college leaders, will join this toe-tapping show that brings positive messages and politically conscious thoughts about the problems inherent in discrimination – whether it be in size, race, gender or religion. "Hairspray" is based on the 1988 New Line Cinema film written and directed by John Waters. The musical features an original score by Academy Award-nominated Marc Shaiman, and lyrics by Shaiman and Scott Wittman.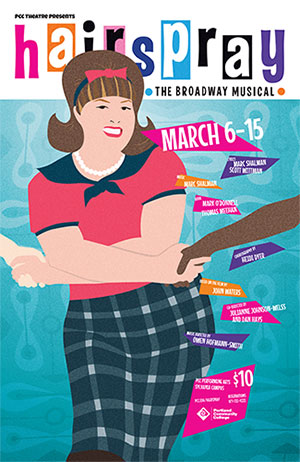 The story opens with lovable plus-sized teen Tracy Turnblad, who dreams of dancing on The Corny Collins Show, where white kids dance to black music. Remarkably, Tracy wins a spot on the show, and overnight is transformed from an outsider to an unstoppable celebrity. Once onboard, Tracy uses her status to launch a campaign to integrate the show as she realizes the injustices of American society in the 1960s. But she must defeat the scheming producer who is also the mother of the show's female lead dancer – the bratty and selfish Amber, and win the affections of heartthrob Link Larkin, the lead male dancer, while keeping her "do" in place. In the end, Tracy and her friends triumph over high school bullies, racism, and enemies everywhere of big girls with big hair.
Amid all the fun, the show slides in many culturally appropriate vignettes of change, acceptance and growth.
"The Corny Collins Show is based on countless 1960s American dance programs , many of which had prejudices against teens who didn't fit the image, particularly African-American youngsters," said Julianne Johnson, co-director and vocal music instructor at PCC. "So the beauty in producing Hairspray is that we are not only teaching our students about theater, music and dance, but also about diversity, acceptance and inclusion."
With an upbeat and catchy score, "Hairspray" is fused with several 1960s musical themes including Motown, rhythm and blues, rock 'n' roll and Elvis-inspired style. Viewers young and old will be shimmying in their seats to songs such as "Good Morning Baltimore," "You Can't Stop the Beat," "Mama, I'm A Big Girl Now," and "Welcome to the Sixties."
"Hairspray" is the most collaborative production at PCC in more than seven years, and the largest since Sylvania's Performing Arts Center opened in 1994. Gene Flores, Sylvania's dean of the bVisual and Performing Arts Department, said the intention in taking on a main-stage show like "Hairspray" was to showcase the college's music, dance and theater programs.
"We wanted our students to experience what it's like to be involved in a full musical theater production, whether they are focusing on performing arts, direction, stagecraft, or set or costume design," Flores said. "'Hairspray' gives us that opportunity."
But the directors didn't stop with just PCC students. With true theatrical flair, they invited a cast of characters from the region to join the show, including KATU morning show host Helen Raptis, campus presidents Suzanne Johnson (Sylvania) and Jessica Howard (Southeast), and the acclaimed choir "Panache" from Robert Gray Middle School in Southwest Portland, among others making surprise cameo appearances.
"Most of cast and crew are students who have been preparing for the production since preliminary auditions in May 2014," said Dan Hays, co-director and theater coordinator. "But the value of involving members of our community is two-fold: potential students can experience the full array of PCC's educational programs, and the public gets to join in the fun."
Performances take place in the Performing Arts Center at the Sylvania Campus. Tickets are $10 general admission, or $5 for groups of 12 or more, and are available in advance at the Sylvania Bookstore or at the door. Tickets may also be reserved by calling (971) 722-4323.