Automated External Defibrillators
Environmental, Health and Safety purchased and installed new Defibtech Reviver AEDs in 2016, replacing the Phillips AED systems previously available through-out the district. These devices are noted by a bright yellow case and black trim and are found most often in cabinets in general hallways or in portable locations including DPS vehicle and athletic program "go bags."  Effective October 2019, Environmental, Health and Safety has entered into a new contract with NW Health and Safety to maintain, inspect, service and electronically monitor all PCC AEDs (including portable AEDs), in order for us to be in compliance with all applicable laws regulating the ownership and use of these devices.
There are numerous Oregon state laws, Administrative Rules and Statutes pertaining to AEDs in schools, including specific requirements for community colleges, dental, health and physical education programs and/or facilities.  Furthermore, PCC has historically placed AEDs in general locations where there are large numbers of people congregating on an average day, not including classrooms and offices.  AED use is infrequent, however, PCC is dedicated to the safety and health of our employees and provide these devices for use by trained and/or qualified personnel.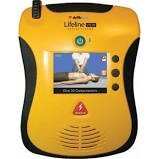 Employees interested in obtaining training on AED/First Aid/CPR should work with their managers to obtain training, if required.  Any questions regarding this or any environmental, health or safety program, please contact the EH&S staff through the Service Request Center (SRC) or contact Cheryl Arpan at x 8469.