Step 1: Apply for financial aid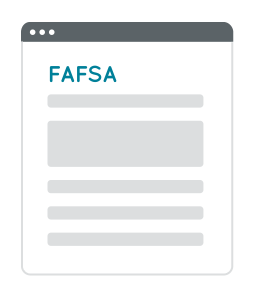 What is financial aid?
Financial aid is money offered to help a student meet their college expenses. Financial aid includes:
Grants: gift aid that doesn't have to be repaid
Loans: borrowed money that you must repay with interest
Work study: money earned at a part-time job
How to apply
Applying for financial aid is easy and confidential. To apply, you provide information about your income and benefits.
Complete the application

To apply, complete either the FAFSA or the ORSAA, depending on your immigration status.

Get admitted to PCC

If you haven't taken a class at PCC in the last two years, you need to apply for admission. When you complete the admissions form, check to see if your program is eligible for financial aid.

Start checking your dashboard

When PCC gets your application, we'll send an email to your PCC email address and update your Financial Aid Dashboard on the MyPCC Paying for College tab. Log in and check for customized messages about your financial aid.
When to apply
The best time to apply is as soon after October 1 as possible for the following academic year. Applications are accepted after that time, but funds are limited. You must reapply each year for financial aid.
clock

Financial aid timeline, 2023-24 academic year
Term you plan to start
Submit application by
Spring 2023
Jan 1, 2023
Summer 2023


(ORSAA students not eligible for summer funding)

Feb 15, 2023
Fall 2023
Apr 15, 2023
Winter 2024
Oct 15, 2023
Spring 2024
Jan 1, 2024
Who is eligible?
To be eligible for financial aid, you must meet these criteria. See more about eligibility.
tasks

Financial aid eligibility criteria
Criteria
FAFSAA
ORSAA
Be a U.S. citizen or an eligible non-citizen
x
Be working toward an eligible degree or certificate
x
x
Have a high school diploma, GED® certificate, or homeschool completion
x
x
Be making satisfactory academic progress
(see more about maintaining eligibility)
x
x
Not owe a refund on a federal grant or be in default on a federal student loan
x
How much aid will you get?
The amount of financial aid a student receives is directly related to how much it costs to attend college. If you want to know more, see how financial aid awards are determined. On that page, you'll see standard budgets for full-time enrollment at PCC. We can predict the cost of attending PCC, but we can't estimate how much aid you will receive until you apply. After we get your application, we'll let you know how much aid you are eligible for.
Wondering about scholarships? There are additional application processes when seeking scholarships. There are thousands of scholarships available for all kinds of students, from all kinds of organizations. Read more about finding and applying for scholarships.
GED® is a registered trademark of the American Council on Education and may not be used without permission. The GED® and GED Testing Service® brands are administered by GED Testing Service LLC under license.