Entry Level Healthcare Careers
Have fun, meet friends, acquire skills and training for a healthcare career! Interested in a career as a healthcare professional? Entry-Level training courses at PCC's Institute for Health Professionals help you jump-start a healthcare career in a field that offers job security and living wages. Find the entry level courses we offer below.
Need help deciding your healthcare career path?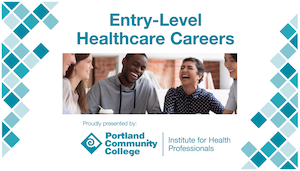 Discover healthcare career options with our free guide, Exploring Entry Level Healthcare Opportunities. In it, you'll learn about:
A day in the life of each job
What to expect from your career
Estimated salaries
Training opportunities
And much more!
Entry Level Healthcare Career Courses
Upcoming Course Schedule
Don't see the course you want? Contact us for more information.
Loading...
From the IHP Blog
Explore the Optician Assistant Training program at PCC

Mon, 03 May 2021

There's a growing field in Portland that you've got to see to believe! No, really! At PCC you can get started in a career as an Optician Assistant after just one term in the Optician Assistant Training program. On the last day of class you can turn your resume in to a potential employer.

What Future Optometrists Need to Know About ABO Certification

Wed, 19 Aug 2020

If you're considering becoming an optometrist, you've likely heard about the American Board of Opticianry (ABO) certification. The ABO is a non-profit organization that administers certification exams for dispensing opticians and contact lens technicians. But do you need an ABO certification to work in optometry? And more importantly, what is an ABO certification?

What Exactly Does a Medical Coder Do?

Wed, 27 May 2020

For each medical diagnosis, procedure, or office visit, there is a code that is used to tell insurance companies what was done. Specific people at medical facilities are responsible for determining which codes to enter. They are often tasked with related duties as well. These people are commonly referred to as medical coders.