Entry Level Healthcare Careers
Have fun, meet friends, acquire skills and training for a healthcare career! Interested in a career as a healthcare professional? Entry-Level training courses at PCC's Institute for Health Professionals help you jump-start a healthcare career in a field that offers job security and living wages. Find the entry level courses we offer below.
Need help deciding your healthcare career path?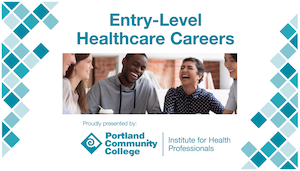 Discover healthcare career options with our free guide, Exploring Entry Level Healthcare Opportunities. In it, you'll learn about:
A day in the life of each job
What to expect from your career
Estimated salaries
Training opportunities
And much more!
Entry Level Healthcare Career Courses
Upcoming Course Schedule
Don't see the course you want? Contact us for more information.
Loading...
From the IHP Blog
The Essential Role of Sterile Processing Technicians (and How it Can Help Your Career)

Thu, 10 Mar 2022
Hospitals and other clinical care facilities can only operate because they maintain meticulous attention to cleanliness. People expect hospital spaces to be clean to prevent complication risk due to exposure to outside bacteria or viruses. As a result, healthcare settings employ Sterile Processing Technicians who are very well versed in how to completely, carefully, and…

How a PCC Student Became a Pharmacy Technician in the Pandemic

Wed, 25 Aug 2021
Pharmaceuticals is a growing field, and the demand for pharmacy techs is high. It is a field that never has a shortage of work. However, just like in other industries, current events have made working in the pharmacy even more difficult than it was before.

Explore the Optician Assistant Training program at PCC

Mon, 03 May 2021
There's a growing field in Portland that you've got to see to believe! No, really! At PCC you can get started in a career as an Optician Assistant after just one term in the Optician Assistant Training program. On the last day of class you can turn your resume in to a potential employer.