Entry Level Healthcare Careers
Have fun, meet friends, acquire skills and training for a healthcare career! Interested in a career as a healthcare professional? Entry-Level training courses at PCC's Institute for Health Professionals help you jump-start a healthcare career in a field that offers job security and living wages. Find the entry level courses we offer below.
Need help deciding your healthcare career path?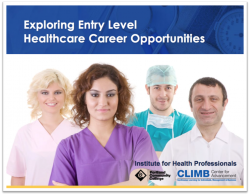 Discover healthcare career options with our free guide, Exploring Entry Level Healthcare Opportunities. In it, you'll learn about:
A day in the life of each job
What to expect from your career
Estimated salaries
Training opportunities
And much more!
Entry Level Healthcare Career Courses
Upcoming Course Schedule
Don't see the course you want? Contact us[opens in new window] for more information.
Loading...
From the IHP Blog
Instructor Spotlight: Andrew Bruce, Master Optician

Thu, 13 Feb 2020

With a background as an optician dating back to his teenage years in his home country of England, Andrew Bruce is highly skilled in the industry and is honored to be a Master Optician. The Optician ABO Test Prep course that he instructs will be his first with Portland Community College. Continue reading to learn more about his experience and passion.

Phlebotomy, Pharm Tech, Sterile Processing: Technician Programs to Prepare You For a Career in Healthcare

Mon, 03 Feb 2020

Entry-level healthcare careers help open the doors of opportunity while preparing individuals for the industry. These support roles are instrumental in ensuring clinicians can provide the best care for patients. Our technician programs in pharmacy, phlebotomy and sterile can provide aspiring healthcare professionals with a strong foundation for the future. Here is an overview of each program:

How Sterile Processing Technicians Save Lives

Thu, 02 Jan 2020

Although hospitals and other medical institutions are heavily associated with nurses and doctors, several other health professionals, such as sterile processing technicians, are critical for delivering quality healthcare to patients in a safe, efficient manner.