Entry Level Healthcare Careers
Have fun, meet friends, acquire skills and training for a healthcare career! Interested in a career as a healthcare professional? Entry-Level training courses at PCC's Institute for Health Professionals help you jump-start a healthcare career in a field that offers job security and living wages. Find the entry level courses we offer below.
Need help deciding your healthcare career path?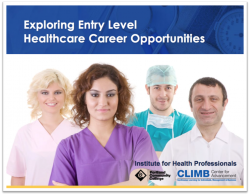 Discover healthcare career options with our free guide, Exploring Entry Level Healthcare Opportunities. In it, you'll learn about:
A day in the life of each job
What to expect from your career
Estimated salaries
Training opportunities
And much more!
Entry Level Healthcare Career Courses
Upcoming Course Schedule
Don't see the course you want? Contact us[opens in new window] for more information.
Loading...
From the IHP Blog
How to Become a Certified Professional Medical Coder

Mon, 27 Apr 2020

There's no better time to start a career in healthcare. The Bureau of Labor Statistics predicts that some of the fastest-growing occupations over the next decade will be in the healthcare industry. More specifically, it's anticipated that there will be a 15% jump in medical coding jobs alone.

7 Ways Patient Access Specialists Make Life Better for Hospital Patients

Fri, 13 Mar 2020

If you've ever been to the hospital, you've likely dealt with a patient access specialist. Patient access specialists (PAS) are typically the first point of contact. Their job is to help, direct, and comfort the patient. Often, a PAS will be responsible for scheduling, billing, and taking you to your appointment. They are also responsible for calling the insurance company, getting your messages to the doctor, and being there to generally answer any question you may have. Portland Community College is proud to offer training to anyone looking to join the profession.

How Much Does a Clinical Research Assistant Make?

Fri, 06 Mar 2020

Clinical Research Assistants (CR Assistants) spend their time performing trials for new treatments, diagnostic devices, and medications. They also work with patients directly in a healthcare atmosphere. They have important responsibilities that include: