2017 archive
The Transformative Educator: Borders, Bridges, and Frontiers
Date: Friday, April 21, 2017
Time: 8:30am-3:45pm (Breakfast 8-8:30am)
Location: Cascade Campus
See the brochure and the full program.
Part-time faculty receive a stipend of $100 for the day. Breakfast and lunch provided. Questions? Contact the Sylvania Teaching Learning Center Coordinators Laura and Michele at tlc.sy@pcc.edu.
Explore ways to improve our engagement with students through enhancing pedagogy, community building, as well as institutional and interpersonal practices. This conference takes its inspiration from, among other things, two classics works (available through the PCC library and inter-library loan): This Bridge Called My Back by Cherríe Moraga and Gloria E. Anzaldúa and Borderlands/La Frontera: The New Mestiza by Gloria E. Anzaldúa.
Schedule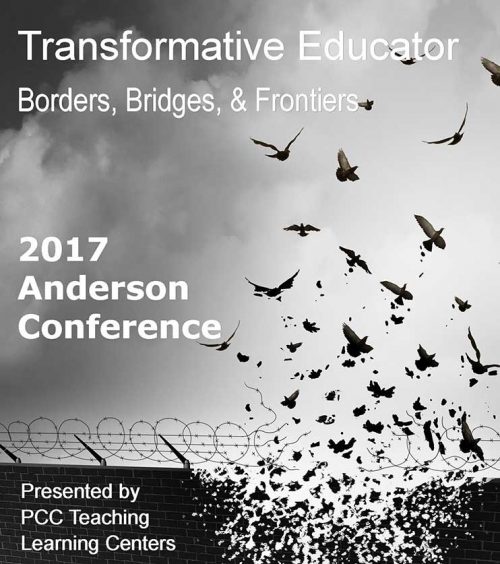 Registration and breakfast

8 to 8:30am
Student Union 202

Welcome and opening activity

8:30 to 9:15am
Student Union 202, 203, and 204

Transition to workshop I
Workshop I breakout sessions
Transition to workshop II
Workshop II breakout sessions
Lunch

12:05 to 1:20pm
Student Union 202, 203, and 204

Workshop III breakout sessions
Transition to plenary
Plenary and dessert

2:45 to 3:45pm
Student Union 202, 203, and 204