Rock Creek
Closed for Break: Academic Support Services
We are grateful for all the faculty volunteers, part time faculty, coordinators, faculty department chairs, academic success tutors, writing tutors, student resource center staff, open lab instructors, peer tutors, embedded tutors, study hall organizers, CAMP mentors, academic advisors, disability services team, counseling, division teams, work study staff, and an amazing front desk team! We thrive because of the collaboration, connection, and resilience of the staff that work in our centers.
Break Closure: All academic support services will close at 6:00 PM, Wednesday, December 12 and remain closed until the first day of winter quarter, OPENING Monday, January 7, 2019 at 9 am. If you need to reach us (staff/coordinators), please email us to answer your questions.
We continue to encourage faculty inclusion of all academic support service inside their syllabus, help us message to students that they have resources available to them. (below).
Recommended Syllabus Blurbs:
Student Learning Center: The Rock Creek Student Learning Center (SLC) offers academic support (tutoring) for over 26 subjects taught at Rock Creek. The center has tutors available all open hours, including faculty who can answer questions. Our center includes the Biology Lounge and supports all Open Labs on campus. The SLC has a computer lab (8 Macs/8 PCs/1 Accessibility Computer), a print center, 20 tables of quiet study space, 2 group study rooms and a Speech Lab. Students may check out textbooks and calculators free of cost while they are studying in the SLC. SLC Hours Fall/Winter/Spring): Monday-Thursday 9a-6p, Friday 9a-2p
Writing Center: The Rock Creek Writing Center is here to assist with any writing project, including essays, response papers, outlines, speeches, resumes, lab reports, and scholarship applications. Each visit is an opportunity to receive one-on-one feedback for thirty minutes from a qualified consultant. Students can make appointments online or by dropping by building 7, room 218 during business hours: Mondays-Thursdays 9:30 AM-5:30 PM and Fridays 9:30 AM-2:00 PM.
Fall/Winter/Spring Term Hours
Winter Quarter: SLC Opens January 7, 2019 at 9:00 am
Monday – Thursday 9:00 am – 6:00 pm & Friday 9:00 am – 2:00 pm
SCHEDULE
OPEN LAB
A&P Open Lab, Vet Tech Open Lab, and Bioscience Technology Open Lab
Schedule coming January 2019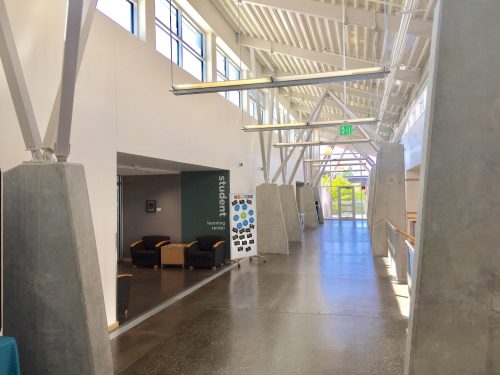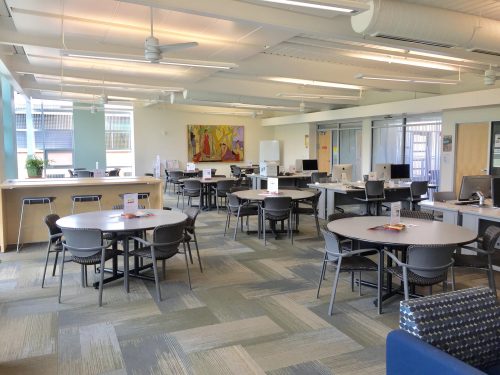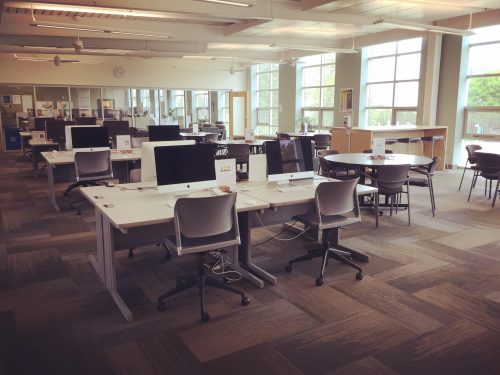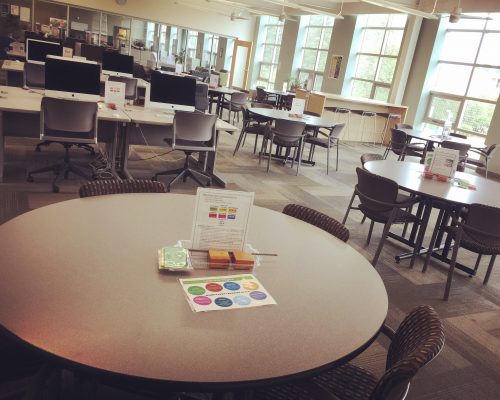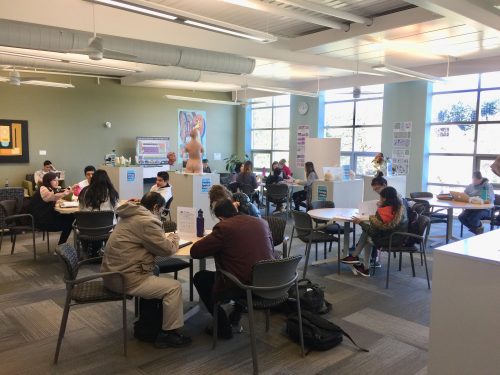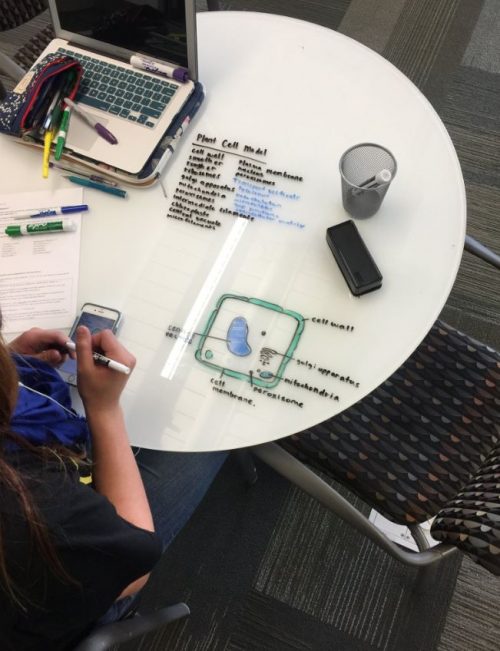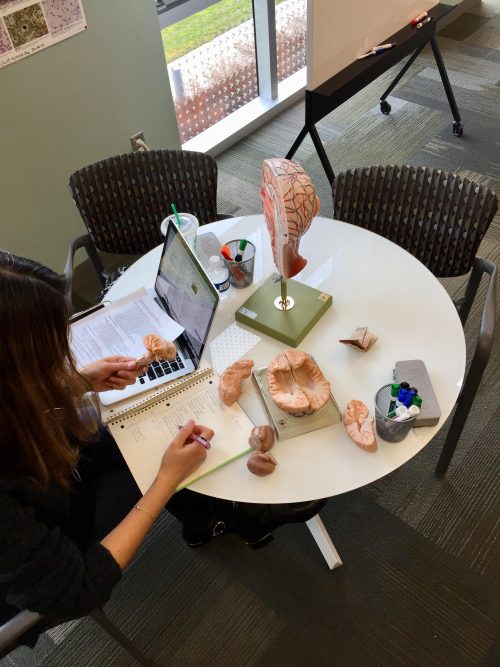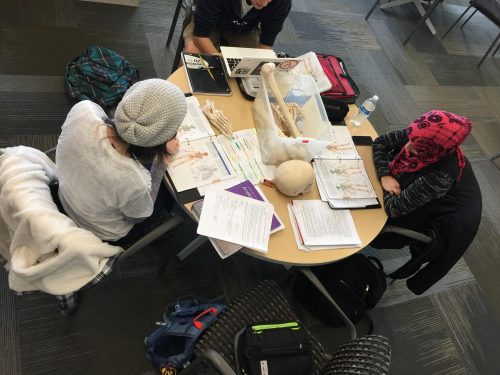 In the Rock Creek Student Learning Center, enrolled students can use the following resources:
Drop in tutoring
Access a computer lab (PC/Mac) & printers
Study at spaces throughout the center
Use white boards to brainstorm and facilitate group discussions
Borrow textbooks, calculators, headphones
Use the Biology Lounge to study models and review microscopes slides
Reserve one of two group study rooms
Reserve the Speech Lab for presentation practice
Academic Success Tutor Jobs
If you are interested in working for the Rock Creek Student Learning Center, please review our job description and follow the directions to submit your interest.

Contact us
Subjects available for tutoring
Accounting
Anatomy and Physiology
Basic Computer Skills
Biology
Business
Calculus
Chemistry
Communication/Speech
Computer Science
Economics
ESOL
HTML
Japanese
JavaScript
Math 58-261
Microsoft Office Programs
Photoshop
Physics
Psychology
Reading
Sociology
Spanish
Statistics
Vet Tech
How does tutoring work in the SLC?
For drop in tutoring, sit at a table, get all your materials ready, and start to study or complete homework.  The SLC flag system allows you to notify tutors when you are ready for assistance.  When you have a question, raise the flag, and an available tutor will come over as soon as they can.
Pink: Accounting
White: Biology/A&P
Light Green: Calculus
Red: Chemistry
Yellow: Computer/CAS/Web
Green: Math
Teal: Physics
Orange: Statistics
Purple: Other
Center Policies
All students must check in and out at the front desk.
Academic integrity is a critical value in the SLC and the college. When it comes to assessments, tutors may only assist with those that are already graded. They will not help with ungraded quizzes, tests, or take-home exams unless the instructor has explicitly noted on the document that tutoring is permitted.
When it is busy, there may be a wait. If you are waiting longer than 20 minutes please let the front desk know.
Borrowed Student Learning Center resources must remain in the center.
If you bring food into the Student Learning Center, please limit it to small snacks that don't create strong smells or messes.
Please keep valuables with you.
Please provide evaluation in the remarks box when you check out of SLC. Your opinion is important to us.
Tips for Tutoring and Testing
To best support your own learning, think of tutoring as a partnership that involves you engaging in problem-solving along with the tutor. Tutors will not simply provide answers to problems or assignments.
When you have missed class and instruction in a course concept, be sure to talk to your instructor during office hours or at least via email. Tutors are not here to replace your instructor or make up for classes that you missed.
Helpful How-To's for Computer Use in the SLC
To protect your privacy please restart your computer after each use