Dr. Jekyll & Mr. Hyde
Patrick Tangredi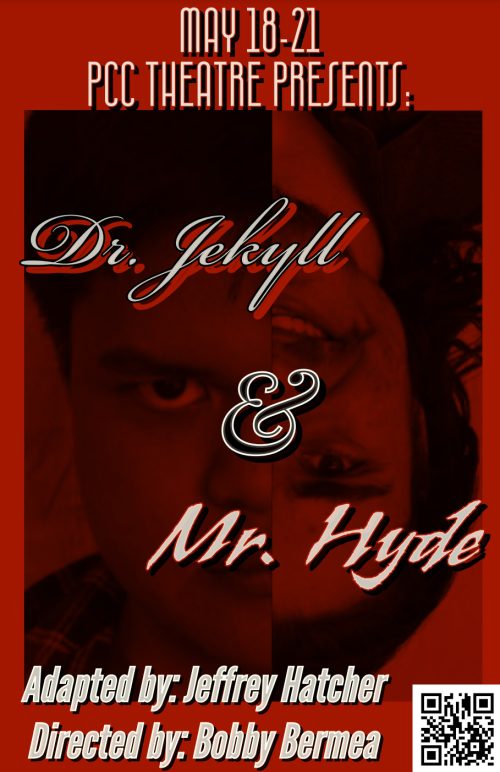 Guest director: Bobby Bermea, Artistic Director of Sojourn Theatre and Beirut Wedding
Design: Dan Hays, Sarah Gahagan, Mike Pfaff, and Sue Bean-Portinga
Content warnings: Sexual references, Violence, Flashing lights, Fog, Haze, Ableism & Ableist language, Alcohol consumption, Body horror, Death of a friend, Murder
Performances
Thursday, May 18, 11am (pay what you wish)
Thursday, May 18, 7pm (talkback after the performance)
Friday, May 19, 7pm (audio description for visually impaired)
Saturday, May 20, 7pm (American Sign Language)
Sunday, May 21, 2pm (closing matinee)
All performances are in the Sylvania Performing Arts Center.
Performance info: violence, adult language (Ages 12 and older)
Running time: 99 minutes
Intermission: One 10-minute intermission
No reservations are needed, but for large group reservations call 971-722-4323.
Tickets
Tickets for all (non-musical) plays are:
$10 – general admission
$5 – students, seniors, veterans, and PCC staff
Cash or check only
We do not offer or require reservations to our large 400-seat theatre. School groups are free (please call ahead for scheduling). Group discounts are available for groups of 10 or more. Call Patrick Tangredi at 971-722-4323 or email patrick.tangredi@pcc.edu for more information regarding group sales, accessibility accommodations, or school visits.
Visitor information
PCC Sylvania Theatre performs in the PCC Performing Arts Center, located on the PCC Sylvania campus, 12000 SW 49th Ave, Portland, OR 97219.
When arriving on campus from Capitol Highway, please note that a parking permit is required on weekdays and weeknights (not Saturdays or Sundays).
Please obtain these at the kiosk immediately to the right after entering campus, and follow the signs to the Performing Arts Center (PAC).
When parking in the PAC parking lot, walk toward campus, and at the bottom of all of the steps, follow the sidewalk as it veers to the left and that will take you (in front of the "Little Theatre") to the PAC where our plays perform.