The Odyssey Part 1
Posted by Web Team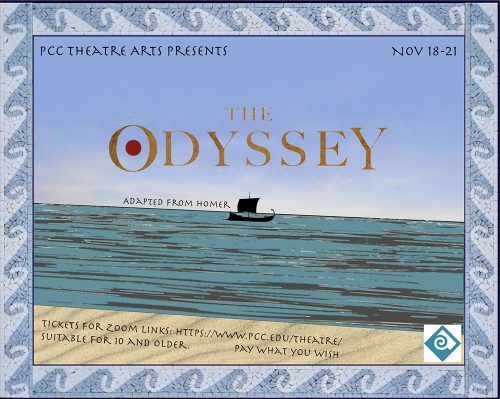 by Homer, Fall 2021
The Odyssey will be produced in two parts, addressing the complex yet rich nature of what it means to return "home" as we all wrestle with racial, economic, and social justice, a post-COVID global existence, a greener environment, and new normals. To this end we'll be utilizing multiple theatrical and artistic genres to capture and express the many metaphoric meanings of Homer's epic tale. We ask: Is home a place, a feeling, a community? Join us in coming home, to a place we've never been.
Watch the performance recording  »
Performance schedule
Performances will be held on Zoom and will run approximately 90 minutes, followed by live talkbacks with the director, crew, and cast! Appropriate for all ages.
Registration
The link for each date of The Odyssey Part 1 below will take you to registration for the live Zoom performance of your choice.
Opening night
Friday early showings
Weekend showings
Tickets
In lieu of selling tickets to this production, please consider making a donation to the PCC Theatre Arts Scholarship Fund when registering. Any donation amount is appreciated, and funds help PCC Theatre Arts students pursue their goals in academics. Thank you!
Auditions
You only need to audition once. Readings from the play and an audition form will be available two weeks before – please contact Patrick Tangredi to arrange a time and receive an audition form. Patrick will be auditioning through the first week of fall term.
The Odyssey by Homer Part 2 – Winter 2022
Playing in March, 2022 on Zoom (unless otherwise notified).