This content was published: April 15, 2019. Phone numbers, email addresses, and other information may have changed.
Jesus Christ Superstar
Posted by Web Team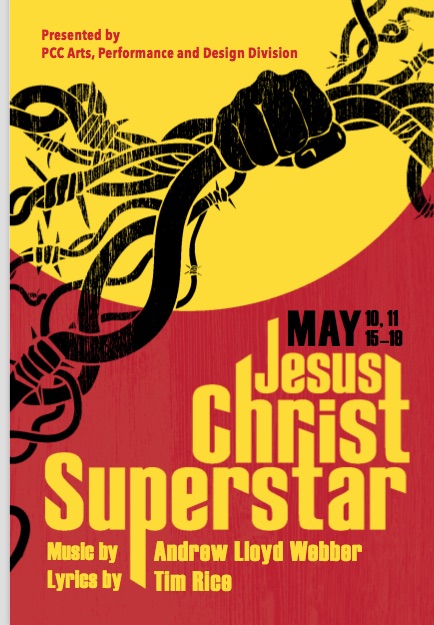 PCC Sylvania Performing Arts Division presents the Musical Theatre sensation…
The hit 1970 rock opera with music by Andrew Lloyd Webber and lyrics by Tim Rice.
Friday, May 10, 7pm
Saturday, May 11, 7pm *
Wednesday, May 15, 7pm
Thursday, May 16, matinee 11am
Friday, May 17, 7pm
Saturday, May 18, 7pm **
Sunday, May 19, matinee 2pm
* Audio Described Performance (pending)
** American Sign Language Performance
fas fa ticket
Tickets
Online tickets are available for all performances, and there's even an option to choose your seats!
$20 General admission
$15 PCC staff, students, veterans, and seniors
$12.50 Groups of 10 or more
Online fee is just under $2 per ticket
Select tickets are also available at the PCC Sylvania Bookstore beginning April 19.  Please note, these general admission tickets are for selected benches in the rear of the theatre and are recommended for patrons with mobility issues.  Bookstore tickets are cash or check only, no refunds or returns.
Jesus Christ Superstar tells the story of biblical Jesus in the final days leading up to his crucifixion. A rock opera by Andrew Lloyd Webber and Tim Rice, the musical has no spoken dialogue and is sometimes considered a modern rock-opera. Loosely based on the Gospels, Superstar focuses on the personal conflicts between Jesus, his disciples, the people of Israel, and the leadership of Rome. Special attention is played to the relationship between Judas Iscariot and Jesus, as well as Jesus relationship with Mary Magdalene. The musical is unique among biblical retellings in that it focuses on both Judas struggle making the decision to betray Jesus and Jesus human psychology, fear, and anger in understanding and accepting his role as both leader and martyr. The show is a product of its era, permeated with 1970s rock, gospel, folk and funk themes, modern language and colloquialisms, and high-energy dance numbers.
Ages: we suggest that children under 12 be accompanied by adults.
Running time: roughly 2 1/2 hours, including intermission.
Accessibility needs: if you have accessibility needs (for reserving seats for wheelchairs and their guests, require hearing devices, or other accessibility needs, please call 971-722-4949 and leave your name and number and our volunteer box office staff will get back to you as soon as we're able.