This content was published: May 5, 2017. Phone numbers, email addresses, and other information may have changed.
Love and Information
Spring 2017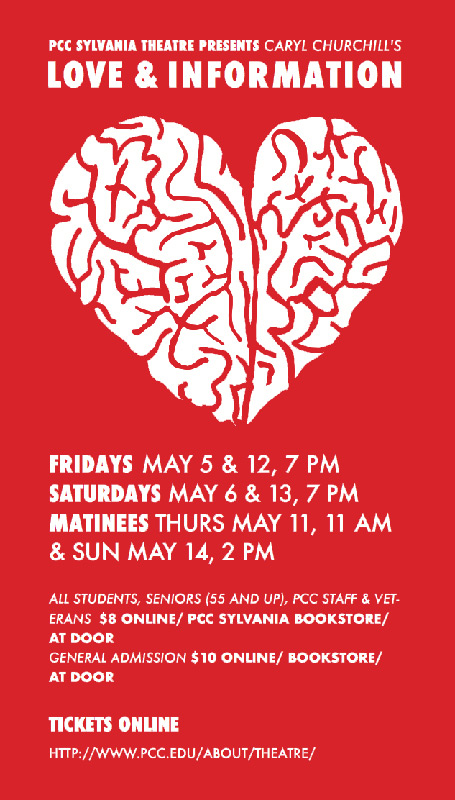 Love and Information, by Carol Churchill: In this fast moving kaleidoscope, more than a hundred characters try to make sense of what they know, and cannot know.
Someone sneezes. Someone can't get a signal. Someone's not ready to talk. Someone won't answer the door. Someone put an elephant on the stairs. Someone is her brother's mother. Someone hates irrational numbers. Someone told the police. Someone got a message from the traffic light. Someone's never felt like this before.
This fast moving play spans nearly 50 scenes in 90 minutes, while a kaleidoscope characters try to make sense of what they know. In the search to know love and information, we're taken on a voyage to better understand ourselves and better love each other. A celebration of what can be known, unknown, and what can be felt.
Performances
Friday May 5, 7pm
Saturday May 6, 7pm
Thursday May 11, 11am
Friday May 12, 7pm
Saturday May 13, 7pm
Sunday May 14, 2pm
Tickets
Ticket pricing and purchasing information can be found on the tickets page.