This content was published: November 10, 2016. Phone numbers, email addresses, and other information may have changed.
Almost, Maine
Fall 2016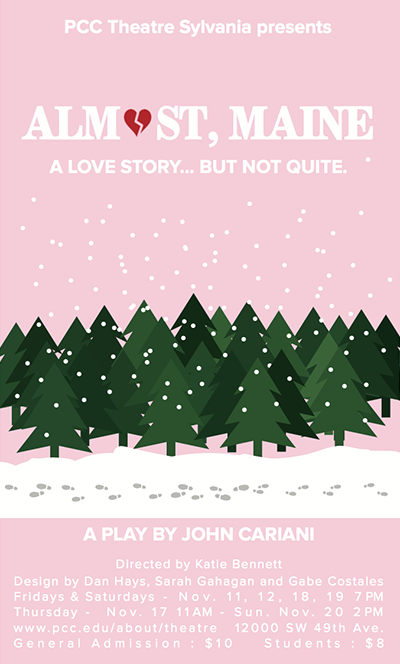 By John Cariani
A series of short vignettes exploring love and loss in a town so small it's called "Almost".
Welcome to Almost, Maine. A town that's so far north, it's almost not in the United States – it's almost in Canada. And it almost doesn't exist. Because its residents never got around to getting organized. So it's just… Almost. One cold, clear Friday night in the middle of winter, while the northern lights hover in the sky above, Almost's residents find themselves falling in and out of love in the strangest ways. Knees are bruised. Hearts are broken. Love is lost, found and confounded. And life for the people of Almost, Maine will never be the same. Almost, Maine: It's love. But not quite.
Performances
Thursday Nov 10, 7pm
Saturday, Nov 12, 7pm
Thursday, Nov 17, 7pm – Matinée 11am
Friday, Nov 18, 7pm
Saturday, Nov 19, 7pm
Sunday, Nov 20 – Matinée 2pm
Tickets
Ticket pricing and purchasing information can be found on the tickets page.