This content was published: May 8, 2015. Phone numbers, email addresses, and other information may have changed.
The Glass Menagerie
Spring 2015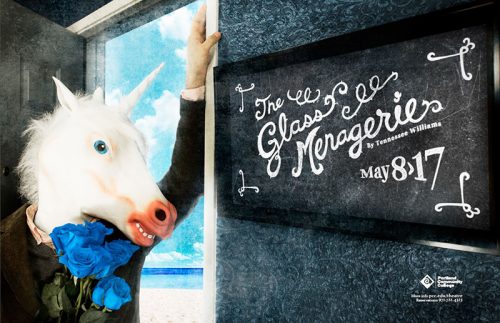 By Tennessee Williams
This compelling family drama vaulted Tennessee Williams to the pantheon of American playwrights and established his reputation as a visionary for the contemporary theatre. Join Tom, Amanda and Laura Wingfield as they navigate the treacherous territory of lost traditions, impossible expectations and growing desperation. This beautifully written play was recently revived on Broadway with Cherry Jones and Zach Quinto and played to sold out houses for months. Come and see why The Glass Menagerie has been considered an American classic for decades!
Note: Due to the unique staging of this production, a limited number of seats will be sold. Tickets will go on sale the first week of Spring term in the PCC Sylvania Bookstore, and soon to be online!
Appropriate for ages 9 and up.
Running time will be just over 2 hours with one intermission.
Performances
Friday, May 8, 7pm
Saturday, May 9, 7pm
Thursday, May 14, Matinée 11am
Friday, May 15,  7pm
Saturday, May 16, 7pm
Sunday, May 17, Matinée 2pm