This content was published: May 30, 2013. Phone numbers, email addresses, and other information may have changed.
Proof
Fall 2013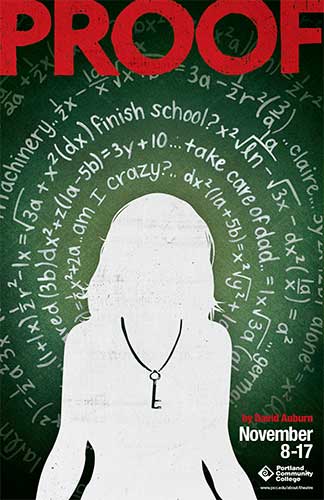 By David Auburn
PCC Theatre AUDITIONS for the Fall 2013 production of the Pulitzer Prize winning drama by David Auburn.
Thursday May 30 1 pm- 3 pm
Friday May 31 10am- 12 pm
Both days in the PAC
Students may audition on either day, please read the play beforehand, one copy available in the PAC Greenroom. Auditions will consist of readings from the script.
Characters
Catherine: 20's, possibly a genius, possibly mentally ill. We discover her at a turning point in her life after caring for her father until his recent death. She stands poised to share a gift of profound mathematical genius with the world but is reluctant to step into her fathers shoes, for she's seen all of the difficulty that it brought him, and she's a stranger to the mathematics world, possibly unacceptable, and she's retreated from the social world to care for her father, so she's comfortable being a recluse.
Robert: 50's, Catherine's father, professor, genius. Smart, playful, loving, and occasionally insufferable. Wants his youth back so sometimes acts a bit too young for his age.
Claire: late 20's-early 30's, Catherine's older sister, home for the funeral and to convince Catherine to move in with her. The older sister who didn't have the close relationship that Cathy and Robert shared, has moved away and isn't really connected to Cathy, math, Robert or Chicago anymore. Struggles to treat Cathy as normal, doesn't understand her sister's mental illness.
Hal: late 20's-early 30's, grad student, interested in Robert's legacy & Catherine. Struggles with his own lack of math genius, at the end of his reckless youth, a bit of a hipster, a bit of an emotionally naïve guy. In the final scene of the play Hal shows his maturity after being put in his place by Cathy. His grounded-ness is always almost present, but he's often walking into an awkward situation, so he's more often off balance than he is immature or geeky.
Note: Students cast in the TA Fall production "Proof" will be enrolled in TA 180 (A minimum of 1 credit) during the Fall 2013 term. Rehearsals will begin the first week of the Fall term Tues Sept 24, and run weekly on Tuesdays, Wednesdays and Thursdays from 1-3pm and Fridays from 9:30 am-1pm through opening night Friday, Nov 8. (This includes Saturday Nov 2 all day Technical Rehearsal and Evening rehearsals Mon-Thurs Nov 4-7)
Performances
Fridays and Saturdays, November 8, 9,15 & 16
Thursday, November 14 – Pay-what-you-will matinee 11am
Sunday, November 18, 2pm matinee
Students are also expected to work 10 hours in the costume or scene shop to support the building of the play.