This content was published: November 9, 2012. Phone numbers, email addresses, and other information may have changed.
Merge
Fall 2012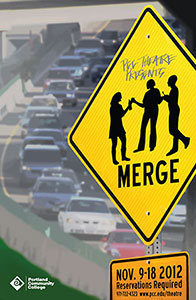 An original PCC Theatre and Dance program collaboration.
Have you ever wondered who those people are who drive by you so fast and are seen in glimpses on the highway? Ever been stuck in traffic and wondered who you're parked next to? This performance will use both the PCC Sylvania Performing Arts Center lobby and theatre spaces to explore what happens when a group of unrelated characters at various cross-roads of their lives start to merge while stuck in a traffic jam. This fun, engaging and unique PCC original production explores themes of community, identity and the nature of the threads that hold society together, and the obstacles that keep us apart. Mixing movement, acting, a labyrinth, sound, audience interaction, text, improvisation, and a very interesting staging of a traffic jam that includes the audience, this production will have limited audience of 45 participants per show, so reservations are strongly encouraged.
Choreography and movement by PCC Dance chair Heidi Dyer. Design by Dan Hays
Performances
Fridays, November 9 and 16, at 7:30pm
Saturdays, November 10 and 17, at 7:30pm
Thursday, November 15, special pay-what-you-will matinee 11am
Sunday, November 18, matinee at 2pm