This content was published: May 4, 2012. Phone numbers, email addresses, and other information may have changed.
Everyman
Spring 2012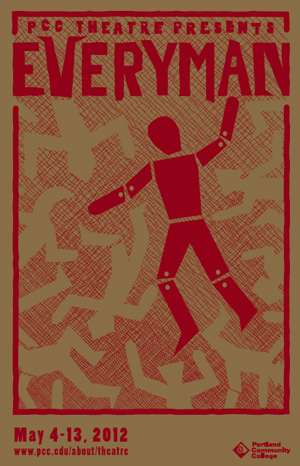 By Anonymous. Directed by Patrick Tangredi. Design by Shae Uisna, Jamie Tait, Dan Hays, Erin Gilday
Told with fantastic larger than life puppets (built by PCC's Puppetry class) and set in a wooded world of mystery and intrigue, this 600 year-old play follows the journey of the character "Everyman" who is tasked by "Death" to meet his maker "God" for a reckoning. Stalling for time, Everyman begs for the chance to bring a single companion with him to his death. He tries to enlist his Kin, Cousin, Goods, Beauty, Strength, and 5 wits, but none will follow him to his death. But will his feeble companion "Good Deeds" be worthy enough to follow him to his final reckoning? Come and find out, and see a modern spectacle that reaches across the centuries to tell a timeless tale of humor, struggle, and the indomitable human spirit!
Performances
The play will have a running time of 75 minutes and is appropriate for ages 6 and older.
Friday and Saturdays, May 4, 5, 11, 12 at 7:30pm
Free ArtBeat Matinee, May 10 at 11am
Closing Sunday, May 13 at 2pm