This content was published: December 4, 2020. Phone numbers, email addresses, and other information may have changed.
WOHESC 2021 Virtual Program Announcement
Posted by rachel.zarfas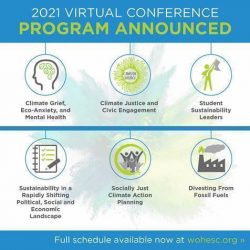 The Washington and Oregon Higher Education Sustainability Conference (WOHESC) is a platform for inspiring change, facilitating action, and promoting collaboration around sustainability within the Cascadia region's higher education institutions. Conversation, workshops, and networking opportunities will empower participants to advance environmental and social justice performance. Solutions shared at the conference will be tailored for implementation in our unique political, social, economic, and environmental climate.
View the 2021 Virtual Conference Program to learn more about priority topics to be covered and our featured expert speakers!
Join us for WOHESC 2021! Register for the conference and get 30% off by using the promo code PCCSUST30.