This content was published: April 8, 2020. Phone numbers, email addresses, and other information may have changed.
Faculty Spotlight #9
Posted by raquel.salazar
Sustainability is practiced all throughout PCC, from innovative waste management and learning gardens to solar energy and active transportation. But do you know about the faculty who include sustainability in their classes? Every week on our Sustainability blog and social media accounts we will share a faculty member who integrates sustainability into their course curriculum. PCC faculty have the ability to educate and extend sustainability efforts to students, creating positive change in our communities. Follow our Sustainability Blog and PCC_Sustain on Instagram and Twitter to learn about these inspiring faculty members! If you are a faculty member or know of one practicing sustainability efforts, please email sustainability@pcc.edu to be featured!
Introducing this week's faculty spotlight – Davida Jordan! Davida is an English for Speakers of Other Languages (ESOL)  instructor at Southeast campus. As an ESOL instructor, Davida tries to incorporate sustainability in all aspects of her course and her life. She shared that her ESOL courses are filled with practicing conversations in English and she uses this time to choose sustainability topics to focus on. Topics include using public transportation, biking, plant based diets and the importance of environmentalism. Normalizing these topics and using a positive incentives to make lifestyle changes is something Davida is truly passionate about. She sets her own lifestyle as an example to her students.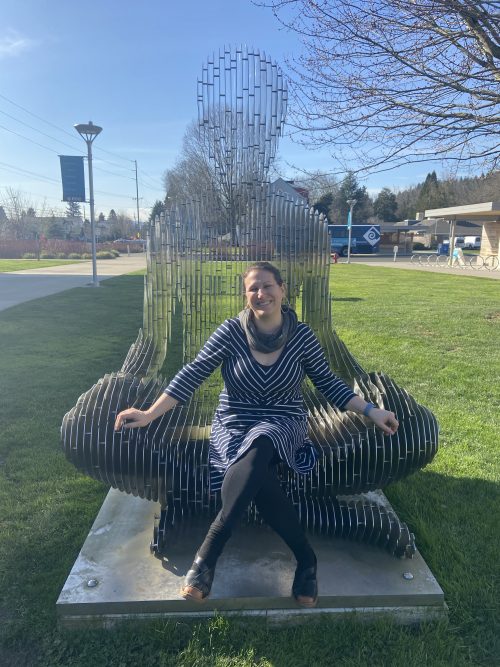 Davida explained that passing and creating change through education is so important. In class she focuses on one daily thing students can do everyday to practice sustainability. She makes effort to connect students to embody sustainability in and out of the classroom. Breaking down systemic structures and barriers in class makes it easier to communicate and connect to sustainability and individuals.
Thanks for all you do, Davida!