This content was published: October 10, 2016. Phone numbers, email addresses, and other information may have changed.
Upcycled PCC Banner Coolers
Posted by Melissa Aaberg | Start the discussion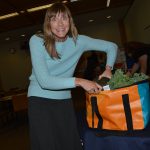 These snappy looking coolers are made from upcycled campus banners.  Many of them are old PCC marketing or event banners but we did not have enough banners to make all 100 coolers in our order. So the company, EcoLogic, based in Boulder Colorado, used some banners from their collection to round out our order.  Elaine Cole wrote a TGIF grant to help subsidize the cost.  These coolers were designed to be durable items that we could be proud to take to a picnic or shopping that represents the PCC sustainability and reuse ethic.  We have a small number (~50) we will sell for a reduced rate of $30 on Tuesdays at Rock Creek's Portlandia Farm Standia and other events. You can also email elaine.cole@pcc.eduto reserve one. Proceeds will go back support the Sustainability Office's practices and the Learning Garden to bring fresh food and ideas to campus and beyond.