This content was published: February 23, 2016. Phone numbers, email addresses, and other information may have changed.
Bee Campus USA
Posted by Melissa Aaberg | 1 comment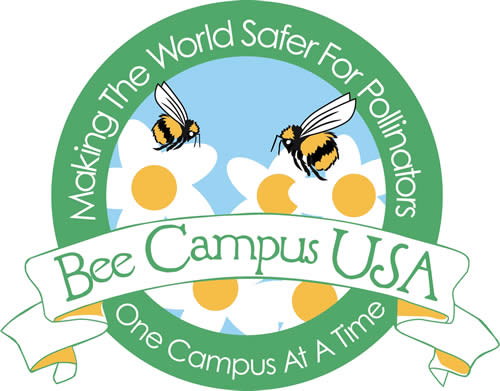 On February 23, 2016, Portland Community College and Bee Campus USA announced that Portland Community College is the fourth institution of higher education in the nation to be certified as an affiliate of the Bee Campus USA program, designed to marshal the strengths of educational campuses for the benefit of pollinators.
College students, faculty, administrators, and staff have long been among the nation's most stalwart champions for sustainable environmental practices. Portland Community College Interim President Sylvia Kelley said, "We are proud to be named the fourth certified Bee Campus USA in the nation. There already are many students, faculty and staff working on pollinator health and sustainability issues and the members of our newly formed Bee Campus USA Committee will provide good leadership to these pollinator conservation efforts. PCC students and faculty are excited about our Bee Campus efforts across our five campuses and four centers."
Said Bee Campus USA director, Phyllis Stiles, "Imperiled pollinators are responsible for the reproduction of more than two-thirds of the world's plant and tree species. Portland Community College is a stellar example of the influence community colleges can have on their students and larger communities. Their talented faculty, staff, and students offer an invaluable resource for the entire community seeking ways to manage ornamental landscapes in more wildlife-friendly ways."
According to the Lead Groundskeeper at the Rock Creek campus, Anne LeSenne, Portland Community College plans to develop a Campus Pollinator Habitat Plan for its combined 412-acre landscape to include a locally native and pollinator friendly plant list with regional sources for plants. In keeping with Bee Campus USA commitments, PCC already utilizes Integrated Pest Management (IPM) practices at all of their sites, meets or exceeds Oregon State IPM statutes, and uses the most Earth/pollinator friendly products. PCC staff are regularly educated on best IPM practices and chemicals (used as a last resort) are on the low impact list. Each certified campus is expected to post educational signage in appropriate places. For example signs in the cafeteria might explain the role of pollinators in food production. Some of PCC's designated pollinator gardens already have educational signage about the bees at work.
Interim Sustainability Manager for the District, Brian Schoon, said, "Through ongoing dialogue among members of the Bee Campus USA subcommittee, Portland Community College will become a student and a teacher of sustainable practices. Its membership includes faculty, students and operations and maintenance staff. Our goal is to model pollinator-friendliness in our landscaping practices by incorporating as many locally native plants as possible." Schoon continued, "District-wide, we have two established Learning Gardens and two in development where we grow herbicide and pesticide-free produce for staff, students and the greater community. The Rock Creek garden grows enough food to supply a weekly farm stand, campus food service, and campus and community food banks with fresh produce weekly amounting to over 11,000 pounds in 2015. In 2014, the Rock Creek campus initiated a fundraising program called 'Flowergrams.' Bouquets of flowers grown in our Learning Garden and on campus can be purchased and delivered to staff, students and faculty for a small fee. The program has increased the plantings in the garden as well as fostered more conversations about replacing grass with more pockets of perennial flower beds on campus grounds. The Sylvania campus is also home to a robust Learning Garden which focuses on smaller scale food production as well as butterfly and other pollinator habitat. Other campuses are installing perennial fruits and other edible plantings in the coming year."
Biology faculty Dr. Jaimie Powell said, "We believe Bee Campus USA certification will provide our college with an important platform for fostering wider conversations on and off-campus regarding pollinator awareness and initiating student service projects that could benefit our area. The Organic Gardening class at the Rock Creek campus uses the Learning Gardens extensively and has installed native bee houses. Working with the Community College Undergraduate Research Initiative, a National Science Foundation- funded grant, several biology faculty are designing research projects incorporating bees and other pollinators, pollen and honey. At the Sylvania campus, biology faculty are using pollen identification to help students learn how to use light microscopes and scanning electron microscopes. At the Rock Creek campus, chemistry and biology faculty are collaborating on a project to extract pollen from honey from our hives to determine from which plants pollen is collected. We hope to include the math department eventually to do some statistical analysis".
About Bee Campus USA and Bee City USA
The Bee Campus USA designation recognizes educational campuses that commit to a set of practices that support pollinators, including bees, butterflies, birds, and bats, among thousands of other species. For more information about the application process for becoming a Bee Campus USA affiliate, visit beecampususa.org. Bee City USA® urges local governments, individuals, organizations, corporations, and communities to promote and establish pollinator–friendly landscapes that are free of pesticides. Since its inception in Asheville, North Carolina in 2012, fourteen more cities have been certified and many others are in the process of preparing applications. For more information about the application process for becoming a Bee City USA community, visit beecityusa.org.