This content was published: April 2, 2015. Phone numbers, email addresses, and other information may have changed.
Hanford: Myth or Reality
Posted by Melissa Aaberg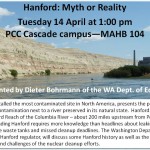 Presented by Dieter Bohrmann of the WA Department of Ecology
Tuesday April 14, 1pm
PCC Cascade – MAHB 104
Hanford, called the most contaminated site in North America, presents the paradox of massive contamination next to a river preserved in its natural state. Hanford borders the Hanford Reach of the Columbia River – about 200 miles upstream from Portland. Understand Hanford requires more knowledge than headlines about leaking radioactive waste tanks and missed cleanup deadlines. The Washington Department of Ecology, a Hanford regulator, will discuss some Hanford history as well as the current progress and challenges of the nuclear cleanup efforts.