This content was published: May 15, 2014. Phone numbers, email addresses, and other information may have changed.
Garden Gossip, May 15
Posted by Melissa Aaberg | Start the discussion
In this article: Community User Bed Update, Recycled Materials Fashion Show, Photo Montage, Donations.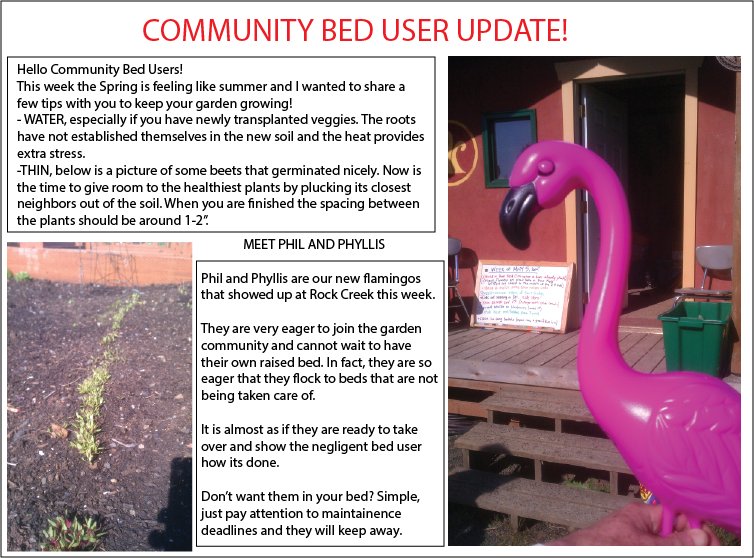 There are still a few bed users who have not weeded around the perimeter of their raised bed. Once you have pulled the weeds or used some shears to cut them low, we have cardboard and wood chips which you can user to form a shield against the weeds. Please have this done by May 23rd.
Recycled Materials Fashion Show by Thi Nguyen
Wednesday, June 4th
5:30- 6:30PM
PCC Rock Creek Student Center, Building 3
1st prize: $300
2nd prize: $200
3rd prize: $100
Audience favorite costume: $50
The competition promotes the use of recycled materials in creative and artistic ways to raise environmental and waste awareness.
Do not purchase any materials. All costumes must be made from only recyclable/reusable materials. This can include, but is not limited to: cardboard, aluminum, plastics, paper, steel/tin, Styrofoam, paper bags, glass, and recycled fabric. Footwear and other accessories may be used, but should be purchased second-hand or made from recycled materials.
Designs will be judged on use of recycled materials, creativity, and overall "look." Bring a written artists statement for use during the runway judging competition. This should include the title of your outfit, and a paragraph or two about your design, inspiration and please include recycled materials used.
OSU Photo Montage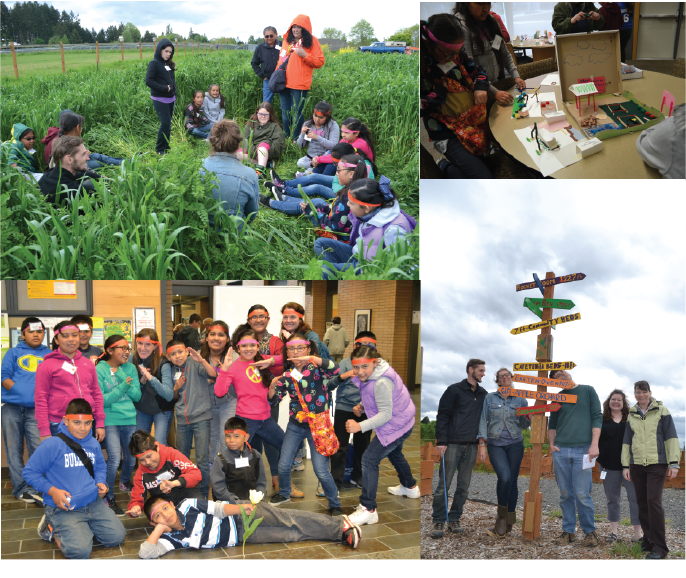 Photos taken during OSU's Math & Investigative Learning Experience (SMILE) Program on May 3rd.
Special thank you goes out to Elaine Cole, Nora Lindsey, Robert Predosa, Jaimie Powell, and June Eillenberger for coming in to teach on a Saturday, and for the success of this partnership. Our garden family at RC hosted about 105 students, and 20 teachers from six underserved communities at Rock Creek!
Donations
Thank you Betsy and Terry for your donations of garden shears and reusable dishes! To the rest of our readers, check out the updated list below and see if you can't rustle up anything while you are doing some spring cleaning.
Vases (for flowers)
Glass pitcher or large jars (for brewing sun tea)
cloth napkins
oven thermometer
pizza paddle – metal
pizza wheel cutter
non-plastic silverware
large cooler
Thanks for reading Garden Gossip!