Environmental Landscape Management Technology, associate degree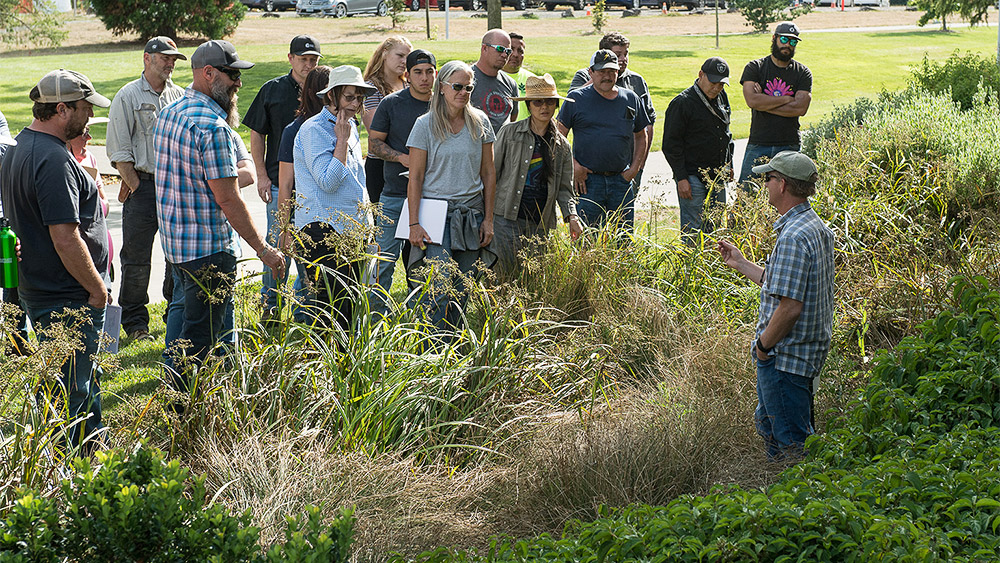 As our natural world faces more challenges as climate change and habitat loss, we need environmental stewards who understand the balances and can make a difference in the landscape industry. Environmental Landscape Management is the intersection of Landscape Technology and Environmental Science and students are uniquely prepared to enter niche industries related to both.
Award information
Degrees and certificates by number of terms to complete

| Award | Length | Financial aid eligible | Currently accepting students? |
| --- | --- | --- | --- |
| Associate Degree: Environmental Landscape Management Technology | 2 years | | |
Learn more about Landscape and all 6 awards available »
What will you learn?
Native plant identification and ecosystems
Environmental systems
Environmental restoration
Science policy
Sustainable landscaping practices
Site evaluation and plan reading
Equipment operation, irrigation fundamentals
Courses
Course listing for the 2023-2024 catalog year.
Plan of Study Grid
First Term
Credits

BI 141

Habitats: Life of the Forest *
4

ESR 150

Environmental Studies Orientation
1

ESR 200

Introduction to Environmental Systems
4

LAT 236

Landscape Math §
3
Second Term

CSS 200

Soils and Plant Nutrition
4

LAT 104

Pesticides
3

LAT 115

Tool and Equipment Safety, Operation and Maintenance
3

LAT 272

Sustainable Landscaping
3
Third Term

BI 143

Habitats: Freshwater Biology *
4

LAT 102

Plant Establishment and Maintenance
3

LAT 108

Landscape Irrigation I
3

LAT 262

Native Plants of Oregon
3
Fourth Term

LAT 280A

Cooperative Education: Landscape
3
3
General Education: 1 course
Fifth Term
ESR 202
Applied Environmental Studies: Prep for Problem Solving
4
LAT 106
Plant Anatomy and Physiology
4
LAT 223
Site Evaluation
3
General Education: 1 course
Sixth Term
ESR 201
Applied Environmental Studies: Science/Policy Consideration
4
LAT 243
Landscape Business Operations
3
LAT 264
Landscape Estimating and Bidding
3
Environmental LAT Degree Elective
3
Seventh Term
ESR 204
Introduction to Environmental Restoration *
4
LAT 224
Grading and Drainage
3
LAT 250
Plant Diseases, Insects and Weed Identification
3
LAT 276
Employment & Careers in the Landscape Industry
2
Eighth Term
LAT 280A
Cooperative Education: Landscape 1
3
Environmental LAT Degree Elective
3
 
Total Credits
92
*

Could be used as General Education.

§

 Course cannot be substituted for another course.

1

Students with one year documented work experience in landscape management may take an additional 6 credits of elective courses in lieu of cooperative work experience. Arrange with landscape department chair.

2

Most LAT classes are only offered once a year.  First term corresponds to the fall term, second term to winter term, third term to spring term, and 4th term to summer term. Students may start the program at any time of the year.  Please contact the LAT program advisor for more guidance.
Students may take the LAT Math Challenge Test to test out of LAT 236, Landscape Math. Please contact the LAT Department Chair, Jenn Peters, to learn more.
What will you do?
Manage and care for green infrastructure projects
Restore environments
Collect field data for environmental research and management
Manage landscape accounts
Environmental education
Who will hire me?
Environmental restoration firms
Commercial landscape maintenance firms
Parks and recreation districts and city municipalities
Government regulatory agencies
Nonprofit organizations
Next steps
Applying to PCC is free and only takes a few minutes.Apply now

Not quite ready to apply?
We can help you get the information you need.