Homepage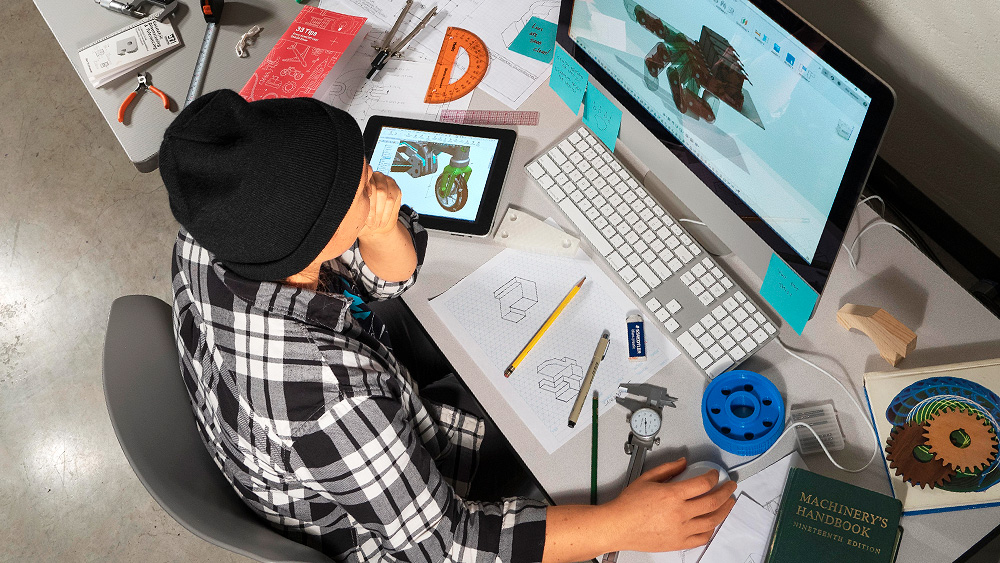 The design drafter is a skilled technician who starts with a concept and develops the working drawings and digital models required to guide the production of items such as:
Machines
Consumer products
Structural details
Important tools
The Portland Community College Computer Aided Design and Drafting (CADD) program teaches you the skills to help launch a successful mechanical design and drafting career.
Why choose Computer Aided Design and Drafting (CADD) at PCC?
Salary
According to the Oregon Employment Department, wages for CADD professionals in Portland range from $20.07 to $49.12 per hour. The average annual salary is $63,812.
Learn in a cohort of like-minded students who will become colleagues in your professional network. PCC CADD classes are small and instructors are dedicated to your learning. We offer generous hours of instruction and open lab opportunities for a complete comprehension of software packages and their complex functions.
Take advantage of our flexibility, through our afternoon, online, and evening offerings. Our program has an active advisory committee of current mechanical design, drafting, and engineering industry leaders. That means you'll receive the most modern education available, with real-world, hands-on assignments and cutting-edge concepts that ensure your skills are current and relevant. Our curriculum is certified by the American Design and Drafting Association at the Apprentice Drafter classification.
Degrees and certificates
What will you learn?
Class information
The PCC Computer Aided Design and Drafting CADD program is designed to develop your skills within one year in areas such as:
3-D modeling
Abstract and mechanical reasoning
Computer-aided drafting
Critical thinking and problem solving
Freehand sketching
Design and optimization
Drawing organization
Materials and design for manufacturing
Mathematical concepts
Mechanical drafting
Proper line work
Software programs
The software programs you will use include:
Each class contains a number of unique topics and concepts. Learn more in our program overview and frequently asked questions.
What will you do?
As a graduate of PCC, you will be expected to apply skills in the following:
Computer-aided design (CADD) software
Mechanical reasoning and mechanical design
Abstract and spatial concepts and associated computations
Industry standards
The Oregon Employment Department projects demand for CADD professionals in the Portland area to grow nearly 14% by 2027. Drafters are hired by firms of all sizes or are self-employed. PCC graduates find work in manufacturing firms, construction companies, engineering firms, along with city, state and federal agencies.
The PCC CADD program primarily focuses on training for the mechanical design and drafting industry. However, graduates have found employment in the civil, construction, public works, and other related industries by selecting elective classes.
Who will hire you?
Graduates of PCC's CADD program have been hired by organizations such as:
A-DEC
CH2M Hill
City of Portland
U.S. Army Corps of Engineers
ESI
Freightliner Corporation
Columbia Helicopters
KPFF Consulting Engineers
Mentor Graphics Corporation
Tektronix
Williams Air Controls
Allied Systems Heavy Equipment
HuntAir
Next steps
Applying to PCC is free and only takes a few minutes.Apply now

Not quite ready to apply?
We can help you get the info you need.