Herbal Medicine

Apply natural medicine for the benefit of yourself and others. The demand for trained herbalists is growing. Two thirds of Americans say that in the next year they expect to be taking herbs daily, and that this will be a significant part of their health care program. Do you want to learn how to apply effective natural medicine in the lives of clients or those close to you? Are you interested in learning about herbalism from seasoned herbalism experts? The Institute for Health Professionals' Herbalism Professional Series provides an affordable way to learn about herbalism from experienced leaders in the field.
The Program
This online, 3-module series teaches you fundamentals for using herbal techniques as restorative health care. All modules are taught via a live-streaming, online classroom, enabling students to meet together and ask questions of the instructor in real time. The modules can be taken in any order.
Certificate
Upon completion of all three modules, you will receive a Certificate in Professional Herbalism from PCC. You will then be eligible for a second year of study (Modules 4, 5, and 6) offered through the same instructor, KP Khalsa, at his school.
Fall Module: Herbal Healing
The Herbal Healing Module will teach you about:
Materia Medica, the study of specific herb properties
Herbal energetics
Herbal preparations and plant chemistry
Chinese and Ayurvedic herbalism
Modern Phytotherapy
Digestive and Cardiovascular systems
Integrative Healing: Aromatherapy and Homeopathy
Winter Module: Herbs and Health
The Herbs and Health Module will include:
Study of specific herb properties
Ayurvedic and Chinese herbalism
Respiratory, Urinary and Nervous systems
Preparations and plant chemistry
Integrated Healing: Vitamins and Minerals.
Spring Module: Holistic Herbalism
The Holistic Herbalism Module focuses on:
Study of specific herbal properties
Western herbal energetics
Preparations and plant chemistry
Skin and topical therapies
Chinese and Ayurvedic herbalism
Reproductive, Musculoskeletal, Immune and Endocrine systems
Herbalism for Young and Elderly
Integrative Healing: Diet, Cleansing, Herbal Hydrotherapy
Format
Students meet in an online, interactive environment on Wednesdays.
Live-streamed lectures are offered at 2:00-4:45 pm (Pacific) and from 5:45-8:30 pm (Pacific). Note: Lectures cover identical material, and students can choose to attend either lecture.
From 4:45-5:15 pm and 8:30-9:15 pm Pacific, you will have the opportunity to participate in "office hours". During this time, you can speak with the instructor and pose individual questions or scenarios of your interest. Office hours are not required, but provide a direct line to your instructor in order to assure understanding and receive any necessary clarification.
Is the Herbalism Professional Series for me?
This program is for you if you want to:
Enhance your herbalism skills
Become a credentialed professional herbalist
Enter the rapidly expanding complementary medicine field
Have a career in natural health or the organic food industry
Possible career opportunities to consider after the training:
Private practice, consultations
Consultant, Freelance, Industry
Writing
Education
Manufacturing
Wholesaling
Retailing
Sales Representative
Import and Export
Research and Development
The Investment
Time
Each module lasts 1 term, or 3 months. You can complete all 3 terms within a year.
Tuition
$999 per module
Additional costs include:

Book fees, which vary for each term
Headset with a microphone
Books
The following is the list of books required for the Herbalism classes; the books are utilized in each term of the program, thus only need to be purchased for your first term. Books can be found at new and used bookstores and at most online book sites. Many of these books have older or newer editions. These are acceptable. Read appropriate comparable sections.
The Instructor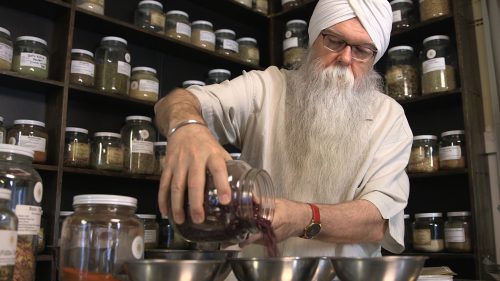 Karta Purkh Singh Khalsa, Yogaraj (Ayurveda), AD, DN-C, RH, has over 49 years of experience in alternative health. Khalsa is President Emeritus and Global Ambassador of the American Herbalists Guild, and director emeritus of the National Ayurvedic Medicine Association. He has presented at over 200 national conferences, been featured in over 20 DVD continuing education courses and has authored or edited over 30 books. Khalsa is a professor at Massachusetts College of Pharmacy, faculty instructor in the Botanical Medicine and Ayurvedic Sciences Departments of the National College of Natural Medicine and Bastyr University, where he directs the Ayurveda certificate program. He is the first person to be board certified in Herbalism and Ayurveda.
He is a state certified dietitian-nutritionist (New York), nationally registered herbalist, and holds a doctorate in Ayurveda. Khalsa is the author of over 3,000 published health articles. He was the principal medical formulator for Yogi Tea, an Ayurvedic medicinal tea company; Peace natural products, where he created an extensive line of Ayurvedic body care products; and the principal developer of the Soothing Touch Ayurvedic massage product line.
At Portland Community College, Khalsa is the curriculum creator and principal instructor of the Professional Herbalism program. He lives in the Northwest with his family.
FAQs
Who can enroll?
You must be a high school graduate, and some college experience is recommended. Our students represent a broad demographic: twenty-somethings to retirees, health professionals, those looking to make a career change, individuals without college education, individuals with Master's degrees, those needing continuing education hours only, etc.
Do I need computer skills to take this program?
Students should have basic to intermediate computer savvy. High-speed internet access (DSL, cable modem, or satellite) is required in order to meet online learning technical requirements.
Do I need to complete work outside of lecture times?
Students should expect to invest a minimum of 2-3 hours of study time for every hour of lecture.
Does this program qualify me to become certified through the American Herbalists Guild?
The PCC Herbal Medicine Program provides the first half of your training towards the American Herbalists Guild recognition. Once you have completed the "Year 1" programs (consisting of all 3 modules/ which can be completed in any order), you can complete the remaining 3 modules with our instructor outside of PCC. You will then have obtained substantial academic knowledge toward applying for professional membership in the American Herbalists Guild, the only professional association representing herbalists in the United States.
Is this program transferable or a credit program?
The Herbal Medicine Program curriculum is a continuing education unit (CEU) program. It is a noncredit, does not offer a degree, and is not transferable to another school. It does, however, provide high quality knowledge and skills that can be applied towards many professions and health careers.
Can I qualify for financial aid?
This program does not qualify under Federal Financial Aid. We can, however, accept most grants, scholarships and educational stipends that you obtain. We also accept third party payments from employers. Additionally, we offer interest-free payment plans.
Do you offer payment plans?
PCC gladly offers payment options for students. These payment plans are interest-free, and can be easily set up once you are registered for the class. To learn more about payment plans, please visit https://www.pcc.edu/enroll/paying-for-college/tuition/ways-to-pay/payment-plans.html
You can select your preferred payment plan through your MyPCC account, or by calling the Business Office. They can be reached at: 971-722-8888 option #3.
Do I have to complete the modules in any specific order?
No, each modules is independent of the others and can be taken in any order.
What is "live-streamed, online"?
The live-streamed classes for Modules 1, 2, and 3 are delivered through Zoom. This allows students to participate in real-time virtual lectures every Wednesday. While students are encouraged to attend all live lectures, recordings of each session are available for students who cannot attend the lectures during the scheduled time.
Have a more specific question?
For more information email Amy Evans at amy.evans3@pcc.edu.
Upcoming Integrative Healthcare courses
Loading...