PCC is tobacco free
A healthier, safer place to learn
Portland Community College is proud to lead the way as the largest educational institution in Oregon to go tobacco-free.
We are committed to a healthy, safe educational environment where students have every chance to succeed. Beginning on September 9, 2009, no tobacco products will be allowed on PCC premises excluding Good Neighbor Zones.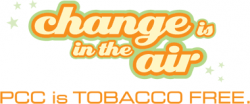 Smoking cessation programs
An Employee Assistance Program is available for college employees and their dependents.
Resources for smoking cessation
Oregon Tobacco Quit Line: 1-800-QUIT-NOW (1-800-784-8669)
Oregon Tobacco Quit Line, en Español: (877) 2-NO-FUME
PCC Employee Assistance Program (for eligible employees): (800) 433-2320
PCC tobacco information
The students, staff, and administration all came together to make PCC campuses and centers tobacco-free. We invite you to use the resources offered here and join us in creating a better place to learn.