33rd Annual Cascade Festival of African Films Returns
Photos and Story by misty.bouse | Start the discussion
From Feb. 3 through March 4, the popular Cascade Festival of African Films is returning to Portland Community College's Cascade Campus. Honoring the art and craft of African filmmaking, the movies imported for the festival draw capacity crowds each year. All films are free and open to the public and those that are in-person are on a first-come, first-served basis.
The annual event is the longest-running, nonprofit, noncommercial, largely volunteer-run African film festival in the United States. In 1991, the first CFAF drew approximately 400 people and today, sustained by a small staff and an army of dedicated volunteers, it has grown to more than 5,000 attendees.
This year, the festival welcomes newest festival director Aviva McClure and associate director Eugenie Jolivett Fontana, who are launching festivities with a special opening gala at 7 p.m., Friday, Feb. 3. Screenings continue throughout the month of February in conjunction with the celebration of Black History Month.
"As this year's festival theme focuses on "beauty and complexities: the human experience"; we hope that our curated films, which not only connect the African continent and the diaspora experience, also remind us that we are not alone in this human journey of change, healing, growth, loving, and celebrating our identities," said Fontana.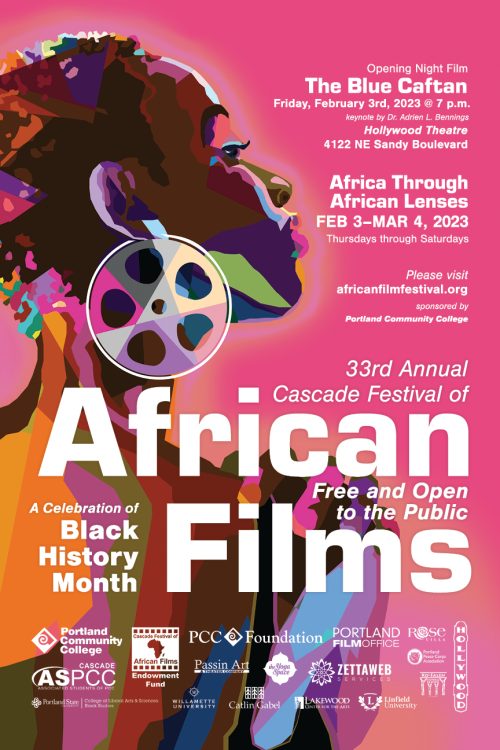 Opening night will once again take place at the Hollywood Theatre, 4122 N.E. Sandy Blvd., at 7 p.m., Friday, Feb. 3. The gala features a live musical performance by Randa Benaziz and a short keynote from PCC President Dr. Adrien Bennings, followed by the multiple award-winning feature film "The Blue Caftan" (Morocco, 2022) – a film centered on the theme that love has no gender.
 The CFAF continues through March 4, with screenings in the Moriarty Auditorium at the Cascade Campus, 705 N. Killingsworth St. and online. A complete calendar of film screenings and director appearances can be found at www.africanfilmfestival.org
The CFAF celebrates "Africa through African lenses" with a curated collection of 20 feature films, documentaries, and short films on the docket from 16 different nations. This year's festival centerpiece weekend features films that have received international recognition.  On Feb. 17, Congolese director Nganji Mutiri comes to Hollywood Theater in-person, for his film "Juwaa," which will be followed by a performance from local emcees. Then, on Feb. 18, "Neptune Frost" will present audiences with an Afro-futuristic interpretation of the toll of technology in the 21st century.
Returning this year are Monday Night Film Chats, which are hosted at 7 p.m. on Zoom throughout the festival. Also, festival-goers can experience an in-person and virtual marketplace from an assortment of vendors and pick up festival T-shirts.
Culminating with CFAF Women Filmmakers Week, March 2-4,  are featured films by an emerging force of women filmmakers within African cinema. This festival lineup includes directors from South Sudan, Egypt, Burkina Faso, and NYC (Ghana). The final event, Women Filmmakers Week panel discussion, is hosted by Tracy Francis at 7 p.m., March 4 at the Moriarty Auditorium and features "Queen of Glory" by Ghanaian director Nana Mensah. 
For more details on the 2023 festival, visit https://2023.africanfilmfestival.org