Training opportunities abound at PCC in emerging mechatronics field
Photos and Story by James Hill
Mechatronics is a new, interdisciplinary field that is changing at a dramatic rate, driven by new technology, innovation and global demand. And this field encompasses some of the fastest-growing careers in the world – according to the latest U.S. Bureau of Labor Statistics.
As these career fields emerge, employees – new and old – must be trained in the latest technology. Portland Community College has a variety of options to train this workforce for the rapid change in advanced manufacturing fields. 
PCC's Electronic Engineering Technology (EET) and Microelectronics Technology (MT) programs offer options for those wishing to learn the principles of mechatronics and enter advanced manufacturing as a career. An associate degree in mechatronics, automation and robotics engineering technology prepares students to work in a variety of settings, which align with current and future projections related to regional  workforce demand. After completion of a degree, graduates can expect to earn around $69,000 annually in any EET- or MT-related mechatronics field.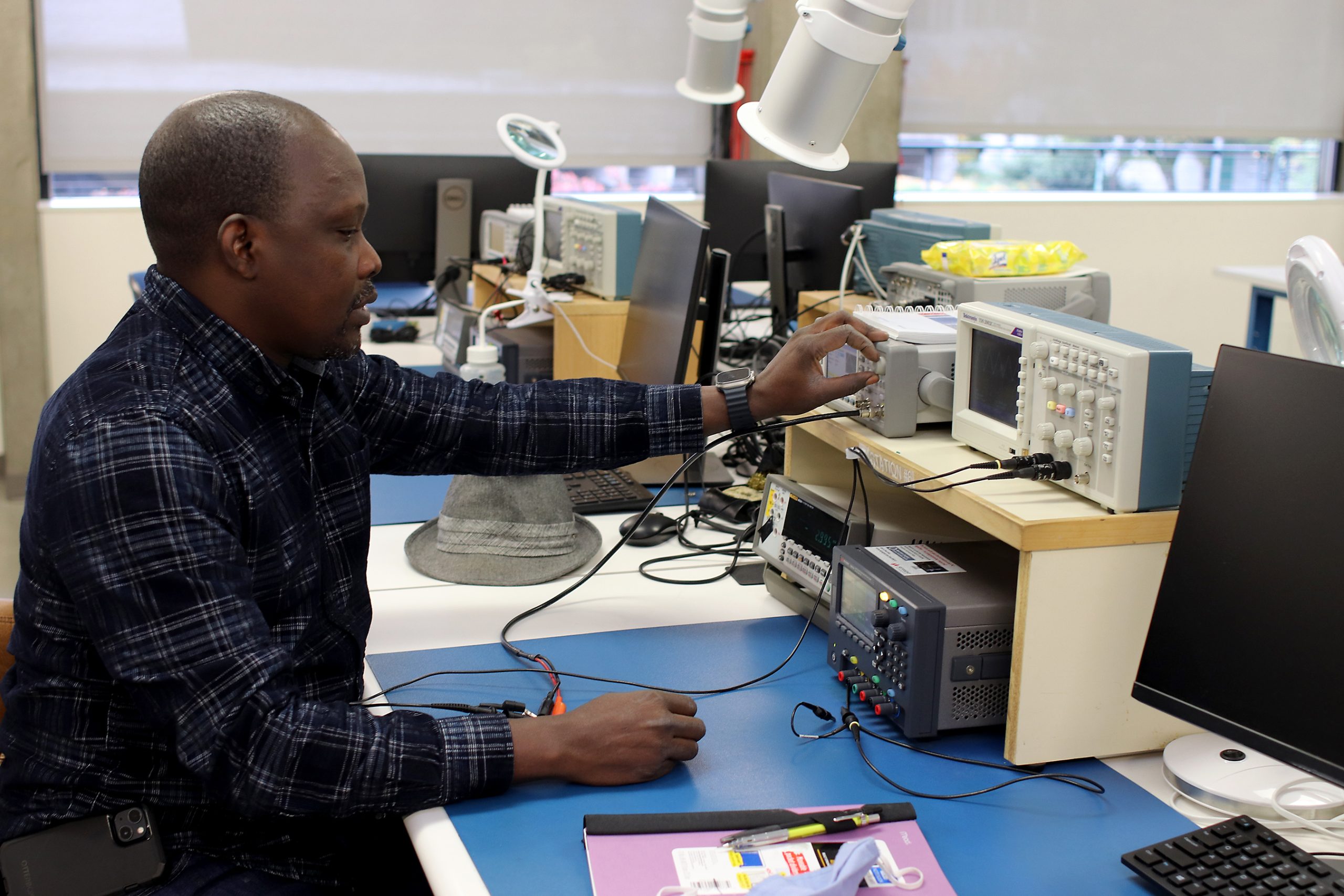 Academic Pathways: Science & Engineering

The Electronic Engineering Technology and Microelectronic Technology programs, as well as the college's wide array of mechatronics training courses, are part of the Science & Engineering academic pathway. This pathway consists of programs that lead to great careers or provide valuable science class credit, which will transfer to a university. 
"All of our graduates who are electronics engineering technicians can apply for jobs in this rather broad area of mechatronics," said Sanda Williams, EET Program faculty chair. "With the specialization in mechatronics, automation and robotics our students can apply for jobs in this specific sector where they can perform operation, repair and service for the equipment. Microelectronics is focused on many of the same principles with a focus on working in the semiconductor industry.
"Many members of industry have contacted us lately in an effort to create a pipeline of workers or to hire, and they all have stated that they are having a shortage of workforce," she added.
The difference between the mechatronics, automation, and robotics engineering technology option and the EET degree is small – more than two-thirds of the classes overlap – so students can easily train in both areas and make themselves more marketable.
Industry Provides Guidance
EET's diversified courses, coupled with state-of-the-art technology and equipment, offer students an affordable way to learn the skills needed to become an engineering technician. With an industry advisory committee that includes the likes of Intel combined with instructors' industry experience, students receive training that's practical, efficient and effective.
"Intel is partnering with PCC and directly engaging and driving students to the application process; which places students in a talent pool to be considered for Intel technician positions in our world-changing technology fabrication facilities," said Rachel Golden, campus relations manager for Intel.
"We typically get input from our advisory board or other companies from this specific field or general electronics area that help inform our curriculum and training," Williams added. "The feedback that comes from the industry shows that our students make great technicians, and they are highly valued wherever they are hired."
Banawe Moussa, who immigrated from West Africa to North Portland in 2017, plans to graduate with a EET/mechatronics degree in June and is currently working with a company that contracts with Amazon.
"The EET program helps me see myself in the field," explained Moussa. "PCC is the first college I heard about from my friends that offers mechatronics, and they all have been successful at finding jobs. This program is the place for me."
For more on the EET program, visit the program's mechatronics degree webpage. For more on the MT program, visit the program's degree webpage, which also provides information on the one-year mechatronics certificate.
PCC's Mechatronics Opportunities
Heavy industry and manufacturing rely on mechatronics, too, where workers need to update their skills. At the OMIC Training Center in Columbia County, PCC offers two mechatronics non-credit training certificates – electrical technician and programmable logic controls specialist. The two offerings focus on thinking critically and creatively to troubleshoot and solve electrical problems. Both are based on real-world situations that apply to any manufacturing environment. Interested students can call (971) 722-1818 or visit www.pcc.edu/enroll/ to sign up for classes.
At the Willow Creek Center in Washington County, the mechatronics lab is the focal point for a certificate focused on the hyper local economic development in the semiconductor field. PCC is hosting mechatronics classes at the center this winter as part of the semiconductor academic and career pathway.
Introductory courses are Jan. 5-19, Jan. 23-Feb 3 and Feb. 10-24. More will be offered depending on demand and availability. All classes are 10 learning days with students receiving a total of $1,000 for going through the training.
Students completing the introductory course who want to continue their training at PCC in EET, MT or the one-year mechatronics certificate are eligible for financial assistance to support their continued education in these high demand areas. 
For more information on these classes, visit pcc.edu/opportunity-center/jobs/worksource/.