Enrique Sanchez-Rivera is teaching students about next-gen tools for careers and life
Photos and Story by misty.bouse
Picture a scene from the film "Iron Man" where the main character is wearing high-tech eyeglasses that scroll information and messages in front of his eyes. This may seem like Hollywood science fiction, but, in fact, it's reality.
Today, augmented reality (AR) features are available on mobile devices and are growing in popularity. Enrique Sanchez-Rivera, an award-winning AR and virtual reality (VR) creative developer and studio owner, is introducing this technology to students with his non-credit, Community Education Program class, "Introduction to Augmented, Virtual and Mixed Reality."
"AR will be huge," said Sanchez-Rivera, who runs Portland-based Augmented Island Studios. "It is new technology that keeps you in the real world. It has infinite possibilities, and I believe AR is the new golden opportunity." 
He said these digital tools enable the superimposing of images or information over real-world views and contrast that with being immersed in a computer-generated, virtual world like a video game.
"That's the AR-to-VR difference, and the capabilities are expansive," he added.
Sanchez-Rivera's class explores not only the technologies but their applications across various industries. This enables students to experience and discuss possible related solutions for situations in their own lives.
"Most anyone can take the AR class as it is affordable, has no prerequisites, and all you need is a mobile device or tablet to explore case studies, history and applications," Sanchez-Rivera said. "AR offers new and really good career paths. It's the next-gen tool for jobs and life."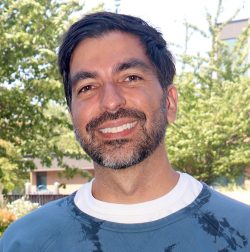 Sanchez-Rivera, who got into coding when he was 14 and built his own websites, grew up in Colombia. He attended college in the United States and has been in Portland for five years. He has a bachelor's degree in economics, a master's in business administration, and is in the process of completing the Yale University Global Executive Leadership Program. 
Through his boutique AR studio, he explores how to marry mobile app technology with branding capabilities for global marketing campaigns and complex 3D training simulations.
"We're big on passion," Sanchez-Rivera said. "Everybody works together when we build something. We're not siloed, there's lots of interplay and mentorship. On the client side, we're always learning from a variety of industries, from consumer-packaged goods to wine to high tech. As a lifelong learner, I enjoy this and seeing others – especially new employees and students – succeed in this space." 
Take a Community Ed class this winter!
PCC's Community Ed Program offers hundreds of non-credit and Continuing Education classes each term and enrolls more than 25,000 students each year. Learn more at pcc.edu/communityed