This content was published: October 5, 2022. Phone numbers, email addresses, and other information may have changed.
As veterinary world faces staffing shortages, PCC is building its facilities and training to solve the problem
Photos and Story by James Hill
For the last decade, veterinary clinics and animal shelters all over the country, including Portland, have struggled to find veterinarians and certified veterinary technicians to provide adequate care to the many animals that come through their doors. Thanks to the pandemic, increased demand for veterinary services has strained the profession even more.
Portland Community College's Veterinary Technology Program is one of only two programs of its kind in Oregon and only one of five in the Pacific Northwest. Soon, it will have a brand new facility where students can train on caring for animals, which will create a qualified pipeline of technicians for the industry. ​​The barn at Rock Creek Campus is currently being replaced with a new building designed to serve the needs of the program, improving the teaching areas and the quality of shelter for the farm animals.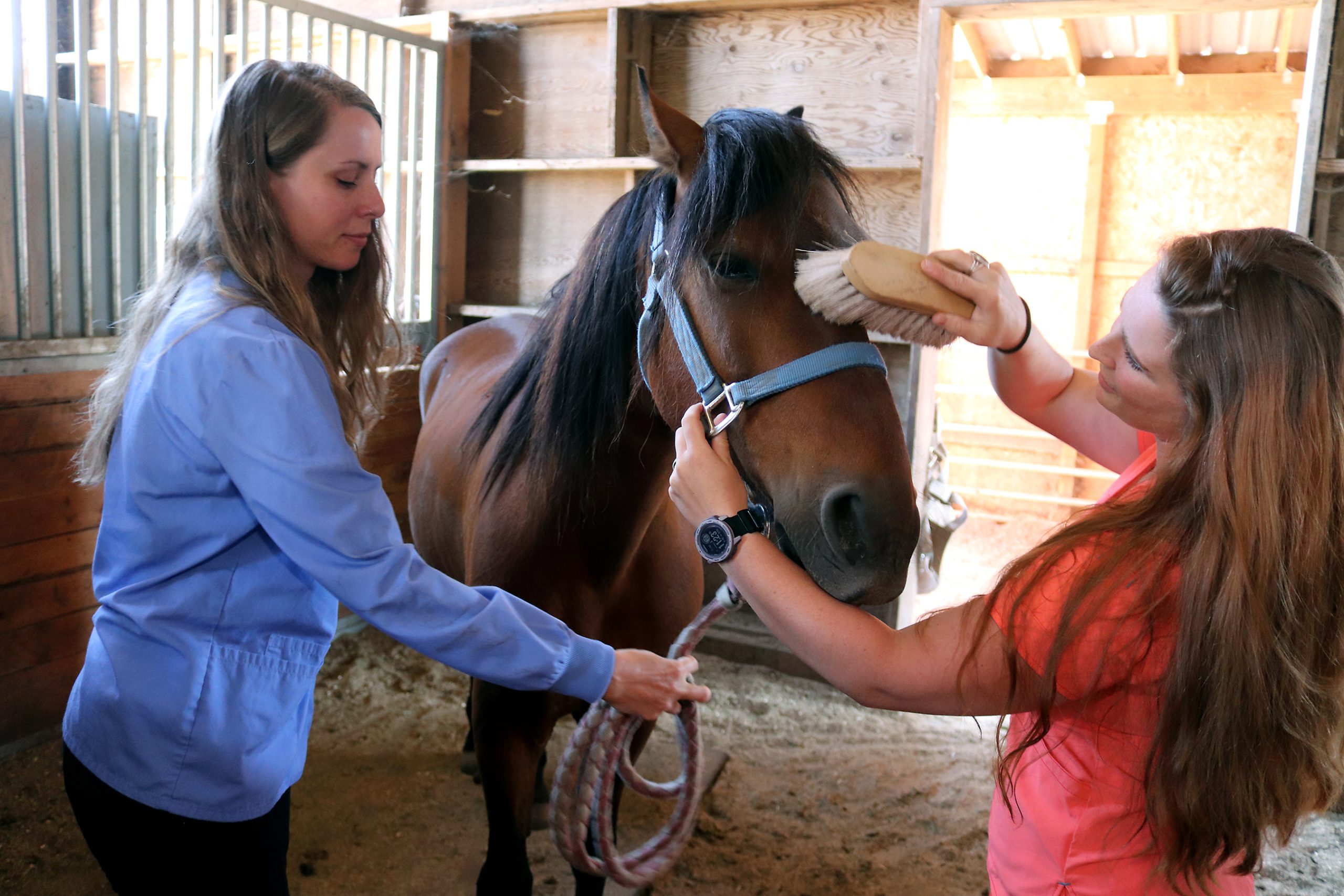 2022 PCC Bond Measure
Portland Community College will have a $450 million bond measure on the Nov. 8 election ballot. If voters pass the proposed bond, funds would go directly to projects that will improve access to higher education. If passed, it is estimated the measure would maintain current tax rates for local homeowners. If it doesn't, the proposed services would not be provided and the tax rate would decline.

"The new facility will transform the way we are able to utilize the barn as a teaching space," said Ragan Borzcik, Vet Tech Program chair. "Not only will animals have updated housing, but students will have improved learning spaces, including a modern classroom. The ability for students to apply their learning within this new space will essentially be equivalent to bringing the farm into the classroom."
The Vet Tech Barn redevelopment, funded by the 2017 PCC bond measure, is slated to be completed in fall of 2023. It will include expanded animal shelter and feeding areas in the main barn, horse stalls and updated barn housing for cows, sheep and llamas. The space also adds a classroom, restrooms, storage and office space. This new barn will allow for more efficient care of the animals which will reduce operational costs.
"I think it's imperative to have facilities such as these that we can work in," said current student Rebekah Kermoyan, a native of Cottage Grove. "Otherwise, we are trying to gather that experience ourselves in a sort of hodge-podge way out in the world, and we aren't necessarily building the skill sets that we need."
Currently, the program, which has been fully accredited by the American Veterinary Medical Association (AVMA) since 1992, provides students with the skills and knowledge needed to provide essential nursing care for all animals. Veterinary technicians work under the supervision of  licensed veterinarians to provide animal medical care as credentialed professionals in a wide variety of environments. The Oregon Employment Department projects employment of veterinary technicians in the Portland area will grow by 23% through 2029.
"There is a huge need for certified vet techs in America and the world right now," Kermoyan said. "In this program, when you are coming out of it, there are already two or three clinics waiting for you to graduate so they can talk salary with you. If you want a job, this is a great place to get into."
Kermoyan is working toward graduation next spring, choosing the Vet Tech Program for its location and the job security that comes with an in-demand field. She said PCC has exceeded her expectations thanks to the caring and responsive faculty. Kermoyan also loves the fact the college offers a full, operating farm with dog kennels, a cattery and medical facility that provides hands-on experience in a clinic setting.
"If you want to make a difference in the lives of animals and your community, this is a really great program to get involved in," she added.
Another student, Maryrose Gilliland, came up to Oregon from Goleta, California in 2018 to work in the veterinary field. After three years, she decided to attend PCC's Vet Tech Program to further build her skills.
She specifically chose PCC because it is regarded as a top five veterinary technician school in the country by Accredited Schools Online. In addition, Gilliland said earning her two-year associate degree has been a better fit than attempting to go to a four-year university program due to what PCC offers its students.
"PCC actually provides all of the essential skills you need on campus for both small and large animals," Gilliland said. "We have labs that regularly teach us the proper ways of taking care of these animals in the clinic and in a medical facility, which is awesome.
"It's incredible to have these facilities right at my fingertips, right in front of me," she added. "I've had multiple people I've worked with who are going through online programs and are having difficulties getting their large animal essential skills because it's so difficult to come across a facility that will allow students to come in and be hands-on with the animals. Whereas at PCC they are like, 'Alright, you're taking 'Large Animal Nursing and Restraint.' Here you go. Hop in. Go touch that cow!'"
Healthcare and Emergency Professions
The Veterinary Technology Program is part of PCC's Healthcare and Emergency Professions Academic Pathway. Students in this pathway learn to become a professional healer and develop skills to enter a specialized medical field. Students train in clinical settings with advanced technology. Compare the full range of healthcare programs at PCC.
Employers in the veterinary field can also advertise job openings to PCC Vet Tech students and graduates through the job board at: https://www.pcc.edu/programs/veterinary/post-a-job/.
For more information on the Veterinary Technology Program, visit https://www.pcc.edu/programs/veterinary/, or call 971-722-7252.